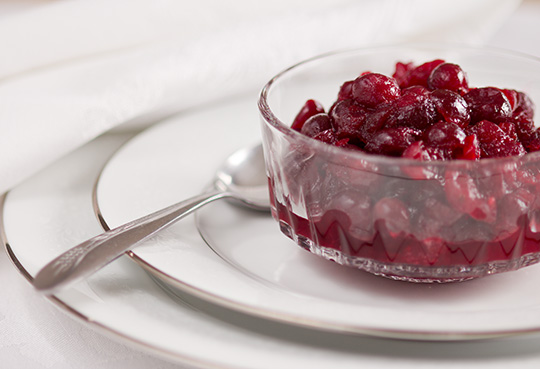 If you read my previous post – Cranberry Bread – you know I love cranberries with orange.  Therefore it shouldn't be surprising to see that my cranberry sauce is a lot of cranberries with a touch of orange.
Several years ago I tried a Triple Cranberry Sauce that used orange marmalade, orange juice, and orange zest.  It was good, but TOO much orange in the sense that it competed with the cranberries.  So with that recipe as inspiration, I started experimenting to come up with the perfect cranberry sauce for family's  palettes.

This cranberry sauce is tart and sweet with a little orange zest for the hint of orange I like so much.  You get bites of whole berries from both the fresh berries and the dried berries. Like all cranberry sauces it does need to be made and refrigerated the night before so it can set up; however, this sauce doesn't create a firm gel like out of a can. It's more of a whole berry sauce which is the way we like it.
Triple Cranberry Sauce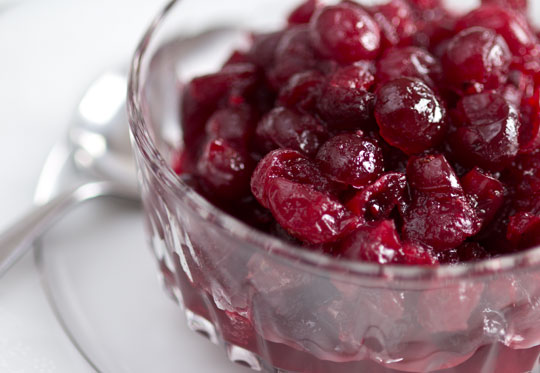 Triple Cranberry Sauce Recipe
My family won't let me make another cranberry sauce. This is their favorite! Because it's made with fresh and dried cranberries as well as cranberry juice, it has a lot of flavor.

Because this needs to sit in the refrigerator overnight, make it a day before you need it.

"*" See Kitchen Notes for more information or links to special ingredients.
Course:
Condiments, Sauces & Dressings
Ingredients
1 ½

cups

cranberry juice,

no sugar added

2/3

cups

sugar

1

– 12 oz. bag fresh cranberries,

rinsed and picked over

½

cup

dried cranberries

1

stick cinnamon

4

whole cloves

1

Tbsp.

orange zest
Instructions
Mix together the cranberry juice and sugar in a sauce pan over high heat. Stir to dissolve the sugar as the liquid heats. Bring to a boil.

Add the dried cranberries, fresh cranberries, cloves, and cinnamon. Bring back to a boil. Reduce heat for a simmer. Simmer for 7 minutes, stirring occasionally.

Add the orange zest. Simmer another 3 minutes.

Remove cinnamon stick. Pour into a glass container and let cool. Transfer to refrigerator and let sit overnight or until ready to use.
Kitchen Notes
Cranberry Juice -  Use unsweetened cranberry juice or cranberry juice cocktail.
If you want a little more orange flavor, you can substitute part of the cranberry juice with orange juice.
Our favorite uses:

Turkey and cranberry sauce – of course.
Cornbread dressing and cranberry sauce – that's my favorite.
Grilled sandwich with Dijon mustard, turkey, Monterey Jack cheese, and avocado. Once the sandwich is grilled, open it up and place a couple of tablespoons of the chilled cranberry sauce in the middle.
Topping for grilled lamb chops or side for roasted Leg of Lamb (anything lamb)
Topping or side for duck
Cranberry oatmeal – stir some into steel cut oats after they are cooked
Buttered toast and cranberry sauce
A topping for sauteed green beans and pecans
Side for Turkey Tetrazzini
This recipe for Triple Cranberry Sauce has been linked to the following Blog Hops that provide hundreds of great recipes.  Be sure to check them out!
Foodie Friday, Mouthwatering Monday, Totally Tasty Tuesday, Holiday Blog Hop, Melt In Your Mouth Monday, Made With Love Monday