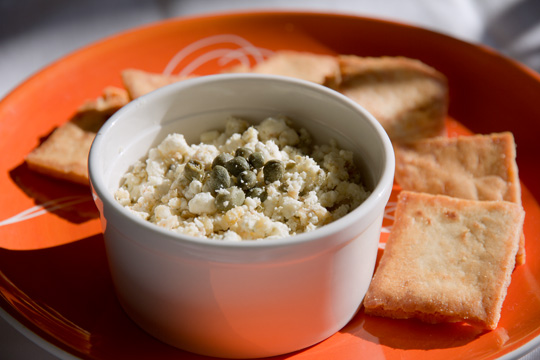 Remember my Roasted Garlic Infused Olive Oil from a while back? Well, this Roasted Garlic Feta Dip is one of those tasty little appetizers that I throw together using the roasted garlic.  Putting a dip together can't get much quicker than this. Four ingredients and a box of crackers or chips is all you need.

[print_this]
Roasted Garlic Feta Dip with Capers (Recipe)
Recipe Author:  MJ of MJ's Kitchen
Yields: a little over 1 cup
Prep time: 10 minutes (if you already have the roasted garlic; otherwise, add an hour)
Ingredients
2 Tbsp. chopped roasted garlic
1 cup feta cheese, crumbled
1 Tbsp. capers, drained , rinsed and chopped
1 Tbsp. toasted pinon nuts (pine nuts), chopped (optional)
Instructions
Crumble the feta into a bowl, add the roasted garlic, capers and nuts. Toss ingredients together to mix.
Serve with bagel chips, crisp breads or crackers.
[/print_this]
Kitchen Notes
This is a really easy dip to change up a bit each time you serve it.  Here are some suggestions:
If you want more garlic, then add more – want less, add less.
You can replace the capers with green olives.
Instead of pinon nuts, use minced toasted walnuts or pumpkin seeds.
Add a touch of olive oil for a little creamier dip
For an even creamier dip, blend it into a spread.  Just put everything in the blender and add just enough olive oil to create the desired texture.
The chips – Because the feta and the capers have plenty of salt, try to avoid a really salty chip. I find baked chips, melbas, or toasted breads work best.  The chips in the picture are Stacy's Baked Simply Naked Pita chips – our favorite chip!
Leftovers – If by some slight chance you happen to have leftovers, here are some ideas for using them.
a topping for tostadas or tacos
add to mashed potatoes
make a grilled feta cheese sandwich
add to many types of sandwiches
top or stir into soups or pasta dishes
sprinkle on sauteed green beans or asparagus
and the list goes on and on and on
If you like this Roasted Garlic Feta Dip, the here are some other appetizers you might enjoy: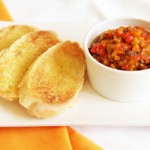 Roasted Red Bell Pepper Appetizer
This Roasted Garlic Feta Dip has been linked up to the following blog hops. Be sure to click on the  links to see more tasty recipes.
Tuesday's Tasty Tidbits, Midweek Fiesta, Overflowing with Creativity, Ultimate Recipe Swap, Frugal Food Thursday, Foodie Friday, Slightly Indulgent Tuesday, Weekend Potluck, Creative Thursday Link Party, Cast Party Wednesday, Gallery of Favorites, Katherine Martinelli's Cheese Hop
It was featured on