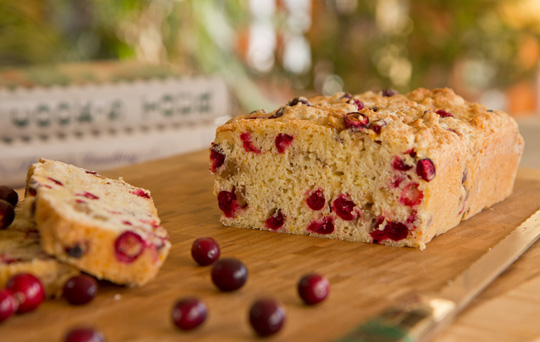 Every once in a while you come across a recipe that doesn't need to be changed.  It worked the first time, then the time after that and every time after that.  This is the case with this cranberry bread recipe.  I made it for the first time December of '74 and have made it pretty much every year since then.  So where did this awesome recipe come from?
One of my bridal showers in '74 was hosted by the women of my mother's Sunday school class.  The attendees were the hostesses and several neighborhood moms and friends of my mother. One of the presents was a cookbook: A Cook's Tour of Shreveport– A Dash of the Old South.

Staying with tradition, the book was passed from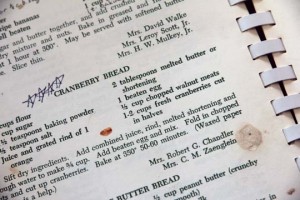 guest to guest and each woman wrote her name next to one or two of her favorite recipes, because – of course – they ALL had this cookbook.  The Banana Nut Bread and the Cranberry Bread were both signed.  It didn't take but a few months for me to make the Cranberry Bread.  It was SO GOOD, that thirty-seven years later I'm still making it.
[print_this]
Cranberry Bread Recipe
Source:  "A Cook's Tour of Shreveport – A Dash of the Old South"; 1973; Recipes collected and tested by The Junior League of Shreveport, Inc.
Makes 1 loaf
Prep and Cook Time:  60 to 70 minutes
Ingredients
2 cups flour
1 cup sugar
1  1/2 tsp. baking powder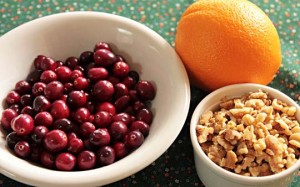 1/2 tsp. salt
juice and zest of 1 large orange
2 Tbsp. melted butter or shortening
1 egg, beaten
1/2 cup walnut meats, chopped
1  1/2 cup fresh cranberries, cut in half
Instructions
Preheat oven to 350° F.
Prepare a bread pan by coating the inside with shortening or butter, then dusting lightly with flour.
Sift the dry ingredients into a large mixing bowl.
Melt butter in a measuring cup.  Add the orange juice, zest, and enough water to make 3/4 cup.
Add the beaten egg and mix.
Combine the wet and dry ingredients until just mixed.
Fold in the nuts and cranberries.
Pour into bread pan.  Batter is very thick.  Gently tap the pan to help spread out batter.
Bake in preheated oven for 50 to 60 minutes until a toothpick stuck in the center comes out clean.
Remove from oven and let set about 4 to 5 minutes.
Use a spatula or knife to loosen sides of bread from pan.
Gently flip the bread pan over to release the cranberry bread.
Flip back over and set on rack to cool.
Recipe creators:  Mrs. Robert G. Chandler and Mrs. C.M. Zaenglein
[/print_this]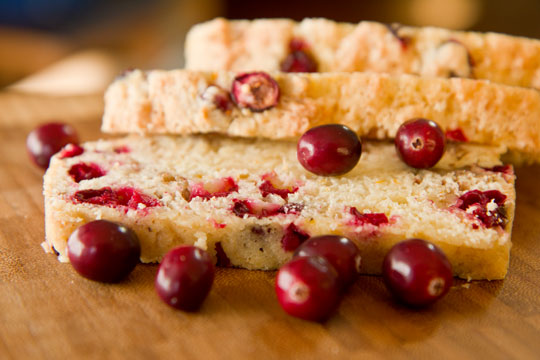 Kitchen Notes
Not much to add about this one.  I didn't make any changes to the original recipe other than dress up the instructions a bit.  Below are the original instructions.
Sift dry ingredients.  Add combined juice, rind, melted shortening and enough water to make 3/4 cup.  Add beaten egg and mix.  Fold in chopped nuts and cut up cranberries.  Bake at 350 degrees for 50 – 60 minutes. (Wax paper in pans is a help.)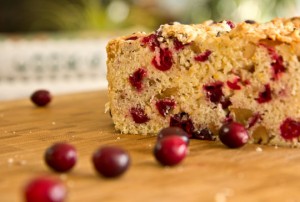 I've never tried any other cranberry bread recipe, because … there is just no reason to.  If you make this bread, and I hope you do, I think you'll agree!
If you are curious to know if it can be made with dried cranberries, well apparently so!  Check out Chef in Disguise who did make it with dried cranberries and it looks delicious!
Just a comment in case you don't know:  Shreveport is a city in the northwest corner of Louisiana, USA.
Cook Around the Globe
It's interesting how some recipes are found in many different countries.  In researching recipes on Canada and Alaska for Cook Around the Globe, I found this recipe in An Alberta Family Cookbook.  With the exception of 1/2 tsp. baking soda, the two recipes are the same.  I love the name and notation that comes with the Alberta recipe: "Grandma's Cranberry Loaf – We can't remember a Christmas without this.  One of our oldest traditions."  Sound familiar? 🙂
This Tried and True Cranberry Bread recipe has also been entered into the following blog hops. Be sure to check on the following links to see more tasty recipes.
Food of the Month, Made From Scratch Blog Hop, Thursday Ultimate Recipe Swap, It's a Keeper Thursday, Bake with Bizzy, Let's Do Brunch, Cook Around the Globe, Made with Love Monday, Mom's Test Meals Mondays, Recipe Sharing Mondays, Keep It Real Thursday
Featured on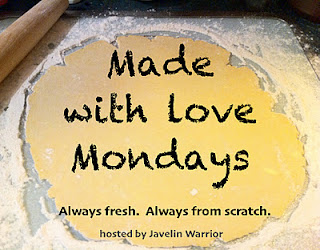 The top photo was accepted by C. J. as a Food Story Photo at C.J.'s Food Stories.  Click on the link to check it out.  While you're there check out C.J.'s other great feature posts and recipes.