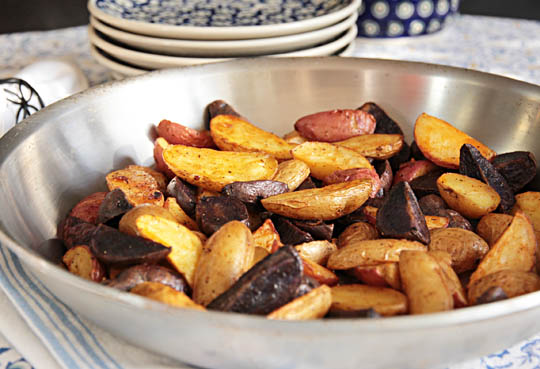 Not much to say about these Roasted Fingerling Potatoes except that it's one of the tastiest and easiest recipes you can make and it has only 5 ingredients!
Roasted Fingerling Potatoes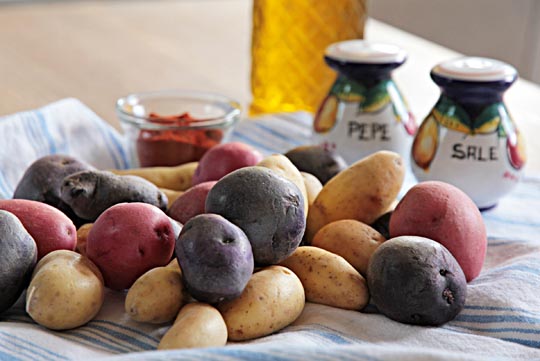 Roasted Fingerling Potatoes Recipe
This is the only way to enjoy fingerling potatoes!
Estimate 1/2 pound of potatoes per person. I usually make extra because the leftovers are great!
"*" See Kitchen Notes for more information or links to special ingredients.
Ingredients
No exact measurements are provided nor required.
Assortment of organic fingerling potatoes*,

red, yellow and purple make a beautiful dishRoasted fingerling potatoes with garlic olive oil and smoked paprika

Garlic infused olive oil or olive oil and garlic powder

Smoked paprika

Salt

Pepper
Instructions
Preheat oven to 400 F.

Wash and scrub the potatoes.

Cut small ones in half and larger ones in quarters. You want the size of each piece to be about the same for even roasting.

Place potatoes in a large bowl.

Drizzle with the oil, sprinkle generously with smoked paprika and pepper, and then a light dusting of salt.

Toss to coat all sides of the potatoes with the oil and seasoning.

Spread into one layer on a baking sheet. Roast for 15 minutes. Remove from the oven and stir or flip with a spatula.

Return to the oven and roast for another 15 minutes.

Remove from the oven and test for seasoning*. Adjust seasoning if needed.
Kitchen Notes
The potatoes – If you can't find fingerlings, buy a medium red potato, Yukon gold, and Russet, then chop them into bite size pieces. The recipe works great for just about any type of potato, including sweet potato! 
An important note – please wash and scrub the potatoes. Non-organic potatoes are considered one of the dirty dozen – one of 12 non-organic foods that consistently contain pesticide residues. That's one of the reasons why, when it comes to potatoes, I only buy organic.  However, organic or non-organic, always wash and scrub.
The garlic infused olive oil – If you don't have any, use extra virgin olive oil and garlic powder. OR you could make a quick batch on the stovetop.
Paprika – If you don't have smoked paprika, then a good quality paprika can be substituted or even a tasty medium heat red chile powder.  You could even use chipotle or smoked serrano, but this will add a spicy kick to the potatoes.
If you enjoyed these roasted fingerling potatoes, the you should enjoy these other potato dishes:
Mashed Potatoes with Roasted Garlic and Herbs
Spicy Orange Roasted Sweet Potatoes