Garlic soup is a very tasty way to take advantage of the health benefits of garlic.  It's SO much better than taking a garlic pill!  To make it even healthier, add some sauteed mushrooms to the finish soup.  See the Mushroom Garlic Soup Recipe.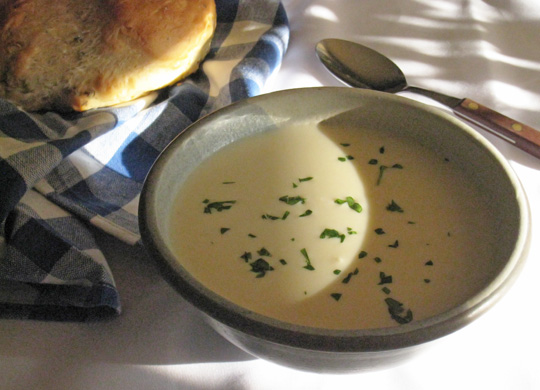 On one of our trips to New Orleans, Bobby and I ate at Bayona, owned by Chef Susan Spicer.  I had a rabbit dish that was absolutely delicious as were all of the other meals that were eaten at our table that night. So you can imagine how excited I got when one of my cooking shows did a short segment on Bayona's Garlic Soup.  I immediately looked it up on the internet and bookmarked it to make one day.  Well, that day has come.
But – as some of you may already know – I'm not very good at following a recipe, so the soup I ended up tasting different from Bayona's Garlic Soup. How different?  I have no idea and may never know because this garlic soup was so good that I don't think I could make it any other way.
[print_this]
Garlic Soup Recipe
Inspired by Bayona's Garlic Soup @ La Belle Cuisine (In addition to several changes, I cut the recipe in half)
Serves: 4
Prep and Cook Time: 1 hour (however, like any soup – making it a day ahead of time will let the flavors meld)
Ingredients
1Tbsp. olive oil
1 Tbsp. butter
1 large onion, chopped
2 large heads of garlic, cloves peeled and chopped
1 apple, peeled and chopped
1 qt. homemade chicken broth or canned chicken broth
1 herb bundle of 5 parsley stems, 4 sprigs fresh thyme (tie together with string)
¼ tsp. salt or to taste
½ cup half and half
1/4 tsp. fresh-ground white pepper
Chopped fresh parsley for topping
Instructions
In a large pot, heat the oil and butter over low to medium-low heat. Add the onions and garlic. Cover and cook, stirring occasionally, until soft and beginning to turn brown, about 25  minutes.
Add the apple and continue to cook, covered, for another 10 minutes, stirring occasionally.
Add the stock and herb bundle. Bring to a boil. Reduce the heat and simmer about 15 minutes.
Remove the herbs. Puree the soup with an immersion blender or regular blender.
Add pepper and salt to taste.  Add the half and half and bring back to a simmer, stirring. Remove from heat.
Serve topped with chopped parsley.
[/print_this]
Kitchen Notes
What did I change?
Omitted the bread.  It called for 1/2 loaf French bread in the soup, probably for consistency – I guess.   The consistency of this soup was perfect without it.
Added the apple.
Cut way back on the salt.
Cut back on the amount of half and half.
Used white pepper instead of black pepper – that does make a difference to me.
Added the parsley which really enhanced the flavors.
We had this soup the night I made it and then again a couple of days later.  It was very good the first night but great the second night.  Therefore, I would suggest making it a day ahead of time.
I also had made an herb bread the same day I made the soup, so guess what we ate with the soup. To go with the leftover soup I made grilled cheese sandwiches with the leftover herb bread.  I will definitely be doing that again!
Bobby's comment – "I could eat this soup once a week."
This Garlic Soup recipe has been shared with the following blog hops.  Click on the links and check out a lot of great recipes!  Friday Potluck, Sunday Night Soup Night, Katherine Martinelli's Valentine Blog Hop, Hearth and Soul, Gluten-Free Wednesday,  Tuesday's Tasty Tidbits, Fat Tuesday, Keep It Real Thursday, Allergy-Free Wednesday, Bizzy's Recipe Box, Slightly Indulgent Tuesday, Made With Love Monday 
Featured on
Sunday Night Soup Night at Easy Natural Food.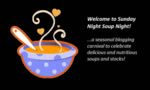 Gluten-Free Wednesday at The Gluten-Free Homemaker (March 2012)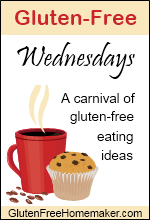 If you like this Garlic Soup, then you might like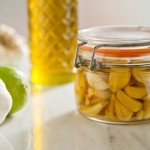 Roasted Garlic and Garlic Infused Oil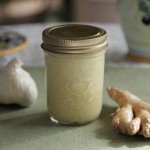 Ginger-Garlic Paste