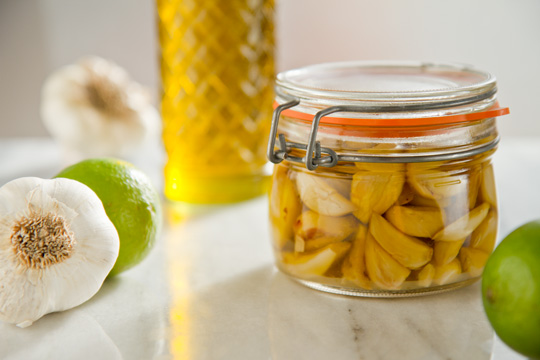 If you saw my previous post – Garlic Soup – you've gathered that I love garlic. Not only do I put garlic in many, many of my dishes, but I also "feature" garlic in several of them.  I love just smashing a roasted garlic clove on a cracker and popping it in my mouth.  Thank goodness Bobby likes garlic as much as I do!
I used to roast garlic in a stoneware garlic roaster which is always good.  Then one day I experimented with a method to make garlic infused oil and ended up with not only a great bottle of oil, but a jar of some of the best roasted garlic I had ever had! The cloves were more "toasted" than traditional roasted garlic cloves which are softer. The lime steps the flavor up a notch.  I hope you give this a try.  You'll love both the garlic cloves and the garlic infused oil!
Once made, if you need some ideas on how to use that much roasted garlic,  here are some dishes that are better because of it.
Garlic Infused Oil With Roasted Garlic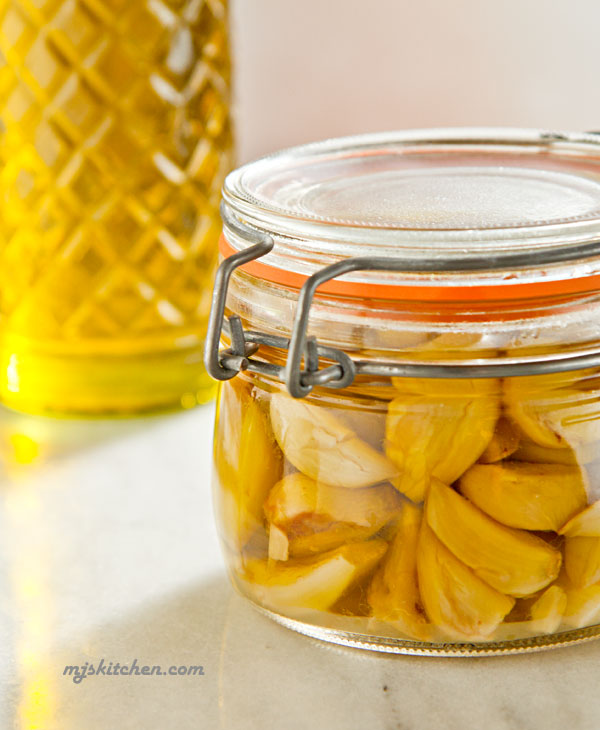 Garlic Infused Oil with Roasted Garlic Recipe
This recipe yields 2 to 3 cups of roasted garlic and 2 to 3 cups of garlic infused olive oil. However, amounts vary and can be easily increased or decreased by the amount of garlic and garlic oil you use or want.
"*" See Kitchen Notes for more information or links to special ingredients.
Ingredients
4 to 6

heads of garlic*

(2 to 3 cups)

1

large lime, juiced

2 to 3

cups

extra virgin olive oil or enough olive oil to cover the garlic cloves*
Instructions
Peel the garlic by breaking each clove with the side of a wide knife. You want to break the cloves, not smash them. Remove the peel and cut off the stem end of each clove (optional). For other methods of peeling garlic, check out "Methods for Peeling..." below.


Put the cloves in a bowl with the lime juice. Stir and let sit for 15 minutes.

Preheat oven to 325 F (163 C).

Reserving the juice for later, drain the lime juice from the cloves.

Spread out the garlic cloves in one layer in a glass casserole.

Pour enough olive oil over the garlic so that the cloves are completely immersed.


Roast in a hot oven for 45 minutes.

Remove from the oven and let cool. Cloves will darken "a little" more as they cool. Scoop the cloves from the oil into a bowl using a slotted spoon.

Pour the reserved lime juice over the cloves with ½ cup oil and stir to combine. Transfer garlic cloves to an airtight glass jar. Pour enough of the oil over the roasted cloves to cover. Place in the refrigerator and use for a variety of uses.


Strain the remaining oil into a clean, sterilized bottle and use as garlic infused olive oil.

Kitchen Notes
Amount of Garlic and Oil - You can make as much or as little as you want and there is really no proportion of cloves to oil to go by.  More cloves will yield a more garlicky flavored oil; however, I find that a hint of garlic can be nice so sometimes I'll add more oil. 
Storage - Both the garlic infused oil and the garlic cloves last at least 3 months, if not longer. I keep the cloves, covered with some oil, in the fridge and the oil in a corked glass bottle in the pantry. Neither the cloves nor the oil last longer than 2 months in my kitchen before they are all used up. In fact, the cloves are usually gone in a few weeks and the oil shortly there after. Which means I'm roasting these babies up about every 2 to 3 months.
A quicker roasted garlic with the benefit of the oil – When I'm out of roasted garlic but don't have an hour to peel and roast, I'll use my stovetop version which takes less than 30 minutes, start to finish. Just like the recipe above, not only do you get a head of roasted garlic, but you also get about a cup of roasted garlic infused oil. Here is my method for roasting garlic in olive oil on the stovetop.
Here are some ways to use the roasted garlic cloves:
For an appetizer place several garlic cloves in a small bowl next to crispy crackers or bagel chips. The garlic will disappear in a flash!
Smash and chop several cloves and add to your mashed potatoes.
Mash and spread on bread, fresh out of the oven.
Chop and stir into cornbread batter.
Chop and add to your Thanksgiving cornbread dressing.
Add to any soup.  These cloves work particularly well in pureed soups.
The garlic oil can be used to saute' just about anything.
Use the oil in a homemade dressing – a little creole mustard, honey, white wine vinegar and garlic oil – Yummy!
Toss root vegetables with some of the oil, smoked paprika, salt and pepper.  Roast in the oven and you have a wonderful roasted veggie dish!
Cook 1/3 cup popcorn in 1.5 Tbsp garlic oil. Add salt and enjoy!
Here are a few recipes in MJ's Kitchen that use this oil and / or the roasted garlic
Simply Asparagus
Black-eyed Pea Chipotle Dip
Feta and Roasted Garlic Dip
Massaged Kale and Sweet Potato Salad
Roasted Fingerling Potatoes
Roasted Garlic and Dishes that are Better because of it
Tortellini with Roasted Bell Pepper and Onion
A Collection of Dishes that Use Roasted Garlic
Methods for Peeling all of these garlic cloves
My normal method for peeling garlic is to either hit the clove gently with the side of a knife or just smash it.  How hard I hit the knife depends on what I'll be using the garlic cloves for.
Charles of Five Euro Food offered a great suggestion for peeling garlic in a comment last week.  "If you place the whole bulb (or bulbs in this case) in cold water and bring to almost boiling point then you can just pull back all the skin so easily and the cloves literally just slide out of the skin too!"  I'm definitely going to try this method on the next go around!  It sure would make peeling all of this garlic A LOT easier. Thanks Charles!
Ashley of Eat me, delicious shared this link on how to peel garlic in 10 seconds. It's pretty amazing!


Safety of Working with Raw Garlic

This garlic infused oil procedure was developed after researching how to make garlic infused oil only to find that you have to be very careful when working with garlic, especially raw garlic in oil.  Apparently, unrefrigerated garlic in oil can promote the growth of C. botulinum bacteria without affecting the smell or taste of the oil or the garlic. C botulinum causes botulism, a serious form of food poisoning.  The toxin produced by C. botulinum is destroyed with heat and acid.  The Food and Drug Administration (FDA) now requires "that all commercial garlic in oil products contain specific levels of microbial inhibitors or acidifying agents such as phosphoric or citric acid. "
So here's what I deduce from my research:  To ensure that the roasted garlic is safe to eat, it needs to be in an acidic environment (less than 4.6 pH), heated, and kept refrigerated; thus the addition of the lime juice (pH=3), the long roast and the refrigeration in my recipe. I've made many, many batches over the years and I'm still here to tell the tale.  For more information on this subject, refer to this article from the USDA.
On another note of interest
One of my readers brought up a question about heating extra virgin oil and that it's something that shouldn't be done.  I had heard this comment a while back as well, so I did some research on it.  According to a 2007 study published in the Journal of Agricultural and Food Chemistry, extra virgin olive oil (EVOO) heated for 36 hours at 180 C (350 F) "exhibited a high stability against oxidation" and, "despite the heating conditions, EVOO maintained most of its minor compounds and, therefore, most of its nutritional properties."
This article "Is it safe to cook with olive oil?" does an excellent job of researching the science behind this question and found that the answer to this question was YES.
The main issue with heating any oil is its smoke point which is different for each type of oil. The Olive Oil Source and the International Olive Oil Council both indicate the smoke point of olive oil, even extra-virgin olive oil to be well above the 325 F required for this recipe, in fact – closer to 400 F.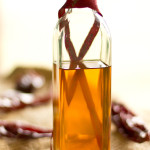 If you like the Roasted Garlic Infused Oil, you'll also love this Red Chile Infused Oil.  All of the flavors of a red chile sauce in an oil.
This post is linked to the following blog hops. Be sure to click on the links for more wonderful recipes!
Midweek Blog Hop at Food Corner
Tuesday's Tasty Tidbits, Friday Favorites, Frugal Food Thursday, It's a Keeper Thursday, Gallery of Favorites, Foodie Friday, Mix It Up Monday, Made With Love Monday, The Clever Chicks, Katherine Martinelli's Christmas Hop and KM's Garlic Hop
This recipe was featured in the November 17, 2011