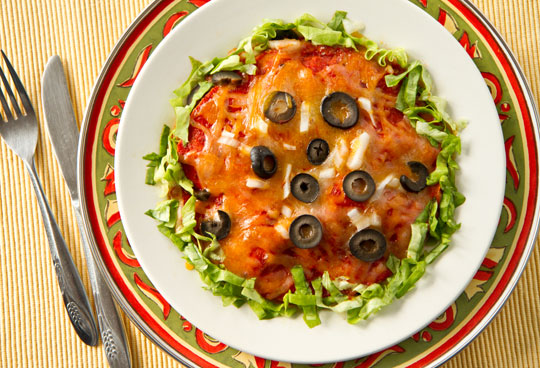 One of my favorite dishes to make with red chile sauce is this plate of New Mexico Red Chile Enchiladas.  This is the dish that got me hooked on New Mexico cuisine when we moved here back in the 70's. I learned how to make them right away and have been making them regularly ever since.   A plate of these New Mexico Red Chile Enchiladas is one of my most favorite meals!
These enchiladas are as easy to make as a peanut butter and jelly sandwich as long as you already have the red chile. If you have the red chile made, it takes 15 minutes to prep and assemble, and an extra 2 minutes for each serving. Top it with a fried egg and you have yourself a hearty meal.  Enjoy!
New Mexico Red Chile Enchiladas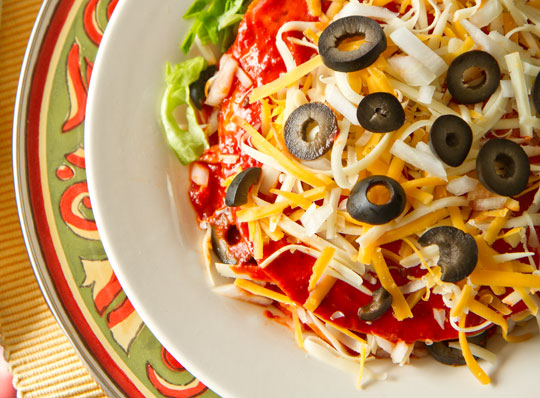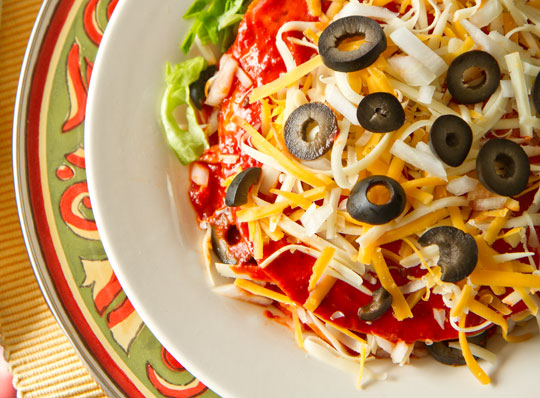 Onion and Cheese Red Chile Enchiladas Recipe
A vegetarian red chile enchilada made restaurant style - one plate at a time. An easy prep and a quick microwave yield a spicy enchilada smothered in New Mexico red chile.
This recipe assumes that you have already made or purchased the red chile sauce.*

"*" See Kitchen Notes for more information or links to special ingredients.
Course:
Main Course, Vegetarian
Cuisine:
New Mexico, Southwestern
Ingredients
These ingredients make two individual servings of enchiladas. Three tortillas yields a 2 stack enchilada whereas two tortillas yield a single stack.*
6

corn tortillas

1

cup

onion,

finely chopped

1

can ripe black olives,

sliced (You may not need the whole can)

1.5

cup

Monterey Jack cheese, cheddar cheese, or both*,

grated

2

cups

red chile sauce*

(make your own or store bought)

2

eggs,

fried sunny-side up or overeasy and ready to place on top of the enchiladas when they come out of the microwave

Fresh tomatoes and lettuce

chopped (toppings and optional)
Instructions
Pour red chile sauce into a wide bowl. Dip each tortilla in the red chile sauce as you plate it. This incorporates chile sauce into each layer and prevents the tortilla from drying out.

For each serving, create layers of one chile dipped tortilla, then onion, olive, and cheese, another tortilla, onion, olive, and cheese, topped with the third tortilla and a little cheese, a few onion and olive slices. Smother with a little red chile.


Heat in the microwave on high on a rotating tray for 2 minutes.


*Time depends on the wattage of your microwave. After 2 minutes the cheese should be melted and the sauce bubbly.
Kitchen Notes
Red chile sauce – Make your own or purchase.  Red chile comes mild, medium and hot.  In order to taste the chile but still get a little burn, I normally choose medium spiciness.
If you don't make your red chile sauce from scratch, purchase it.  Some grocery stores carry red chile sauce in the ethnic section or in the frozen foods section.  Just be sure that the first ingredient in the list of ingredients is "red chile" and not tomato.  You can also purchase red chile sauce online from a variety of New Mexico chile product suppliers.  If you can't find red chile sauce, then a red chile enchilada sauce works.  It's not as good, but it still works.
The cheese is your choice.  My standard is a mix of cheddar and Monterey Jack.  Feta cheese, queso fresco, or cotija cheese also work quite well.  They yield enchiladas closer to what I would call "Mexican" rather than "New Mexican", but still quite tasty!
Stacked vs. rolled – As I mentioned in a previous post, I prefer my enchiladas stacked rather than rolled.  However, if you like rolled enchiladas, you can always roll up some onion, olives and cheese in the chile dipped tortillas and then smother them in the red chile.
Multiple servings – You can easily make these enchiladas for more than two people by making a stacked enchilada casserole (kind of like a lasagne).  In a rectangular casserole dish assembly 2 to 3 layers of chile dipped tortillas (3 to 6 tortillas per layer), onion, black olives, and cheese.  Bake in the oven at 350° F (177 °C) for 25 minutes.  To see a more detailed procedure for making stacked enchiladas, see the "Assembly" instructions for my Calabacitas Enchiladas.

More on New Mexico Chiles
Red or Green? and Christmas – Red and Green
NM Red Chile and Red Chile Recipes
NM Green Chile and Green Chile Recipes
Green Chile Burn Video and recipe for a Quick and Easy Green Chile Stew
Sources for New Mexico Chile Products
These New Mexico Red Chile enchiladas have been featured on the following:
Yummly's Nibbles and Bits – "Add Sizzle to Your Day with Southwestern Tex-Mex Cuisine".
These enchiladas were the readers' favorite @ Made From Scratch Monday.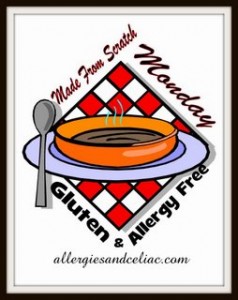 Save
Save