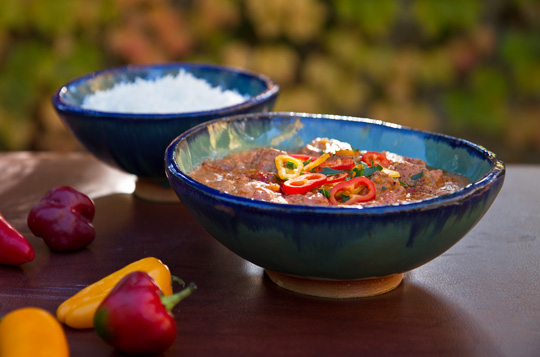 I love eating peanut butter straight from the jar.  I'm not a big PB & J eater, but I do love sticking my finger spoon in the PB jar and scooping up a mouth full of peanut butter. So what does peanut butter have to do with Mafe'?  Mafe' is a west African stew with a peanut butter sauce as the base.
German Mama of Arepas to Zwetschgen, the host of Cook Around the Globe selected West African cuisine for October, another region of the world with a cuisine I am totally unfamiliar with – until now.  While surfing several sites I kept coming across recipes called mafé, groundnut stew, and chickennat.  All of the the dishes were stewlike, one pot meals that used at least 1 cup of peanut butter in the sauce.  Most used a meat such as beef or chicken, and the recipe I selected mentioned a vegetarian version.  Since I've never really cooked with peanut butter, I decided to go for it.
Mafé or Groundnut Stew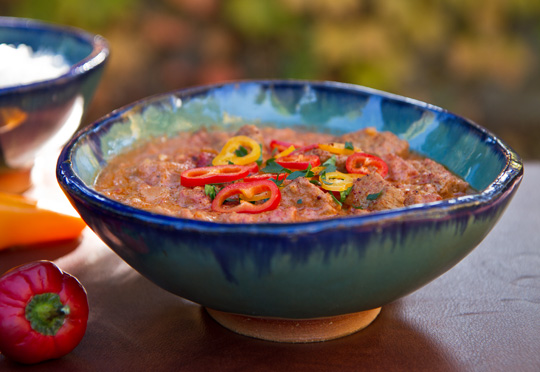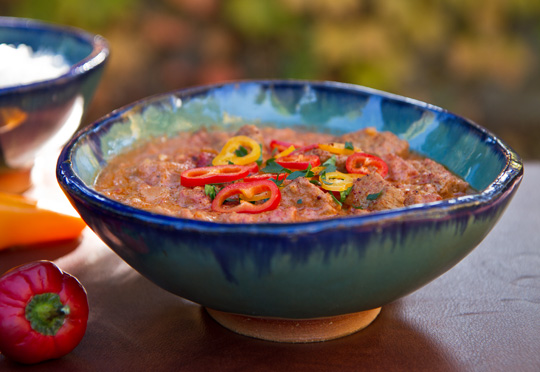 Mafé or Groundnut Stew Recipe
Adapted from Mafé at whats4eats - I added the peppers and parsley and made a few adjustments on amounts.

Prep and cook times depend on the the cut of meat or whether or not you even use meat.

"*" See Kitchen Notes for more information or links to special ingredients.
Course:
Beef, Main Course
Ingredients
2

Tbsp.

olive oil

2

pounds

beef stew meat,

cubed into bite-size pieces (I used beef tri tip)

1

medium onion,

diced

6

cloves

garlic,

minced*

1

Tbsp.

fresh ginger,

minced*

2

Tbsp.

tomato paste

1 - 28

ounce

can diced tomatoes or you could use fresh tomatoes

2

cups

water or stock

(beef, chicken, duck or vegetable)

8

small sweet peppers,

sliced into circles

2

small hot peppers,

minced (optional)

1

cup

natural, unsalted peanut butter

Salt and pepper to taste

Don't add salt if you use tomato paste and canned tomatoes)

2

Tbsp.

fresh parsley,

chopped

Sweet and Spicy Pepitas*

(optional)
Instructions
Heat the oil in a large pot over medium heat. Add the beef and sauté until browned on all sides, 5-6 minutes. Transfer to a bowl and set aside.

Add the onion to the pot and sauté 3-4 minutes. Stir in the garlic and ginger and sauté another 1-2 minutes.

Return the beef and any liquid to the pot, stir in the tomato paste and cook for about 1 minute. Stir in the chopped tomatoes with juice and bring to a boil. Reduce heat to medium-low.

Add enough water or stock to loosen the dish to a stew-like consistency.

Add the sweet and hot peppers. Simmer for another 10 minutes.

Stir in the peanut butter and simmer for another 40 minutes or longer, until the beef is tender. (I had to cook it 2 hours to tenderize the tri tip.) Add water as necessary to keep the dish stew-like.

Stir in the parsley and adjust seasoning.

Serve over rice.
Kitchen Notes
Even though I used fresh ground peanuts with no salt or sugar, this dish was sweeter than I thought it would be. The sweetness probably came from the tomato paste.  Adding the hot peppers helped to offset the sweetness as well as giving the dish a little bite that I think it needed.  Next time I'll probably make it a little spicier.
Ginger Garlic Paste - Use in place of the ginger and garlic
The meat – You can use beef, lamb, goat, or chicken for the meat.  Next time I'll use chicken and make chickennat which is a little different.
Vegetables – A variety of vegetables can be added with the water or stock.  You can add cabbage, yams, sweet potatoes, parsnip, squash, okra, eggplant, potatoes, peppers, or carrots.  I think serving it over a baked sweet potato would be quite delicious.
Vegetarian – Omit the meat and just use a variety of vegetables and water or veggie broth.
Suggested Slowcooker adaptation: Perform steps 1-4 as written. Put in crock pot. Do step 5. Cook on high for 1 hour, the do step 6. Simmer on LOW for 4-6 hours (depending on tenderness). Do step 7 at the end! (I don't have a slow cooker so thanks to Ann over at Cooking Healthy for Me for her adaptation!)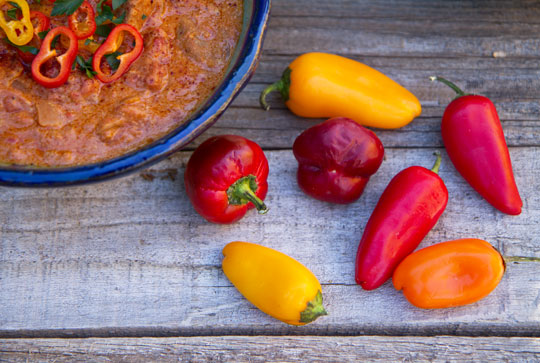 We really liked this dish!  It was hearty and definitely like a stew.  Next time, I think I'll add a few more vegetables like carrots and maybe parsnips.  I did add some sweet peppers as well as 2 Big Bomb hot peppers.  The same friend that loaned me these beautiful bowls gave me the Big Bomb peppers (the round ones in the picture) the day before I made this.  They were perfect in this dish.
Last but not least – Would I make this again?  Absolutely!