I had forgotten how much fun it was to make bread!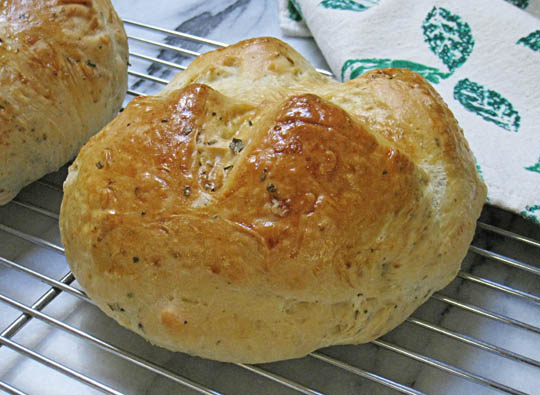 During the first few years of our marriage I made pretty much all of our bread.  Then my career, travel and life got in the way.  I've been itching to get back into making it and finally that itch got the best of me.  I knew it was going to happen when I saw the recipe for the Macaroni Grill Bread on Kneady Sweetie's site.  It was an herb bread finished off with butter and salt.  What a great place to start!! However, as always, I made a few, actually several changes to the original recipe. I used the same yeast, water and flour amounts, then went wild with the herbs. I love a good herb bread and this is definitely a good one!
 Herb Bread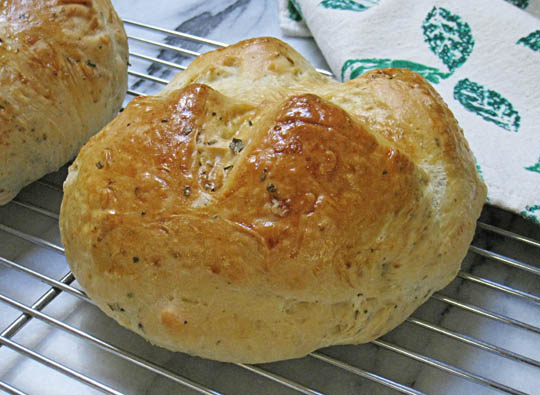 Herb Bread Recipe
(Inspired by Kneady Sweetie's Macaroni Grill Bread) You're going love the bread from the moment is goes into the oven. It tastes as good as it smells.

"*" See Kitchen Notes for more information or links to special ingredients.
Ingredients
1 1/2

tsp.

active dry yeast

1

cup

warm water

1/4

tsp.

sugar

2

Tbsp.

olive oil

1

tsp.

salt

2 1/2

cups

AP unbleached flour

1

tsp.

dried oregano,

crushed

½

tsp.

dried marjoram,

crushed

¼

tsp.

garlic powder

1

Tbsp

fresh parsley/basil/rosemary mix,

finely chopped*

1

egg or 1 egg white

*Your favorite herb mix or 2 tsp. fresh rosemary
Instructions
Combine water, yeast and sugar in a large bowl. Stir to mix a bit and let it sit for 5 minutes to activate.


While the yeast is activating, mince all of the fresh herbs and place in a small bowl with the oregano, marjoram and garlic powder. Set aside.

Add the salt, oil and 1 cup flour to the yeast mixture. Stir to incorporate at least 30 seconds.

Add another cup of flour, 1/2 cup at a time, stirring and incorporating flour into dough.

Spread the last ½ cup flour on a marble slab or a kneading board. Transfer the dough onto the slab and knead until all of the flour has been incorporated. Continue to knead for about 7 to 10 more minutes.


Pour the herbs over the dough and continue to knead until all of the herbs have been incorporated into the dough. If the bread dough is still sticky or too moist, knead in a little more flavor until you get a smooth, non-sticky dough.


Clean the bowl, coat with a touch of oil and transfer the dough back into the bowl. Roll it around to coat with oil, and cover with a damp kitchen towel. Let it rise for an hour to 1.5 hours, or until double in size.

Divide the dough into 2 pieces. Shape into balls and place on a cookie sheet sprayed with oil. Leave enough space between the loaves for them to double in size.

Lightly coat the edge of a sharp knife with oil and cut 2 slits in the top of each loaf of bread.

In a small bowl whisk an egg. Brush the egg all over the top of the loaf and into the slits.

Place the loaves in the oven. Turn the oven on and set the temperature to 170° F. Let the bread rise until double in size, about 20 to 25 minutes.

Turn the oven up to 370° degrees and bake for about 25 minutes, or until golden brown.
Kitchen Notes
This herb bread is best if eaten within a day or 2 after making.  Any leftover stale bread makes great croutons and grilled cheese sandwiches.
The herbs – The first time I made this herb bread the only fresh herb I used was the rosemary.  However, when I made it the second time, I used the fresh basil, parsley, and rosemary mix.  Both batches were excellent, so it really doesn't matter.  And yes – I do use quite a bit of herb in this bread.  I guess that's because I've always loved a good herb bread, plus I grow a lot of herbs.
I don't have a mixer so I did the kneading by hand which I find a very Zenlike thing to do.  In fact, it was in the kneading step that I realized why I enjoyed making bread.  I don't think I would make bread, if I used a mixer.  For me, manually kneading bread is why breadmaking is so much fun!
If you love making a good quality bread, here are a few more breads for you to try.
Red Chile Garlic Bread with Manchego Cheese