In the fall of 2011 we shot a short video for a contest sponsored by Chile Monster, a supplier of New Mexico chile, tortillas and tamales. The goal of the video was to "represent ANYTHING about New Mexico Chile, your LOVE for chile, Eating Chile, ANYTHING CHILE!"  It sounded like fun, so we went for it!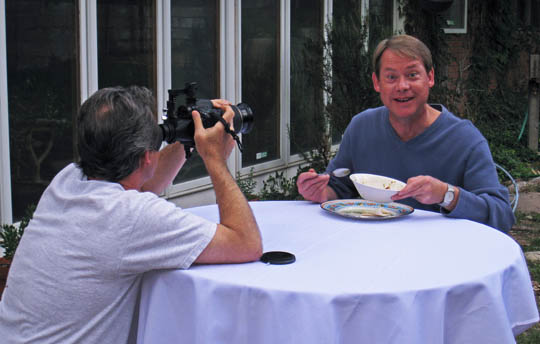 Bobby came up with a great idea that required his brother Jeff, a person who loves eating hot food (the hotter the better), to eat a bowl of really hot NM green chile. The premise of the idea – let's make Jeff sweat!!!  For the video Bobby shot Jeff eating a bowl, actually two bowls, of fresh roasted New Mexico chile with a few beans and a little hamburger meat (recipe follows).  The video should make you smile.  It sure makes me smile!  (NOTE:  You can watch in HD if you choose.  Once you hit play, click on the "360p" and select "720pHD", then go to full screen so you can really watch Jeff sweat!

)
So did we win the contest?  YES, we WON!  Guess what we won?  Roasted Green Chile!  Do you think I could come up with something to do with that?

  The chile prize was actually lagniappe.  It was the making of the video and having fun with my family that was the real prize!
Now for the Recipe
So what IS he eating?  He's eating a very simple Green Chile Stew.  It's not our regular Green Chile Stew, but it was still quite tasty and very easy to make.  For the video I held back on all of the non-chile ingredients, because I wanted the chile to be the star of the show – although I think Jeff stole the show!   The initial green chile stew (what Jeff ate) was WAY TOO HOT for me, so when we had the leftovers for supper the next night I added more meat and beans.  The following recipe is how I would make it for "normal" people.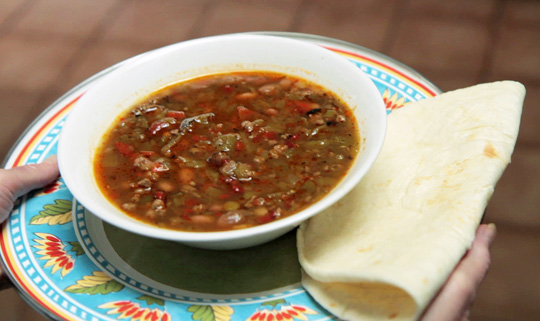 Easy Green Chile Stew Recipe
Serves: 6
Prep and Cook time: 45 minutes
Ingredients
1 tsp. coriander seeds
1 Tbsp. canola oil
1 pound lean ground beef (optional for vegetarians)
½ medium onion, minced
2 garlic cloves, minced
24 ounces of homemade chicken stock or water
3 to 4 cups roasted, peeled, chopped green chile (mild, medium or hot – your preference)
2 cups cooked pinto beans
¼ to ½ tsp. salt (to taste)
Instructions
Heat a Dutch oven over medium-low heat. Add the coriander seeds and toast for about 2 to 3 minutes, until aromatic and toasted, shaking often. Transfer seeds to a spice grinder or mortar and grind.
Add the oil, beef, onion and garlic to the hot pot. Cook for 4 minutes, stirring frequently.
Add the stock, the green chile, and ½ tsp. ground coriander. Cook for 15 minutes.
Add the pinto beans and cook for 10 minutes. Taste and add salt if needed.
Serve with warmed flour tortillas.
Kitchen Notes
Vegetarian – Omit the meat, use water or vegetable broth, and add a few more beans if desired.  I love the vegetarian version!
The chile – The stew that I made for the video was made with "hot" chile. We had to make Jeff sweat afterall, and with his iron stomach, medium would not have worked.  You can always adjust the amount of chile that you use based on the temperature of the chile and how hot you want your stew.
Our normal pot of Green Chile Stew, which is one of Bobby's favorite things to make, is quite different from this recipe.  It's a lot heartier and more like a real stew.  He makes it for me several times in the winter to help warm me up, so I'll post the recipe for Bobby's stew later on.

More on New Mexico Chiles
Red or Green? and Christmas – Red and Green
NM Red Chile and Red Chile Recipes
NM Green Chile and Green Chile Recipes
Green Chile Burn Video and recipe for a Quick and Easy Green Chile Stew
Sources for New Mexico Chile Products
This Quick and Easy Green Chile Stew recipe has been linked up to  the blog hops Friday Potluck, Fat Tuesday, Let's Do Brunch, Gluten-Free Wednesday, Midweek Fiesta, Sunday Night Soup Night, Made From Scratch Monday, Made with Love Mondays, Whole Foods Wednesday, Creative Thursday, Full Plate Thursday, Weekend Potluck, Food on Friday  .   Click on the links to enjoy a variety of great recipes!
Easy Green Chile Stew was featured on the Hearth & Soul Blog Hop by Zesty South Indian Kitchen.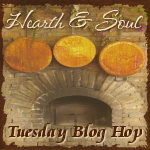 This recipe was a featured recipe in The Huffington Post, October, 2012.