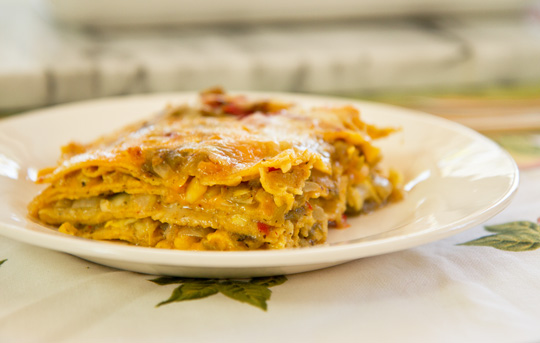 Calabacitas is a traditional New Mexico early fall dish of summer squashes, corn, and green chile.  However, you'll find several variation, some with tomatoes and others cheese. Frequently, you find Calabacitas as a fall special in New Mexican restaurants. The basic calabacitas recipe is SO easy and quite tasty.
A couple of weeks ago I had one medium sized yellow squash from the garden sitting all by itself in the crisper, a pot of green chile sauce sitting on the stove top, two dozen corn tortillas in the fridge, and a freezer packed with bags of fresh corn. Throw all that together with some cheese and what do you have – Calabacitas enchiladas. I decided to make them stacked or flat as opposed to rolled, because they are easier to assemble and much easier to get out of the pan.  Not only that, I do prefer flat enchiladas to rolled – don't ask me why, but I do.
ENJOY!

Calabacitas Enchiladas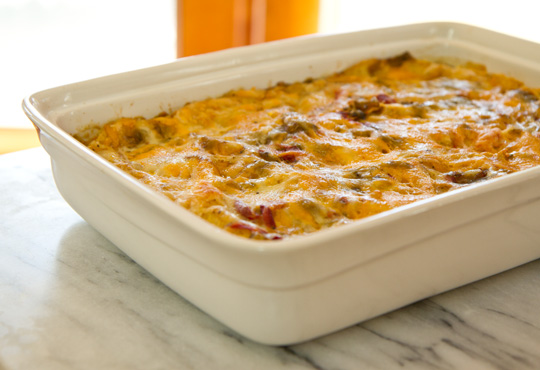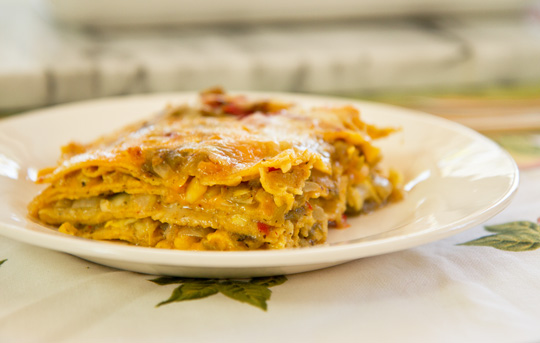 Stacked Calabacitas Enchiladas Recipe
Stacked enchiladas with corn, summer squash and New Mexico green chile sauce.

You can shorten the prep time by making the green chile ahead of time (up to 3 days) or using a store bought green chile sauce.

"*" See Kitchen Notes for more information or links to special ingredients.
Course:
Main Course, Vegetarian
Cuisine:
New Mexico, Southwestern
Ingredients
1

Tbsp.

canola oil

1

medium onion,

chopped fine

2

garlic cloves,

minced

1

cup

corn

1

yellow squash,

grated (at least 2 cups)

1/8

tsp.

salt

1 to 2

dozen corn tortillas or flour tortillas -

See Assembly

2 to 3

cups

green chile sauce*

3

cups

grated cheese

(mix of cheddar and Monterey Jack)
Instructions
Preheat oven to 350° F (177 °C)

Heat the oil in a large skillet over medium heat.

Add the onion and garlic and sauté for 5 minutes until soft.

Add the corn and cook for 1 minute. Remove from heat.

Add the squash and salt. Stir to combine all of the ingredients.

Pour the chile sauce into a pie pan. (You're going to dip your tortillas in the chile sauce.)
Assembly
Depending on the size of the serving dish, you can make 2 to 3 layers, so make that decision ahead of time. My standard enchilada dish (8" x 12" casserole) works nicely with 3 slightly overlapping corn tortillas for each layer; therefore, I make a 3 layer enchilada casserole with this recipe. Starting and ending with a layer of corn tortillas, I use 15 tortillas. The vegetable mixture is divided into 3 parts and the cheese into 4.

Spray a casserole dish with oil. Spread "a little" of chile sauce on the bottom of the dish. I do this to keep the tortillas from sticking to the bottom.

Dip 3 corn tortillas (depending on size of pan) in the chile sauce and place, overlapping, across the bottom of the casserole dish. Top with about ½ cup of cheese, then 1/3 of the vegetable mixture, ending with about ½ cup green chile sauce.

Dip another 3 tortillas in the chile sauce and make another layer with cheese, vegetables and chile sauce.

Create a third layer of cheese, vegetables, and chile sauce. Top this layer with the last 3 tortillas, the remaining chile sauce (or as much as you want), and then the last of the cheese.

Place in the oven and cook for 25 to 30 minutes, until cheese has browned and the sides are bubbling.
Kitchen Notes
Flour vs. Corn tortillas - Corn tortillas yield a lighter enchilada, but both are excellent! Dipping the tortillas in the sauce helps to incorporate the sauce throughout the dish and also prevents the tortillas from drying out during the cooking process.
Green Chile Sauce - You could use store bought Green chile enchilada sauce or make your own sauce from fresh, canned or frozen roasted green chiles. The amount of green chile sauce you use for each layer depends on how hot the chile sauce is and how hot you want the final dish. If the chile is really hot, I use about ½ cup of sauce for each layer and my chile sauce is usually pretty hot.
Calabacitas is Spanish for "little squashes".  For my calabacitas I do try to find the smaller summer squashes, but for these calabacitas enchiladas, you can use one of the squashes that got hidden and a little too large for stirfry.
If you enjoy these calabacitas enchiladas the here are some other calabacitas recipes you might enjoy:

More on New Mexico Chiles
Red or Green? and Christmas – Red and Green
NM Red Chile and Red Chile Recipes
NM Green Chile and Green Chile Recipes
Green Chile Burn Video and recipe for a Quick and Easy Green Chile Stew
NM Green Chile Chicken Enchiladas
Sources for New Mexico Chile Products