Cook Around the Globe, hosted by German Mama of Arepas to Zwetschgen, invited us to explore the cuisines of the Arabian Peninsula for the month of September. I started out looking at cookies because I thought I would challenge myself and cook up some cookies, something I don't do (story for another time).  However, one of the cookie recipes mentioned Arabian teas which caught my interest since I have been on a quest for the best of the best in teas for a few years now.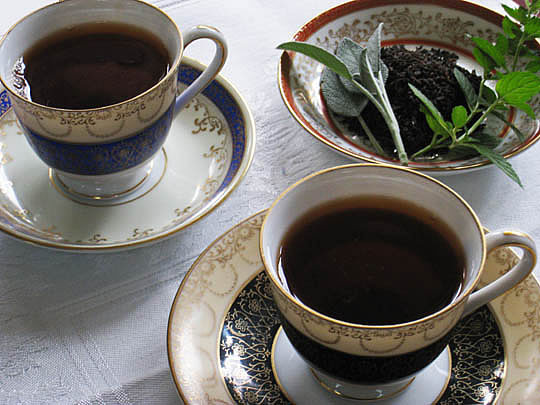 In my research, I found that tea is an important drink in the Arabian Peninsula.  In some countries it's served at business meetings, with breakfast, after lunch, and with dinner.  Throughout, Arabian teas are a hospitality drink that is served to one's guests. Apparently, refusal to accept the tea could be considered an insult. But why would anyone refuse?
Here are some of the tea combinations I found, and I hope I'm at least close to the real thing. From what I found, Arabian teas are mostly made with black teas.  However, green tea is starting to catch on, probably due to its health benefits.
Yemen Tea
Black tea normally brewed with cardamom, clove and/or mint.
Qatari Tea
Black Tea brewed with sugar cubes, and then topped off with evaporated milk.
Kuwaiti Tea
Black tea with cardamom, saffron, and sugar
Saudi Arabian Tea
Black tea brewed with sugar then poured into tall slender glass and filled to the brim.
Arabic Tea
Black tea with fresh sage or mint and a little sugar.  This is the tea I'm featuring since I have both fresh sage and mint in the herb garden.  I loved them both but the sage tea was my favorite!  I believe it's going to become one of my regulars.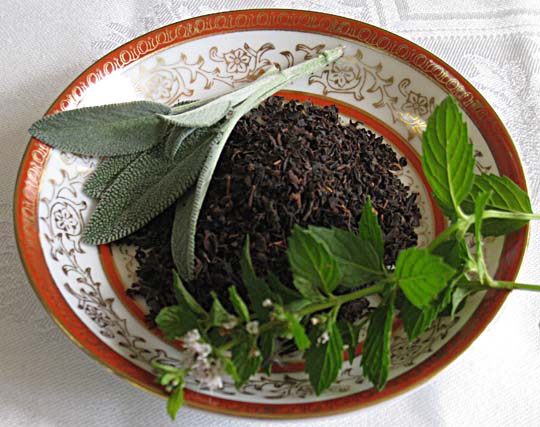 Arabic Tea Recipe
For each cup of tea
1 1/2 cups boiling water
1 teaspoon loose black tea leaves
3 large sage leaves or a sprig of mint
sugar or honey to taste (I prefer honey)
Brewing Instructions
Bring water to boil. Remove from heat and let sit for about 30 seconds.
Place the tea leaves and sage or mint leaves in an infuser over a cup. *
Pour the water through the tea and herbs.
Let steep for 5 minutes.
Sweeten to taste with sugar or honey.
*I use an infuser from Mighty Leaf Tea that fits every cup in my cupboard.
To learn more about the Health Benefits of Tea, I recommend reading this article "Tea Time:  Types of Tea and Their Health Benefits".
This post has been hooked up to the following blog hops.  Please be sure to visit and check out all of the wonderful recipes.
Mix it Up Monday!, Breakfast Ideas Monday, Gluten-Free Wednesdays
The Versatile Blogger Award
Last spring my husband convinced me to start a food blog.  At the time I had no idea what food blogging was all about and I certainly didn't know how HUGE it was!  So since I was looking for something new and exciting to do that was related to my passion for cooking, I jumped in head first.
One of the first great bloggers that I met, was Manuela of Manu's Menu. If you haven't visited her site, then you definitely should!  Her food and food photography will cause you to put on a few pounds by just looking at it.  Even though I only know her virtually, it is easy to see that she is a wonderful person, mother, wife, and chef.   So I was very flattered when Manuela notified me that she had awarded me The Versatile Blogger Award!  Thank you Manuela!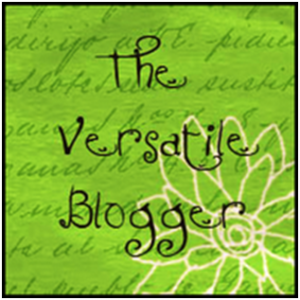 One of the conditions on receiving this award is to share 7 things about yourself, so here we go.
Seven (7) things about me:
I greet everyone with a smile and most people smile back.
Somewhere on my desk is a plaque that says "A cluttered desk is the mark of genius."
I work best when I have a deadline.
I have been working on a cookbook for the past 30 years.  Someone give me a deadline – Please!
I'm not a morning person, but breakfast is my favorite meal.  I eat a lot of brunches.
I always save the best bite of a meal for the last bite of the meal.
I hate dislike the word "blog", but I haven't figured out how to get around it!