Remember those fresh red chile ristras from my Red or Green? post?  It doesn't take long under the New Mexico sun for them to become dried red chile. Once dry, they can be ground into red chile powder, chile flakes, or turned into red chile sauce (recipe below). Continue reading for more information on New Mexico Red Chile.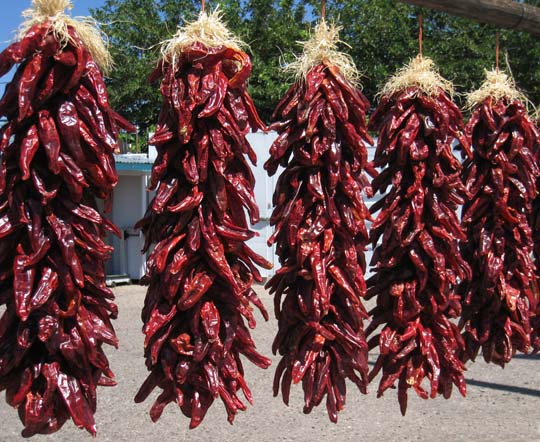 I usually go for the red chile sauce.  Every year we purchase a bag of dried red chiles or a fresh ristra. The ristra we hang it in the backyard to dry. Once dry, I break off the pods at the stems and make a couple of big batches of red chile sauce. I freeze most of it in small containers for future use, but always reserve about two cups for enchiladas. Below is my recipe for New Mexico Red Chile Sauce. For the heat level, I try to buy "medium" when I have a choice, but most of the time, the only choice is hot – but we like it hot.
If you don't have or can't find red chile pods, you can always make a red chile from powder.


New Mexico Red Chile Sauce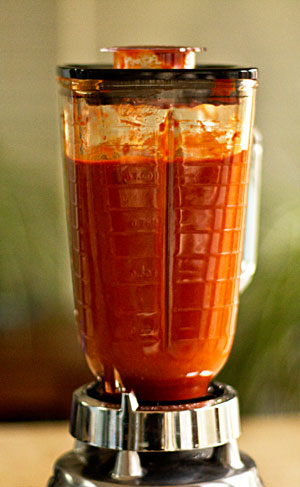 New Mexico Red Chile Sauce Recipe
This is my recipe for New Mexico Red Chile Sauce. There are several red chile variations, but this is the one my family and I love and have been making for many years.
"*" See Kitchen Notes for more information or links to special ingredients.
Yields
:
4
cups (approximate)
Ingredients
About 20 - 30 pods of dried red chile

3

large cloves

garlic

smashed

½

small onion

coarsely chopped

2

dried chipotle chile pods

stems and seeds removed (optional)

3

cups

water or stock*

½

tsp.

cumin seed*

toasted (if desired)

½

tsp.

dried oregano

(Mexican oregano if you have it)

1

tsp.

salt
Instructions
Break off the stems of the chile pods and shake out the seeds. If using pods from a ristra, check for mold on the inside of the pods. Wash pods and transfer to a pot. (I use a small stock pot.)


Transfer all ingredients to the pot with the chile. Bring the water to a boil and reduce heat for a simmer. Cover and simmer for about 15 - 20 minutes until the pods are rehydrated (see picture below). Remove from heat and let sit, covered, for another 10 minutes.

Once cool enough to handle, fill the blender with about 1/3 of the rehydrated chile, some of the other ingredients, and about 1 cup of the water.


Purée until you have a smooth texture. Add more water if you need to. Once you get a smooth texture, pour into a bowl and repeat with the rest of the chile in two batches.

To get a even smoother sauce, blend again after the sauce sits for 20 minutes or strain the sauce through a colander.*

Divide the sauce into 1 to 2 cup servings. Freeze what you can't use in 3 to 4 days.*
Kitchen Notes
The Liquid – Chicken stock can be used in place of water or you could use both water and stock.
Cumin – If you've looked at a lot of New Mexico red chile sauce recipes, you'll find cumin, coriander, both cumin and coriander and neither cumin nor coriander.  What you use is personal preference.  Having made it several ways over the years, I prefer adding cumin to my red chile sauce.  It's the way I was taught by a fifth generation New Mexican over 30 years ago, and some things are just too good to change. So if you don't like cumin, then don't use it.  It's all about the chile anyway.
Straining the Sauce – Some readers have brought it my attention that their blenders are insufficient in creating a really smooth sauce.  If you can't get the texture you desire, then pour the red chile in small batches into a colander.  Using a rubber spatula, move the sauce through the holes of the colander. This will extract any of the larger pieces that didn't blend and create and smoother sauce.
Freezing Red Chile Sauce – This sauce freezes great and last for up to a year or more in the freezer – although I really wouldn't know for sure because mine never last past 6 months.  When I plan to freeze it, I usually make a thicker sauce and transfer to small (1 cup) freezer containers. This takes up less space in the freezer and freezer space is always an issue.  You could also freeze the sauce in ice cube trays, then transfer the frozen cubes to a plastic bag.
To use frozen chile sauce, remove frozen chile from the container to a small sauce pan. Heat on low, breaking apart the frozen pieces and stirring as it thaws.  You could also "defrost" in your microwave for 3 minutes before transferring it to a sauce pan. Once thawed, whisk to regain the smooth texture.  Add more water or stock if needed.
Canning Red Chile Sauce – I've never canned red chile sauce, but I did find the following process over at Pepperfool which looks like it might work. This process says  "To can: Fill sterilized 1-pint jars, cap, and process in a pressure canner at 15 lbs pressure for 15 minutes."  I have not been able to find any process for using a water-bath to can red chile sauce.
How to Tone Down the Heat of a Red Chile Sauce – Here are a couple of ways:
Stir in 1 tsp. honey. Taste and add another if needed.  Don't add more than 2 tsp., otherwise it could become too sweet.  If it's still too hot…
Make a Red Chile Pumpkin Sauce.  If you've already made the red chile sauce, then just add some pumpkin puree.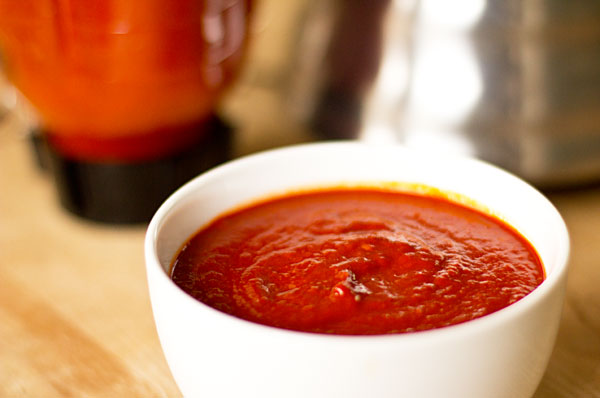 Dishes with Red Chile Sauce
Burritos – Smother your favorite burrito (bean, chicken, beef, pork or egg) with red chile sauce.  One of our favorites consists of pinto beans, cheese, fresh tomato, chopped onion, lettuce and sour cream or yogurt wrapped in a warm flour tortilla and smothered in red chile sauce.
The typical use of red chile here in New Mexico is to smother something.  Here are a variety of dishes Smothered in Red Chile.
Below are even more uses for red chile:
Egg Quesadilla – replace the Jamaican Jerk sauce with red chile sauce.
Carne Adovada – Pork marinated in red chile sauce and slow roasted in a slow cooker, on the stove top or in the oven.
Red Chile Enchiladas – Cheese, chicken or beef enchiladas
Tamales – A little chile sauce inside and out.
These are just a few suggestions for using red chile sauce, most of which are pretty common in New Mexico. Many of these recipes and more will be posted on this site in weeks, months, and years to come.
This New Mexico red chile sauce recipe has been linked up to the following blog hops: Made from Scratch Tuesday,  Fat Tuesday,  Katherine Martinelli's "Peppers" Hop, Gallery of Favorites, Frugal Foods Thursday, Gluten-Free Monday.


New Mexico Chile Series
During September of 2011 I introduced a series on New Mexico Chile. This post was part of that series; however, I have continued to update this post and the others by adding more links to recipes that use New Mexico chile.
More on New Mexico Chiles
Red or Green? and Christmas – Red and Green
NM Red Chile and Red Chile Recipes
NM Green Chile and Green Chile Recipes
Green Chile Burn Video and recipe for a Quick and Easy Green Chile Stew
Sources for New Mexico Chile Products
The Hatch Chile Store – From Farm to Table
Save
Save
Save