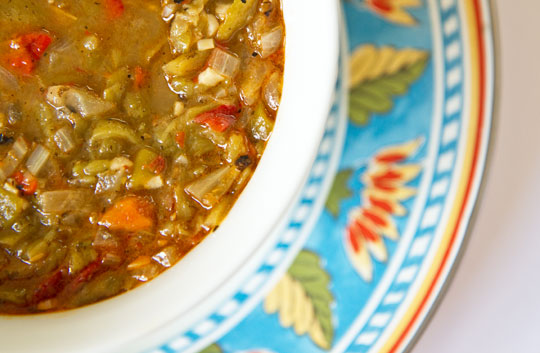 In this post we'll be making a traditional New Mexico green chile sauce and take a look at several recipes that use either use the sauce or that use chopped green chile peppers. New Mexico green chile is called by many names – New Mexico chile, Hatch, Big Jim, Rio Grande and Sandia – to name a few.  Unlike poblano and jalapeno, New Mexico green chile has a tough skin; therefore, it is best when roasted and peeled. The resulting roasted chile is remarkable!  If you missed my Red or Green? post, check it out to see how chile is roasted.
The whole roasted chile can be stuffed with cheese, dipped in a batter and then fried for chile rellenos.  Once fried, one could smother the rellenos with more green chile sauce or red chile, or both.  The roasted chiles can also be chopped and used for green chile sauce, green chile stew, salsa, just a bowl of green chile, and many, many more dishes.  Last week I shared with you my red chile sauce, so this week I'm sharing my recipe for New Mexico Green Chile Sauce.
New Mexico Green Chile Sauce Recipe
The is MJ's adaptation of New Mexico Green chile sauce.
Yields 3 to 4 cups of chile sauce
Prep and Cook Time:  less than 30 minutes
Ingredients
½ – 1 tsp. cumin / coriander spice mix*(to taste)
2 Tbsp. canola oil
1 medium onion, finely chopped
4 large cloves garlic, minced
2 Tbsp. flour
2 cups water or chicken stock
2 cups roasted, peeled, deseeded, and chopped green chile
1 tsp. dried oregano
½ tsp. salt or to taste
*If you only have powdered spices, then lightly toast them and add to the sauce.
Instructions
In a heavy saucepan, heat the oil over medium-low heat. Add the onion and the garlic. Cook, stirring occasionally, for about 5 minutes or until the onion is soft.
Add the flour and stir to incorporate the flour into the oil and to coat the onion.
Slowly stir in 1 cup of water to blend the water with the flour and to prevent lumping. Add the rest of the water, the chile, cumin/coriander spice mix, oregano, and 1/2 tsp. salt.
Bring to a boil then reduce heat for a low simmer. Simmer for 15 minutes.
Use immediately or within 3 to 4 days.  Freeze after that.  It freezes quite well!
Just in case you're wondering – what is the red ingredient? when looking at the picture – it's roasted red chile.  When you buy a bushel or bag of chile there are usually a few red chiles as well so the result is roasted Christmas.  It's makes a pretty sauce, doesn't it?
Kitchen Notes
Freezing Green Chile Sauce – Green chile sauce can easily be frozen in freezer safe containers and where it keeps well for up to 6 months.
Canning Green Chile Sauce – New Mexico State University provides a detailed process for canning green chile.  Click here for Canning Green Chile Sauce.  (This link is a pdf.)
Green Chile Tomatillo Sauce – This recipe can easily be turned into a Green chile Tomatillo sauce.  I usually use tomatillos when the chile I have is really hot or the guests I'm serving can't handle the heat.  The tomatillos do change the flavor of the sauce "some", but I love it just as much as a straight green chile sauce!
Is your chile too hot? – When you buy New Mexico chile it is hard to guarantee that, if you buy medium, that it's going to be medium.  I've bought mild before only to find a few hot chiles mixed in.  So if you find your chile to be too hot, here are a few ways to tone it down a bit.  Mix in a few chopped or blended tomatillos, add more onion, add some roasted sweet peppers, or, if it's just "a bit" too hot, add honey.  When you add the honey, add it 1 tsp. at a time, taste and add more if needed, but stop before it gets too sweet.  I never add more than 1 Tbsp.
Dishes with green chile sauce
Smother your favorite burrito, enchiladas, stuffed sopapilla, tamale, or rellenos with chile sauce.
Add sauce to soups, stews, a bowl of beans, or posole'.  I love making a pot of pintos or black beans and topping with green chile sauce!
Pour over eggs, cornbread (for a little southern-southwest fusion), chicken, a steak, or pork.
Braise chicken, beef, or pork in a pot of green chile sauce.
Stacked Crepes with Red and Green Chile (Christmas Pathiri)
Dishes with chopped green chile
More ways to use chopped green chile:

Eggs and potatoes fixed 101 ways
Breads, cornbread (green chile cornbread – YUM!)
Empanadas, meat pies, tacos, tostados, Chile con queso, mole, salsa
The ultimate green chile cheese burger!  If you serve a burger in New Mexico, you better offer it with green chile.
And the list goes on and on and on!

More on New Mexico Chiles
Red or Green? and Christmas – Red and Green
NM Red Chile and Red Chile Recipes
NM Green Chile and Green Chile Recipes
Green Chile Burn Video and recipe for a Quick and Easy Green Chile Stew
Sources for New Mexico Chile Products
This Green Chile Sauce recipe has been linked to the following blog hops.  Click on these links to see many more great recipes!
Creative Thursday Blog Hop, Weekend Potluck, Katherine Martinelli's Peppers Blog Hop, Fusion Friday, Ultimate Recipe Swap – Breakfast, My Meatless Monday, Melt In Your Mouth Monday, Made From Scratch Monday, Made With Love Monday, Fat Tuesday, Keep It Real Thursday, Foodie Friday, Foodie Friends Friday, Tastetastic Thursday, Wonderful Food Wednesday