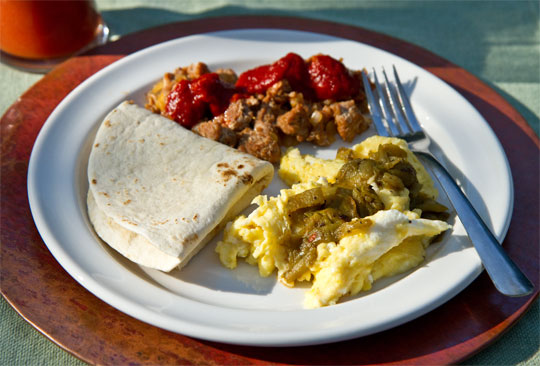 As mentioned in my previous post – Red or Green?, when you want both red and green chile on your order all you have to say is "Christmas".  Unless you specify, you'll get green chile on half of your order and red chile on the other half and the placement is arbitrary.  I like to be specific.  My favorite way to have Christmas is to put red chile on one item and green chile on another and that's how I prepare  my Christmas breakfast.
My Christmas breakfast consists of scrambled eggs topped with chopped green chile, Mexican chorizo and onion with red chile sauce, and a flour tortilla. Sometimes I'll add a side of black beans topped with, of course, red chile. It's a simple breakfast, hardy and packed full of protein. Great for any day of the week, any time of the year.
[print_this]
Mexican Chorizo Breakfast for 2
Ingredients
½ pound Mexican chorizo
½ cup onion, finely chopped
½ cup red chile sauce
Instructions
Heat a skillet over medium heat.
Crumble the chorizo into the hot skillet. If you are using links, remove the chorizo from its casing and crumble into the pan.
Add the onion and cook, stirring frequently for 3 to 4 minutes or until the chorizo is cooked through but not dry.
Serve and top with desired amount of warm red chile sauce*.
*If you don't have red chile sauce but you do have fresh red chile, you could do what Diane (on of my visitors) suggested. Roast the red chile and chop it up just like the green.  I've done this a few times and it's wonderful!  But then if you don't have that either, you could always use salsa; it's just not as good.
Scrambled eggs with Green Chile for 2
[Scrambled egg recipe and method adapted from Cook's Illustrated]
Ingredients
4 whole eggs and 1 egg yolk
1 Tbsp. milk
1/8 tsp. each salt and pepper
½ Tbsp. butter
½ cup chopped green chile (warmed in microwave for about 30 seconds)
Instructions
To a bowl, add the eggs, milk, salt and pepper. Beat with a fork until just yellow. Don't worry about incorporating all of the egg white and don't overbeat.
Melt the butter in an 10 inch nonstick skillet. Add the eggs and gently move a rubber spatula through the eggs, scraping the bottom and the side of the pan. Continue to move the spatula through the eggs until large clumps start to form. At this point use the spatula to fold the eggs until done. Done is when the eggs are still shiny, but not runny.
Move to a plate and top with the desired amount of green chile.
Heat the flour or corn tortillas on a cast iron griddle until warm and serve with the sausage and eggs.
[/print_this]
Kitchen Notes
I have to admit that until recently, I couldn't make a decent batch of scrambled eggs to save me.  Fried eggs – no problem.  Scrambled eggs – not very good.  After reading the method for cooking scrambled eggs in Cook's Illustrated, I realized what I was doing wrong – everything:
I overbeat the eggs.
I added way too much milk.
I added way too much "stuff" (onions, celery, peppers, etc.)
My old method produced a watery dish of sauteed vegetables with some egg in there somewhere.  Many thanks to Cook's Illustrated for teaching me how to make the perfect scrambled egg. (NO – I'm not getting paid to say that! It's just that being able to make perfect scrambled eggs after almost 40 years is exciting, so I want to give credit to the source!)
For a vegetarian Christmas breakfast, replace the chorizo with black beans smothered in red chile sauce.

More on New Mexico Chiles
Red or Green? and Christmas – Red and Green
NM Red Chile and Red Chile Recipes
NM Green Chile and Green Chile Recipes
Green Chile Burn Video and recipe for a Quick and Easy Green Chile Stew
Sources for New Mexico Chile Products
This Christmas Chile post has been linked to the following blog hops.
Let Do Brunch Blog Hop, Potluck Friday, Foodie Friday Linky, Weekend Potluck, Allergy-Free Wednesday, Breakfast Ideas Monday, Slightly Indulgent Tuesday, Made With Love Monday
Full Plate Thursday hosted by Miz Helen's Country Cottage