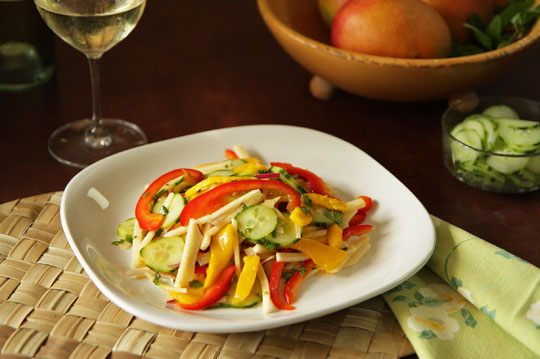 I'm sure many of you can relate when I say that some of the best dishes come about when there's "nothing in the fridge". How many times have you heard those words spoken by someone in your household? Home cooks know that there is ALWAYS something in the fridge! That's how this mango jicama salad come to be.
I have to admit that it was time to go to the co-op and restock, but I still had some "halves" of this and that in the crispers – a half of a red bell pepper, a piece of Jicama, some pickled cucumbers from the night before, and a mango that had been waiting a while to be chosen. I sliced it all up and tossed it together in a salad bowl with some fresh mint and a touch of onion. The dressing came from using some of the vinegar marinade from the cucumbers (nothing goes to waste) with a little oil and – voilá – a wonderful, refreshing summer salad.
Also, if you were wondering what to do with those pickled (marinated) cucumbers from last week's post (in addition to using them as a side dish), here's an idea.
[print_this]
Mango Jicama Salad with Pickled Cucumbers Recipe
Recipe Author:  MJ of MJ's Kitchen
Servings: 4
Time: 20' prep, 4 hours to overnight marinate for the pickled cucumbers
Ingredients
Quick Pickled Cucumbers (Click on link for recipe)*
½ red bell pepper, slice thin
1 cup Jicama, julienne
½ cup sweet red onion, slice thin
1 mango, peeled, slice into strips
2 Tbsp. fresh mint, chop
2 Tbsp. canola oil
Sea salt to taste
Instructions
At least 4 hours before serving (or the day before), make the Quick Pickled Cucumbers.
When ready to assembly the salad, drain the vinegar from the cucumbers into a small bowl or cup. Place the cucumbers in a salad bowl with the bell pepper, jicama, mango, onion and mint.
Whisk together 1 Tbsp of the cucumber marinade from the pickled cucumbers with 2 Tbsp. of canola oil.
Pour over salad, sprinkle with a touch of sea salt, and gently toss.
[/print_this]
Kitchen Notes
*A suggestion that I haven't tried, but might work – If you don't have to time to make the pickled cucumbers, try slicing a dill pickle very thin and using it instead.  If you try it, let me know if it works.
If you don't have jicama, you could substitute a really crisp apple or maybe even thinly sliced fennel.  Haven't tried it with the fennel, but the texture is right.
Even when I'm just serving the two of us, I still make the whole recipe. This salad keeps so well in the fridge that it makes great leftovers. Personally, I think it's like a soup – it's better the second day. It also travels well. I've made it for road trips as part of our roadside picnic lunches and for camping.
As far as what to serve it with – well – just about anything! We love it with grilled meats such as Flank Steak or chicken. It also goes well with roasted meats – oh, who am I kidding?  It just goes well with meat!  I've also seen a lot of spicy tofu dishes lately that this would probably match well with, but since I haven't cooked much with tofu, it's hard to say. Yes, that's something I should change. I do need to start playing more with some tofu recipes.
Anyhoo – I hope you enjoy this salad as much as we do! And to think – I was told there was nothing in the fridge!
If you like this Mango Jicama Salad, the here are some other salads with fruit that you might like: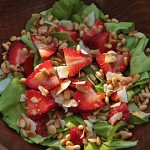 Strawberry, Coconut and Pinon Nut Salad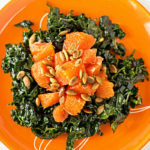 Massaged Kale with Cara Cara Orange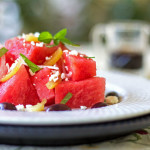 Watermelon Salad with Preserved Lemon
This Mango Jicama Salad with Pickled Cucumbers has been linked to the following blog hop.  Be sure to click on the link for more fabulous recipes.
Taste This Thursday, It's A Keeper Thursday, Freaky Friday, Full Plate Thursday, Showcase Your Talent Thursday, Allergy-Free Wednesdays, Katherine Martinelli's Mint Hop, Summer Salads Sunday, Mix It Up Monday, My Meatless Mondays, Made From Scratch Monday, Made w/ Luv Monday  .