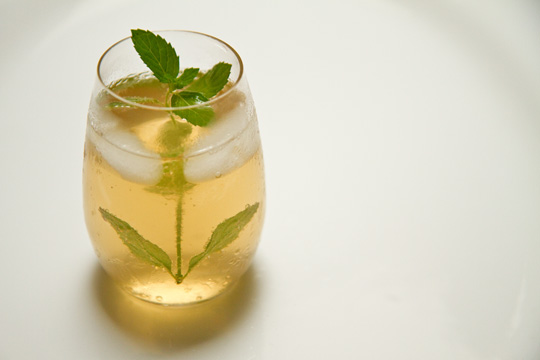 Cook Around the Globe
First of all I want to thank German Mama of From Arepas to Zwetschgen for starting "Cook around the Globe", "a fun monthly event where we learn about the essence and character of different cuisines around the globe simply by cooking dishes." During the month of August each participant was asked to cook one or more recipes from Bermuda & the Caribbean. I found so many new recipes I wanted to make, but time is limited so I had to make a decision – the hardest part of this event! Thanks German Mama for inspiring me to become more familiar with Caribbean cuisine!
At one point in my research I ended up at TasteofCuba.com where I found a recipe for Tostones or twice cooked plantains.  I was first introduced to tostones several years ago by a Puerto Rican acquaintance and fell in love with them. If you haven't had them, give them a try. They are wonderful! Unfortunately, I couldn't find any green plantains so I had to change my game plan.
I returned to the Internet and very quickly, came upon the Havana Cooler, described as a refreshing drink for hot Havana evenings. I'm hosting a family gathering on Friday night, so this sounded like a perfect way to get the party started! There are a few variations of Havana Coolers, but what seems to be the standard consists of 2 cubes of ice, a shot of Bacardi rum, a sprig of mint and ginger ale or Sprite. Simple enough, but a little boring. I knew I had a 10 year old bottle of Jamaican rum (no, I don't drink a lot!), so I decided to use the idea of the Havana Cooler and develop my version of a Jamaican Cooler.  WOW!  I don't think that bottle of Jamaican rum is going to last very much longer!
(NOTE: If you don't know already, to learn the difference between Cuban rum and Jamaican rum, click here.)
[print_this]
Jamaican Cooler (Rum Ginger Cocktail) Recipe
Recipe author:  MJ of MJ's Kitchen

How to make a ginger syrup
(This can be made a few days ahead of time and kept in the fridge.)
4 ounces of peeled ginger root, coarsely chopped (about 2/3 cups)
3 cups water
1 cup sugar
Add the sugar and water to a sauce pan and bring to a boil. Add the ginger root, return to a boil, and then adjust the heat for a low boil. Cook for 15 minutes. Remove from heat, let cool, and strain.  Yields about 2 to 2.5 cups of syrup.
To make one cooler,
add the following to a glass: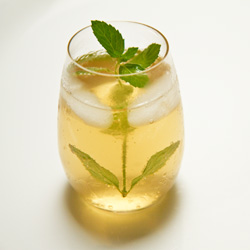 1 jigger (1.5 ounces) of ginger syrup
1 jigger (1.5 ounces) of Jamaican Rum
2 to 3 ice cubes (more if desired)
1 sprig of mint
Top off with carbonated mineral water (e.g., San Pellegrino) and ENJOY!
[/print_this]
Kitchen Notes
You can always forgo the ginger syrup and just use ginger ale.
WARNING!  These are very easy to drink and addicting, so when there is a strong possibility that I'll be having more than one, I plan to make them in a tea goblet with a few pieces of ice and more mineral water.
For a virgin Jamaican Cooler, omit the rum and enjoy a minty ginger ale. Bobby and I regularly have a virgin cooler with supper or on a hot afternoon.
Medicinal effect – For me, this cooler allows me to drink socially with my friends.  My stomach and alcohol are not friends, so I don't drink a lot.  I absolutely can't drink wine any longer which doesn't make me very happy since I LOVE wine.  The first time I drink this cooler and every cooler since, I have had no problems with the rum.  I attribute this to the medicinal effect of ginger on the digestive system. I'm guessing that the ginger counters the effect of the rum.  There's my rationalization for today. 🙂
I have shared this Jamaican Cooler Recipe with the following blog hops:
Cocktail Blog Hop hosted by Katherine Martinelli.
  Cook Around the Globe