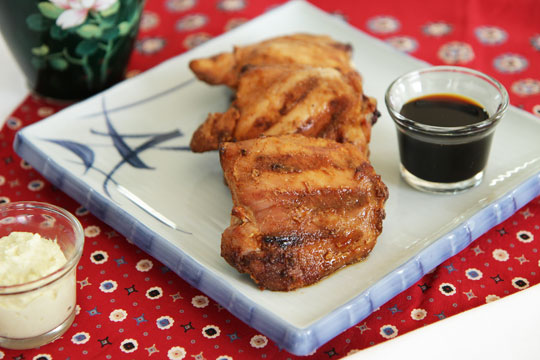 Whenever I don't want to think about what to cook, I just throw together an old stand-by. For chicken – it's my grilled soy-ginger chicken. It is so easy that you really don't have to measure anything which is a good thing since I don't measure anyway. I just throw the ingredients in a large bowl, whisk, add the chicken and toss to coat. The rest is up to Bobby.  See how easy that was for me?
[print_this]
Grilled Soy-Ginger Chicken Recipe
Recipe Author:  MJ of MJ's Kitchen
Servings:  8
Prep and Cook time: 10' prep, at least a 40 minute rest, 30 minute grilling time
Ingredients
1 Tbsp. peanut oil
3 Tbsp. soy sauce
1/2 tsp. garlic powder*
1/2 tsp. ginger powder*
1 tsp. paprika
Pepper to taste (optional)
8 pieces of dark meat chicken (thigh and drumstick or 8 pieces of thighs and/or drumsticks) – skin and visible fat removed, if you choose.
*substitute with 2 tsp. ginger-garlic paste
Instructions
Whisk together all ingredients (but the chicken) in a large bowl.
Add chicken and toss to coat.
Let marinate in the refrigerator for at least 40 minutes.
Prepare gas grill or coals for medium-high heat.
Place chicken on grill and reduce to medium heat.
Grill 10 to 12 minutes per side.
[/print_this]
Kitchen Notes
Even an old stand-by can be improved upon. Earlier this summer my sister-in-law substituted the garlic and ginger powder with my ginger-garlic paste, making a good thing even better! So if you happened to have made this paste, here's a great use for it.
As you probably noticed in the picture, I removed the chicken skin before grilling.  I'm not a big fan of chicken skin unless it's really, really crispy, so I always remove the skin and any visible fat when I grill or braise chicken pieces. To keep the chicken from sticking to the grill, I add oil to the marinade and Bobby sprays the grill with oil before cooking the chicken. As a result, the chicken doesn't stick and we get low fat grilled chicken.
Let's talk serving size.  According to the U.S. Department of Agriculture Food Pyramid a serving size of meat is 3 ounces or 85 grams or about the size of a deck of cards.  So since this recipe calls for 8 pieces of dark meat chicken, then "technically", there are 8 servings.  Well folks – Bobby and I make two meals from 8 pieces of chicken.  I, MJ, follow the guidelines and eat one serving at each meal.  Hum – so where do all of the other servings go?
Related Links:
This Grilled Soy-Ginger chicken recipe has been shared with the following blog hops.  Be sure to click on the links for more delicious recipes.
What's Cooking Love?, Made With Love Mondays, Slightly Indulgent Tuesday, Gluten-Free Wednesdays