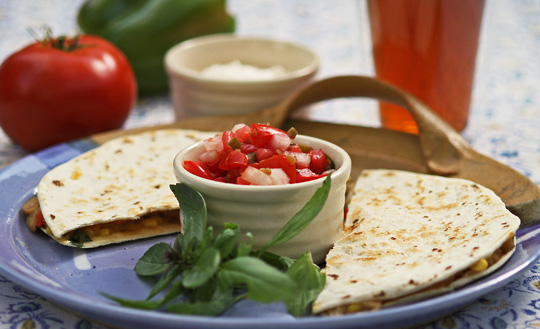 In this kitchen we call it a quesadillas anytime we fold one or more ingredients in a flour tortilla or between two corn tortillas, and heat until brown and crispy. Just about anything can be used to make a quesadilla, but more on that later. All in all quesadillas are so quick and easy to throw together making them perfect for a fast breakfast, lunch or supper – for one person, two people, a family or a party. They can actually be somewhat healthy depending on the ingredients you use, or more importantly – the ingredients you leave out.
So what's in your quesadillas? Please share with us your favorite quesadilla recipe or provide a link to your favorite.  Following are two of my old stand-by quesadilla recipes.
[print_this]
Black Bean and Corn Quesadilla Recipe
Serves: 4
Prep and Cook time: 30 minutes
Ingredients
1 ½  to 2 cups black beans, drained
1 cup cooked corn
½ cup onion, finely chopped
½ cup bell pepper, finely chopped
¼ cup chopped green chile
1 cup grated cheese (cheddar or Monterey Jack)
1 Tbsp. fresh cilantro or basil, chopped
4 large flour tortillas
Toppings
Pico de Gallo
Sour cream or sour cream substitute
Instructions
Heat up a cast iron griddle over medium heat.
Place all ingredients (except for tortillas and toppings) in a large bowl. Stir to combine.
Place a tortilla on the griddle and spread some of the vegetables on half of the tortilla. Fold and cook until one side of the tortilla is toasty brown and crisp. Flip and cook the other side.
Repeat with the remaining 3 tortillas.
Top each bite with a little sour cream and pico de gallo.
Sometimes I'll not fold the tortillas, but leave them flat and make one quesadilla with two tortillas. This works fine when you have only a few ingredients, otherwise, flipping them can be quite difficult because the filling falls out if you're not careful.  Once it's cooked, I'll cut the quesadilla in half.

[print_this]
Egg Quesadilla Recipe (aka Tortilla Egg Sandwich) for 1
Recipe Author:  MJ of MJ's Kitchen
This quesadilla makes a great breakfast or lunch – quick, easy, tasty and a great protein kick.
Ingredients
1 flour tortilla (8")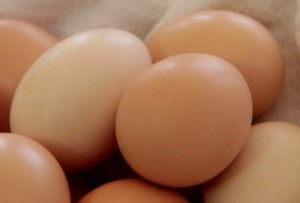 4 to 6 thin slices of cheese (cheddar, Monterey Jack, mozzarella or your choice)
½ tsp. Jamaican Jerk seasoning (be careful – this is HOT stuff!)*
1 fried egg with a fully cooked yolk
*substitutions – chopped green chile, 1 Tbsp. thick red chile sauce, 1 Tbsp. salsa (drained) – You don't want your spicy ingredient runny unless you want a really messy quesadilla.
Instructions
Heat up a cast iron griddle over a medium heat.
In a small skillet, fry an egg until the yolk is cooked. I usually break the yolk – on purpose – when I crack the egg into the pan.
While the egg is frying, spread the jerk seasoning evenly on the tortilla(s).
Place the flour tortilla on the griddle (or one corn tortilla). Place the slices of cheese on the tortilla. (Corn tortilla – place 2 to 3 slices on the tortilla.)
Place the cooked egg on one half of the flour tortilla and fold in half.
Cook until toasted and crispy. Flip and cook the other side until toasted and crispy. Serve.
We don't use a side, because the flavor of the Jamaican Jerk seasoning is too good to cover up – not that you really could cover it up.
[/print_this]
Kitchen Notes
Ingredients – A quesadilla can be vegan, vegetarian, or a meat lover's supreme. All it takes is about a cup of chopped vegetables and precooked meat, if desired, and a touch of cheese (to hold it all together). Of course if you are vegan, omit the cheese.
Corn tortillas or flour tortillas? It doesn't matter –we use whatever is in the fridge and we ALWAYS have one or the other.
Jamaican Jerk Seasoning – my favorites are Walkerswood and Carib – oh so HOT, but oh so GOOD.
Toppings – pico de gallo, your favorite salsa, guacamole, sour cream, or sour cream substitute, or nothing at all. We sometimes use a sour cream substitute (like Tofutti) with a little garlic paste, minced jalapeno, cilantro and green onion. This topping is especially good with our crab and red chile quesadillas.
Cooking method – Fry, grill, toast under the broiler, or my method, heat on a hot cast iron griddle.
Here's another quesadilla to check out:  Chile Relleno Egg Quesadilla
So what's in your quesadillas?
This post has been shared with the following blog hops.  Please sure to click on the links to see many more delicious recipes.
Full Plate Thursday, Midweek Fiesta, Breakfast Ideas Mondays, Gluten-Free Wednesdays (with corn tortillas)
The Egg Q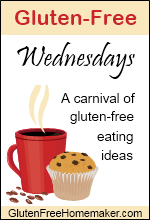 uesadilla Recipe was highlighted at Gluten-Free Wednesday's Egg Blog Hop.