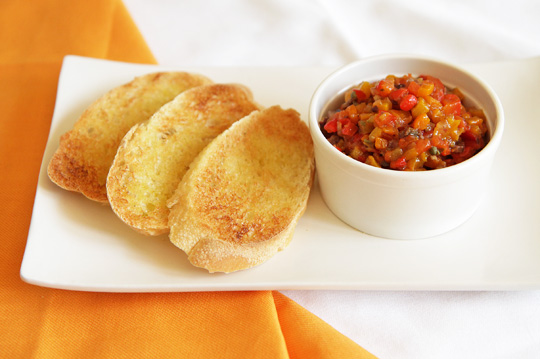 A reader's comment  – "I served this appetizer with 5 others on Thanksgiving, and it was, BY FAR, everyone's favorite appetizer…FABULOUS!!"
This Roasted Bell Pepper Appetizer is a delicious and healthy little appetizer made with a mix of beautifully roasted, sweet bells. Any combination of colored peppers work. Yellow, orange and red make a nice looking appetizer, whereas, green and red peppers can be very festive during the holidays.  If by some miracle you have leftovers, you can use them as a relish for sandwiches or as a replacement for the Jamaican Jerk seasoning in a tortilla egg sandwich if you feel like sweet rather than spicy.
[print_this]
Roasted Bell Pepper Appetizer Recipe
Recipe Author:  MJ of MJ's Kitchen
Yield: About 2 cups
Roasting peppers about 1 hour
Prep time: 15 minutes
Chill time: 1 hour to overnight
Ingredients
3 large sweet bell peppers (red, orange, and yellow) – roasted, peeled, seeded, and chopped*
1 small garlic clove, smashed, minced or ¼ tsp. garlic paste
1 tsp. balsamic vinegar
1 Tbsp. olive oil
1 Tbsp. sweet onion, minced
¼ cup Kalamata olives, minced
1 ½ tsp. capers, drained, rinsed, minced
A dash or two of salt
1 loaf French or Italian bread (Bagel chips work as well)
Olive oil (for brushing on bread)
*If you don't have time to roast your own bell peppers or you just don't want to, you can always buy a jar of roasted bells to save time.  Nothing wrong with this appetizer being all red if that's all you can find.
Instructions
Roast the bell peppers on the grill or under the broiler. (See Kitchen Notes.)
In a small bowl, whisk together the garlic, vinegar and olive oil. Set aside.
Once the peppers have cooled, peel, remove seeds, and chop. Transfer the chopped peppers to a medium size bowl.
Add the dressing and the remaining ingredients (except for the bread). Gently combine all ingredients.
Cover and place in the refrigerator for at least an hour. Better if left overnight to let the flavors merge.
If chilled overnight or for several hours, remove from the refrigerator 30 minutes before serving to reduce the chill.
Cut the bread into ¼" diagonal slices. Brush or spray with olive oil and place under broiler until lightly toasted.
Place the bell pepper mixture in a bowl and serve with the toasted bread.
[/print_this]
Bell Pepper Facts (from various supporting sources)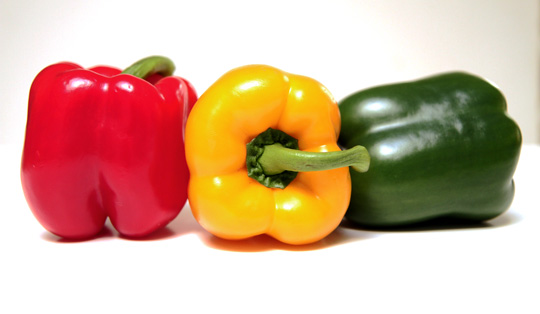 Green bells have twice the vitamin C by weight than citrus.
Red and yellow bells have 2 to 3 times the vitamin C of green.
Red bells have 11 times more beta carotene than green bells.
As bell peppers mature on the plant they change color and get sweeter.  The most mature bells – red, yellow and orange – are the sweetest because they are fully mature.

Kitchen Notes
Roasting bell peppers on the grill
Roasting bell peppers under the broiler
Poke each bell pepper twice with a knife. (This prevents them from exploding during roasting.)
Line a cake pan or broiler pan with aluminum foil.
Place the whole bell peppers in the pan and place under the broiler. Turn the peppers occasionally as the skin toward the heat starts to blacken. Continue turning the peppers until the skin on all sides, top and bottom has started to pull away from the meat and blacken.
Remove the peppers from the broiler and wrap in the aluminum foil. Set aside and let cool for at least 15 minutes or until you can handle them.
Once peppers are cool, remove the skin, seeds and veins. Chop the pulp.
More on roasting bell peppers
There are several different methods for roasting peppers and even for cooling them. I've tried many of them. The two roasting methods described above are now the only two I use. When the weather is cold, I roast under the broiler and when it's hot, I roast outside on the grill. I always roast the whole pepper because I have found that it yields juicier meats.
There are also several methods for cooling the peppers. The cooling process does two things: it steams the peppers making it even easier to remove the skin and it allows you to be able to handle them.  Believe me, you don't want to handle them right off the grill. I haven't found much difference in the methods for cooling them as long as they "steam". Effective methods include the following:
Place in a bowl and cover with a damp cloth
Wrap the peppers in aluminum foil
Place the peppers in a plastic bag and seal
I'm sure there are other methods, but these are the ones that have worked for me.
This Roasted Bell Pepper Appetizer has been linked to the following blog hops.  Be sure to click on the links and enjoy a variety of wonderful recipes.
Katherine Martinelli's Dip Blog Hop, Fusion Friday, Frugal Food Thursday, It's A Keeper Thursday, Fat Tuesday, Whole Food Wednesdays, Gallery of Favorites, My Meatless Mondays, Foodie Friday, Full Plate Thursday, Totally Tasty Tuesday, Whole Foods Wednesday, Mix It Up Monday, Mouthwatering Monday, Gluten-Free Wednesday, Made With Love Monday .