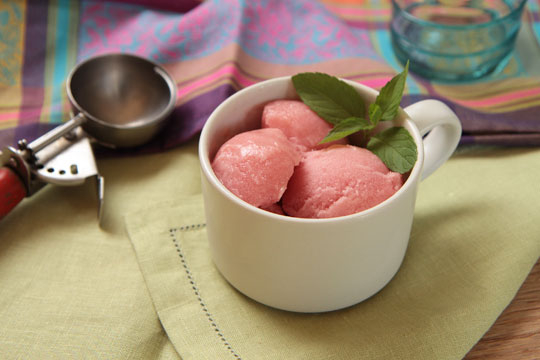 This is a rhubarb recipe for those who love rhubarb as well as for those who don't. And how do I know this to be true? Bobby isn't a fan of rhubarb unless it's combined with strawberries – until now.
I was so excited when I went to the local co-op last week and found fresh rhubarb. I wanted to go home and make a rhubarb-strawberry cobbler; however, summer has set in so the highs are in the 90's. In this house – that means it's too hot to run the oven. When you cool your house with a swamp cooler (very common in the southwest) it's hard to keep the house cool if the oven is on. So – since I can't use the oven, I had to come up with something else to do with the rhubarb.
I decided to try my hand at a rhubarb sorbet. We both love sorbet, so why not. I added mint because I have LOTS of it and mint complements just about anything, including rhubarb.  And the strawberries that Bobby needs in order to eat rhubarb?  Let's just say I forgot them.
[print_this]
Rhubarb Mint Sorbet Recipe
Recipe Author:  MJ of MJ's Kitchen
Serves: 4
Prep and Cook time: 2 to 4 hours (includes cooling and freezing time – the amount of time is dependent on the freezing method you use)
Ingredients
3 long stalks of rhubarb (about 2 ½ – 3 cups chopped rhubarb)
8 sprigs of fresh mint (about 7 to 8 leaves per sprig – keep leaves and stems intact)
1 cup water
Juice from half a lemon
¾ to 1 cup (240 ml) sugar (more tart and less sweet or less tart and more sweet, respectively)
1 Tbsp. Vodka (for a smoother sorbet)
Instructions
Cut the ends off each stalk of rhubarb. Wash and chop the rhubarb into small pieces.*
In a sauce pan, combine the water, rhubarb, lemon juice, sugar, and mint. Bring to a boil, reduce heat for a simmer and cook for 10 minutes, stirring occasionally. Remove the mint and discard.
Add the vodka.
Using an immersion blender or regular blender, puree the rhubarb sugar mixture. Let it cool to at least room temperature.
Once the rhubarb has cooled, place the puree in the refrigerator and chill overnight.  If you can't wait overnight, then pour the sorbet into a wide metal bowl or ziplock and place in a large pan of ice to speed up the cooling process.
To freeze pour puree into ice cream maker and freeze according to manufacturer's instructions.  (It will freeze faster if the rhubarb puree is cold already.)
OR
If you don't have an ice cream maker, pour the puree in a container and place in the freezer. After 30 minutes, stir the puree. Return to the freezer. Repeat every 20 to 30 minutes for 2 to 3 hours or until the sorbet starts to thicken. Let it set in the freezer overnight to finish freezing.
Remove from the freezer about 5 minutes before serving.
*If the rhubarb has been picked, shipped and stored in the fridge for several days, you might want to peel it. If the skin is tough, it may not puree very well.
To see a great step-by-step tutorial on how to make this sorbet, check out Javelin's Tuesday Tutor over at Cookin w/ Luv.
[/print_this]
Kitchen Notes
As a kid I use to eat rhubarb by dipping the end in a sugar jar. I loved it! Between that and chewing on sugarcane it's a wonder that I have any teeth left. I had one hell of a sweet tooth and still do. My mother also loved rhubarb so when it came up in the spring, the rhubarb cobblers and pies started coming out of the oven. They were marvelous – a little tart, a lot of sweet – Yum!
Unfortunately, as I mentioned earlier, Bobby isn't a big fan of rhubarb so in order to get my rhubarb fix, I compromise and make my cobblers with a mix of rhubarb and strawberry. However, I wasn't willing to compromise with the sorbet. When I served it I didn't tell him what it was which worked. He thought he was eating strawberry sorbet!
So what did this little rhubarb sorbet do for my rhubarb dilemma? Bobby absolutely loved it without any strawberries! Rhubarb cobbler with NO strawberries – here we come!
If you love this sorbet, you're going to love these ice creams!
Salted Pecan Chocolate Ice Cream
This rhubarb mint sorbet recipe has been shared with the following blog hops.  Be sure to click on the links to see more delicious recipes. Slightly Indulgent Tuesday, Fat Tuesday, Frugal Food Thursday, Hearth and Soul, Weekend Potluck, Tuesday's Tasty Tidbits, Ultimate Recipe Swap, Allergy-Free Wednesday, Made From Scratch Tuesday, Creative Thursday, Made With Love Monday, Sugar Me Up @ EMC, Just Another Meatless Monday, What's Cooking Love?, Katherine Martinelli's Mint Hop, June/July 2012 Ice Cream Blog Hop, Meatless Monday, Carole's Food on Friday ,