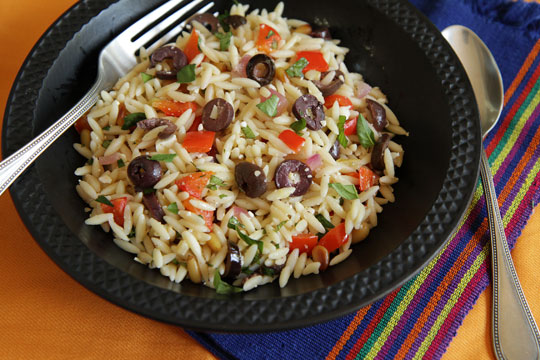 A Lemony Orzo Salad
This recipe makes a huge bowl of pasta! This salad can be served hot, cold or at room temperature making it a great dish for parties, potlucks, and picnics, or really – just anytime you want it. There's no meat, mayo, egg or anything to go bad if it sits out for a few hours.
When I make it for the two of us, we usually get two meals and a couple of lunches. Yes – we can make a meal out of it, it's so good! Bobby eats the leftovers cold. I prefer them warm or at room temperature so I'll microwave mine for about a minute. Sometimes we'll add a little more protein to the salad by sauteing a few Creole seasoned shrimp in some butter and serving on top of the pasta.

This particular recipe calls for preserved lemons, but if you don't have any [shame on you – just kidding] – you can make a quickie preserved lemon with lemon zest, juice, and salt while you're cooking up the recipe. Check out the Kitchen Notes on how to do this.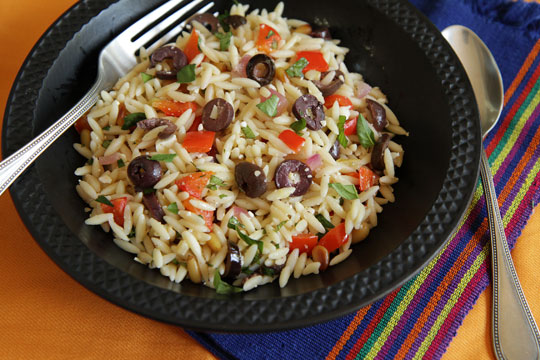 Lemon Orzo Salad Recipe
A hearty pasta salad filled with vegetables and great flavor. Perfect for parties, pot lucks and picnics.

"*" See Kitchen Notes for more information or links to special ingredients.
Course:
Side Dish, Vegetarian
Ingredients
3

Tbsp.

olive oil

(garlic infused olive oil if you have it)

12 to 16

ounces

uncooked orzo

1

medium onion,

chopped

1

medium sweet bell pepper,

chopped

1

cup

chopped artichoke hearts

(optional*)

4

large cloves garlic,

chopped

1/2

cup

kalamata olive or green olives with pimento,

sliced

½

a preserved lemon,

chopped *

1

Tbsp.

Preserved lemon juice

1/2

cup

Feta cheese, crumbled or ½ cup Romano, grated

3

Tbsp.

Pine nuts

(Piñon nuts, toasted *)

¼

cup

loosely packed fresh basil and/or mint,

chopped

Salt and cracked pepper to taste
Instructions
All of the ingredients end up in a large bowl, so go ahead and get out a large serving bowl.
Cook the orzo until al dente. Once cooked, reserve about 1/2 cup of the water (set aside), drain the orzo, and pour orzo into the large serving bowl.

While the orzo is cooking, sauté the onion and bell pepper in the oil over medium-low heat for 3 minutes. Add the garlic and continue to cook for another 3 minutes. Turn down the heat if the garlic starts to brown.

Remove from the heat and pour into the bowl with the pasta. Use a rubber spatula to get as much oil from the skillet as possible. Stir to coat the pasta with the oil and to incorporate the vegetables.

Toast the pine nuts to a light brown over medium-low heat in a dry skillet, shaking frequently.

Add the preserved lemon and lemon juice, olives, and nuts. Toss everything together.

Let the salad cool off for sat least 10 minutes or longer (you don't want the cheese to melt). Add the cheese, fresh herbs, and a generous amount of cracked pepper. Incorporate into the salad.

Taste. Add salt if needed.

If the pasta seems dry, add some of the reserved pasta water or a little more olive oil, but be careful not to make it too oily or wet.

Eat it now, refrigerate and eat it later, take it to a party and share with friends. It's great hot, at room temperature, or cold.
Kitchen Notes
Quickie Preserved Lemons - You can buy preserved lemons or make them. I make a pint each fall and it lasts all year. However, if I run out before my new batch is ready, I make a quickie preserved lemon. It's not the same as the real thing, but it works in a pinch. You do need to make it the day before.
Preserved Lemons in less than 24 hours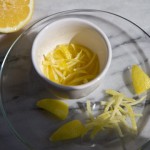 Piñon nuts – Piñon nuts (pine nuts), are quite expensive, but worth the cost IMO.  However, there are substitutions. The best one is pumpkin seed and next, sunflower seeds. Chopped almonds also work. Whichever you use, be sure to toast them. Walnuts absolutely do NOT work, and pecans (my favorite of all nuts) are just O.K.
Fresh herbs - Fresh basil with pasta is best, but there are other fresh herbs that work well. Fresh basil, mint, parsley, and thyme all work well. You could use them solo or as a blend. Whatever you have or whatever you like.
Onion and Bell Peppers - If you are making this for a large group, use a large onion and large bell pepper to make a bigger batch. You get plenty of cooked orzo from a 12 ounce bag, so a little extra on any or all of the veggies certainly won't hurt this salad.
Additional Vegetables - Any of these vegetables or vegetable combinations work:  chopped artichoke hearts with 1/2 pound of sauteed mushrooms. Lightly cooked broccoli, asparagus, corn, or wilted greens such as spinach or Swiss chard are also nice.
Feta - The feta or cheese is optional, but is a nice addition.
Making a meal out of this salad:

As I mentioned earlier, you can make a meal out of this pasta salad by adding a little protein. Here are some suggestions for adding more protein (for 2):
Shrimp: Season ½ pound of raw, peeled and deveined shrimp with ½ tsp. Creole seasoning (or any spicy seasoning blend). Sauté in 1 Tbsp. butter for 3 minutes. Pour over two servings of pasta.
Chicken: If you have some leftover chicken, just chop it up and toss into the salad. If you don't, then slice up an uncooked chicken breast, and prepare it the same way I prepare the shrimp.
Leftover Grilled Steak: Sliced the steak. Heat some olive oil in a skillet over medium high heat, and QUICKLY reheat the steak in the hot oil. Place the steak beside or on top of the salad and top with the oil.
Vegetarian (Egg omelet): Whisk 3 eggs with ¼ cup milk, a little salt and pepper, and some fresh basil (or tarragon or thyme). Add ½ Tbsp. butter to a medium size skillet over medium-low heat. When the foam subsides, add the eggs and cook over medium-low heat until almost set. When the omelet has set enough to flip, flip it and let it finish cooking. Cut the omelet into strips and gentle stir into salad or just lay on top.
O.K. – I'll stop here, because there's 101 other variations for this recipe and I could go on and on.  Hope you give this salad a try.  If you do, please let me know how it turns out.
If you like this Lemony Orzo Pasta Salad here are a couple more pasta dishes with preserved lemon that you'll enjoy.
Pasta with Broccolini, Leeks and Preserved Lemon
Capellini with Garlic, Lemon and Egg