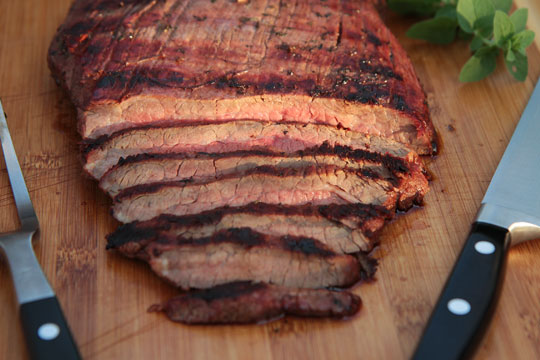 A 1.5 to 2 pound grilled flank steak provides the two of us with 3, sometimes 4 meals. We'll usually make at least two meals from the steak before freezing the leftovers for another week. However, sometimes none of the steak makes it to the freezer. So how do we make 2 to 4 exciting meals from one flank steak in one week? I use the perfect marinade that allows the steak to be used in many, many ways.

Several years ago I came up with a marinade of ruby port, soy sauce and some herbs. Since then, the majority of the flank steaks we've grilled have been seasoned with this marinade. Talk about an old standby. Once marinated and grilled, this flank can be used in fajitas, steak and eggs, steak salad, stir fry, or just sliced with a couple of complementary sides. See Kitchen Notes for some of our favorites.
[print_this]
Grilled Flank Steak Recipe
Recipe Author:  MJ of MJ's Kitchen
Servings: 6 to 8
Time: 10' prep, 8 hours or overnight to marinate, 40 minutes to grill and rest (time includes prepping the grill)
Marinate the flank steak in the soy-port marinade at least 8 hours or overnight before grilling. Because it only takes about 10' of prep to get the steak into the fridge, I prefer to let it marinate overnight. Overnight also allows the marinade to be absorbed more into the steak.
Ingredients
1 ½ to 2 pound flank steak
Marinade
¼ cup soy sauce
¼ cup ruby port
1 Tbsp. peanut oil
1 tsp. dried thyme
1 tsp. dried oregano
Instructions
At least 8 hours or the day before grilling, whisk together the soy sauce, port, peanut oil and herbs.
Place the steak in a large zip lock and pour the marinade into the bag. Seal. Gently shake to cover the whole steak with the marinade. Press the air from the bag and reseal.
Place in the refrigerator for 8 to 24 hours. Flip the bag over about halfway through the marinating time.
Prepare the grill. Start with a high heat. Right before placing the steak on the grill, reduce to medium. (We use a gas grill.)
Remove the flank from the marinade and place on the hot grill.
Grill 6 to 8 minutes per side depending on the thickness of the flank. We like it medium rare so we shoot for 6 to 7 minutes. (See Kitchen Notes)
Let rest 5 minutes before slicing.
You can discard the marinade or add 1/4 cup beef broth and reduce the marinade in a small sauce pan to use as a sauce.  Normally, I discard the marinade because this steak doesn't need any sauce.  However, if I am going to use the flank in fajitas or in a stir fry, I might use the reduced sauce.
[/print_this]
Kitchen Notes
Grilling time – Because we know that we'll have leftovers, we cook the meat so that the thicker section is a little rarer than we normally like it. For the first meal, we use the two ends of the steak which are cooked perfect. This way, when we reheat the steak for the next meal, we don't overcook it and it doesn't get tough. (Overcooked flank steak is tough so we always shoot for medium rare.)
To store the leftover steak, place in a covered glass dish.
To reheat, move the container from the fridge to the microwave and cook on high for 2 minutes.
Meal suggestions
Meal 1: Sliced flank steak, creamy polenta and Aarti Sequeira's Massaged Kale Salad (an awesome salad) or my Strawberry, Coconut, and Pinon Salad or any other of these delicious salads.
Meal 2: Flank steak fajitas with sizzling onion and bell peppers, pica de gallo (chopped tomatoes, onions, fresh cilantro, and minced jalapeno), sour cream and guacamole.  OR leave out the pica de gallo and smother the fajita with red chile sauce.
Meal 3: Flank steak stir fry of onion, bell pepper, leftover flank steak, and chopped fresh tomatoes. Season with a little ground mustard, paprika, garam masala, salt and pepper and serve over rice.  We like this stir fry with brown rice.
Meal 4: Steak salad – Lettuce, cucumber, bell pepper, a touch of thinly sliced onion, toasted sunflower seeds, sliced flank, dried cranberries, feta cheese, and a roasted garlic dressing (mash two cloves of roasted garlic and whisk with 1 tsp. Dijon mustard, 1 tsp. honey, 1 Tbsp. white wine vinegar and 2 Tbsp. olive oil) or make up your own dressing.
This grilled flank steak recipe has been shared with the following blog hop.  Click on the link to see more wonderful recipes.  Hunk of Meat Monday, Frugal Food Thursday, Weekend Potluck, Gluten-Free Wednesdays, Made With Love Mondays
This recipe was featured on Gluten-Free Wednesdays – August 2012