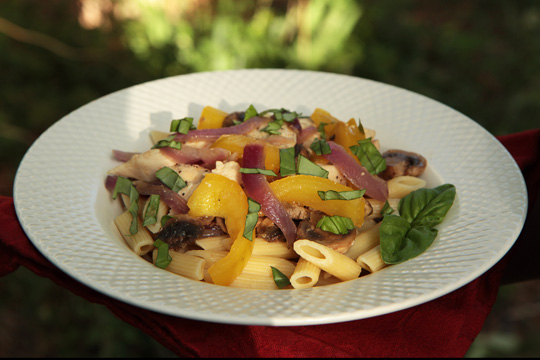 I love Thai food – some really unique flavors and oh so spicy.  So playing with incorporating Thai flavors into my own dishes has been a lot of fun.  For this Thai chicken pasta I took a typical chicken and vegetable pasta dish and added a twist –  Thai red curry paste and fish sauce.  The curry paste provides the heat and that can be controlled by how much paste you use.  We typically go for medium (1/2 tsp. paste), but one of my brothers loves things hot, so 1/2 tsp. isn't near enough for him.
Like any chicken and vegetable recipe there is a lot of versatility, so be sure to see Kitchen Notes for some ideas.
Thai Chicken Pasta and Vegetables Recipe
Recipe Author:  MJ of MJ's Kitchen
Serves:  4  (leftovers warm up nicely)
Prep and Cook time:  30 minutes
Ingredients
8 oz. penne pasta, cooked al dente
2 tablespoons peanut oil
1 teaspoon fresh ginger, minced*
2 large garlic cloves, sliced thin*
2 cups uncooked chicken breast, cut into short strips (about 2 boneless chicken breasts)
1 medium red or yellow bell pepper, sliced
1/2 large onion, sliced (red, white or yellow)
1 ½ to 2 cups sliced mushrooms (See Kitchen notes)
2 tablespoons fish sauce
1/2 cup chicken stock
¼  to ½ tsp. red Thai paste (mild to medium heat)
1/4 cup fresh basil and/or cilantro, coarsely chopped (Thai basil is best, but sweet basil works great)
juice from 1/2 lime
lime wedges (one for each serving)
salt to taste
*substitute with 1 Tbsp. ginger-garlic paste
Instructions
Heat the peanut oil in a large wok or deep skillet over medium-low heat.
Add ginger and garlic and sauté for 1 minute.  Add the chicken strips and sauté with the garlic and ginger for 3 minutes.
Add onion and bell pepper.  Increase heat to medium and cook for 5 minutes stirring frequently.
Add mushrooms, fish sauce, chicken stock and Thai paste.  Stir to incorporate the paste into the liquid. Cover, and cook for 2 to 3 minutes or until the mushrooms start to release their moisture.
Remove from heat and toss with penne, lime juice, and fresh basil.
Taste.  Add salt if needed.
Squeeze a little more lime juice on each serving when served.
Kitchen Notes
The chicken – The first time I made this I used leftover roast chicken.  It was great!  Since it was already cooked, I added the chicken when I added the mushrooms.  You can also substitute the chicken with shrimp which also should be added with the mushrooms so they don't overcook.  OR – if you want to go vegetarian, just leave the chicken out all together.
The vegetables – There is a lot of versatility in the type of mushrooms you use.  Shiitakes and button mushrooms are my favorite.  I've also tried it with oyster mushrooms which were good, but a little too delicate and a little pricy.  You can use reconstituted dried mushrooms such as lobster and shitake, or canned straw mushrooms.  These work great in a pinch like when I don't have fresh mushrooms in the fridge.  Yes – I do keep straw mushrooms in the pantry.
Other vegetables that I've used include carrots, celery, spinach and chard.  All work quite well.
The pasta – What's your favorite?  What's in the pantry?  The only pasta that I can think of that probably wouldn't work is angel hair (capellini) and orzo.  I think both would be too delicate for the ingredients and the flavors of the fish sauce and Thai curry paste, plus the orzo is just too small.
Speaking of Thai curry paste…I keep a jar of red curry paste (and green curry paste) in the fridge at all times.  Just a little bit of this paste elevates a very simple dish.  In addition to Thai dishes, I use it in scrambled eggs, simple rice dishes, and soups.  If you can't find Thai paste at your local grocery store try a specialty market or buy it online.  This paste keeps indefinitely, so it will still be good when you need it.
Don't forget the last step – Top it off with fresh herbs and lime!
This Thai chicken pasta and vegetable recipe has been shared with Frugal Food Thursday,  Ultimate Recipe Swap,  Katherine Martinelli's Pasta Blog Hop, What's Cooking Wednesday, Whole Food Wednesday, Katherine Martinelli's Asian-Inspired Hop, Made With Love Monday.  Click on the links to see more delicious recipes.