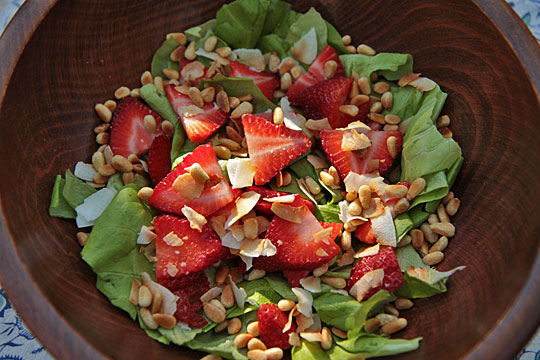 It really doesn't take much to make a tasty salad and this Strawberry Coconut Salad with Toasted Pinon is one example.  There are a few substitutions you could use, but don't compromise on the star ingredient – the strawberries.  Use the tastiest strawberries you can find.   The other ingredients add different textures and complementary flavors.
[print_this]
Strawberry Coconut Salad with Toasted Pinon Recipe
Recipe Author:  MJ of MJ's Kitchen
Serves:  2
Prep and Cook time:  15 minutes
Ingredients
2 cups butter leaf or mixed spring greens
1 cup strawberries, about 5 large strawberries, sliced lengthwise
2 thin slices sweet onion, coarsely chopped
3 Tbsp. pinon nuts (pine nuts)
1 Tbsp. unsweetened coconut (for a little sweeter salad, you can use sweetened coconut)
Dressing
1 1/2 tsp. honey
1 Tbsp. white wine vinegar
2 Tbsp. canola oil
Instructions
Heat a small heavy skillet over medium-low heat.  Add pinon nuts.  Slowly toast, stirring occasionally until lightly toasted. (Pinons do tend to stick to the pan more than other nuts so flipping them around in the pan for an even toasting doesn't always work.)
Once the nuts are lightly toasted, add the coconut and toast for 1 to 2 minutes, stirring a few times until the coconut is toasted.
Combine the lettuce, onion, strawberries, nuts and coconut in a salad bowl.
In a small bowl whisk together the honey and vinegar. Add the canola oil and whisk to an emulsion.
Top the salad with the dressing. Toss and serve.
[/print_this]
Kitchen Notes
Greens, fruit, and nuts – what else do you really need for a salad?  Adding the sweet onion provides a little bite while the toasted coconut with the strawberries makes the salad "exotic".
Greens – For the greens you can use just about anything.  Personally, I prefer lighter greens such as butter leaf or a spring mix.  Heavier greens like romaine or even spinach just don't work for me with this combinations of ingredients.
Pinons – If you don't have pinon nuts (pine nuts),  almonds work great.  If you have neither, then try what you do have.  Like I said – if you have greens, fruit and nuts, you have a salad.
The dressing is a simple dressing because that's all this salad needs.
This strawberry coconut salad recipe has been shared with the following blog hops.  Click on the links for more fantastic recipes! Midnight Madness Meatless Monday, Frugal Food Thursday, It's a Keeper Thursday, Taste This Thursday, Fat Tuesday. Whole Foods Wednesday, What's Cooking Wednesday?, Made with Love Mondays, Whole Food Wednesday, Summer Salad Sunday, Gluten-Free Wednesdays , Katherine Martinelli's Coconut Hop
This recipe was featured on Midnight Madness Meatless Monday (2/13/12) and on Gluten-Free Wednesdays (July 2012).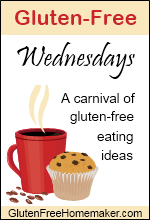 Save