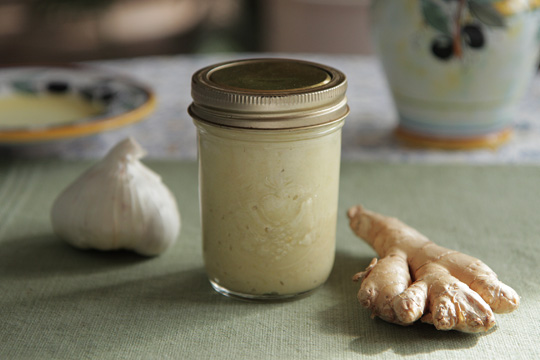 This ginger garlic paste is a very convenient condiment to keep around.  If you think about, most dishes that call for ginger, also add garlic.  With this ginger garlic paste, you have both. It eliminates the constant peeling and chopping of both garlic and ginger when you need it.  Just scoop a teaspoon or tablespoon into the dish and you're done.
[print_this]
Ginger Garlic Paste Recipe
Recipe author:  MJ of MJ's Kitchen
Yields:  about 8 ounces (amount based on ½ cup garlic and ½ cup ginger root)
Prep time:  30 minutes
Ingredients
Juice from ½ lime
Equal parts (or close) coarsely chopped garlic and peeled, chopped ginger root
¼ tsp. salt*
4 Tbsp. canola oil*
* The salt and oil amounts are based on 1cup of garlic and ginger combined.
Instructions
Place the chopped garlic and the lime juice in a measuring cup, stir, and let rest for 7 to 10 minutes while you peel and cut the ginger root.
Drain the garlic and discard the lime juice.
Add all ingredients to a blender.
Pulse several times, wiping down sides to incorporate all of the garlic and ginger.
Blend to a paste.  If needed, add more oil 1 Tbsp. at a time until you get a nice paste consistency.
Transfer into a clean jar and refrigerate.  As long as you keep it refrigerated, this paste will last for several weeks or even a few months.
Kitchen Notes
There are a lot of recipes for ginger-garlic paste with slight differences. Some recipes use water while others use oil.  I prefer oil because the paste doesn't splatter when you add it to hot oil, plus I like the consistency better.
According to an experiment run by the testers at Cook's Illustrated "steeping cut garlic in lemon juice mellows its flavor" (January/February 2011). I tested it myself and found it to be true; therefore, I add lime juice to my ginger-garlic paste to remove some of the bite from the chopped garlic. I chose lime instead of lemon because many of the dishes that I use this paste in, I also use lime.
So how much do you use in a recipe?  Whenever a recipe calls for both garlic and ginger, replace with equivalent amount of paste.  For example, 2 garlic cloves and 2 slices of minced ginger can be replaced with 1 Tbsp. ginger-garlic paste.
[/print_this]
So what do you do with ginger-garlic paste? This paste can be used in any dish that calls for both garlic and ginger – obviously.  I've used it in Asian dishes, Indian dishes, curries, marinades, and braises. Here are some of my recipes that use it:
Thai Chicken and Vegetables
Kabocha Squash and Fennel soup
Mafe' – A West African Stew
Grilled Soy Ginger Chicken
Yes, it's one more item for the refrigerator door, but once you try it, it will definitely get used. Share your ideas on how you would use it.
Ginger-Garlic Feta Dip
Here's a quick dip I threw together this afternoon for a little snack.  It makes about 1/2 cup.  The ingredients are the ginger-garlic paste, feta cheese, fresh mint leaves (or other fresh herbs), and crackers.
In a microwave safe bowl, combine 1 tsp. ginger-garlic paste and 1/4 cup crumbled feta cheese.  Stir well to combine the paste and the cheese.  Microwave on medium power for 1 minute or until cheese softens and starts to melt.  Stir in 8 chopped, fresh mint leaves.  Serve with crackers.  We had gluten free multi-seed crackers which worked great with this dip.
This ginger garlic paste recipe has been linked to Made from Scratch Tuesday, Traditional Tuesdays, Tuesday's Tasty Tidbits, Whole Foods Wednesday,  Gallery of Favorites, Made With Love Mondays, Allergy-Free Wednesday.  Click on these links for more delicious recipes!
This Ginger Garlic Paste recipe was featured on the March 2, 2012 Gallery of Favorites.