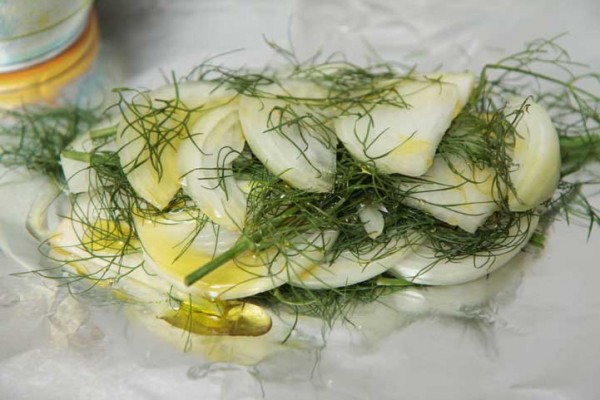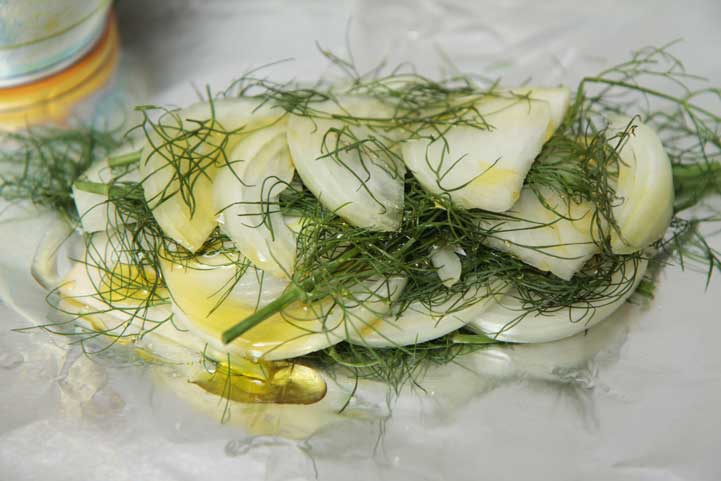 The things I love about this recipe:
It's so easy to make and the cleanup is even easier.
It goes with just about anything – meats and vegetables.
It uses some of those fennel fronds leftover once the fennel bulb is gone.
Its versatility allows you to adjust the flavors by replacing the fronds with different herbs.
It can be cooked on the grill or stovetop.
It's healthy and oh so good.

Even if you don't like fennel, you'll love these onions and if you really, really don't like fennel or want to change the flavor profile to better complement the rest of the meal, see Kitchen Notes for alternatives.
[print_this]
Fennel Infused Onions Recipe
Recipe Author:  MJ of MJ's Kitchen
Serves:  2
Prep and Cook time:  15 minutes
Ingredients
½ large onion, sliced (I use sweet onions when I have them)
Several fennel fronds
Sea salt
Olive oil
Instructions
In the center of a sheet of aluminum foil or parchment make 3 layers of onions by starting with a few pieces of fennel fronds.  Top with a layer of onion, then a few fronds and a little sea salt, another layer of onion, fronds, and a little more sea salt.  One more layer of onion topped with more fronds and a touch more salt.  Drizzle with olive oil (as shown in the picture).
Place another sheet of aluminum foil over the onion stack and fold all of the edges to create a sealed aluminum envelope.
Place on a hot grill or hot griddle. Cook for 5 minutes, turn and cook another 5 minutes.
When you serve, discard the fronds.
[/print_this]
Kitchen Notes
You can easily double or even quadruple this recipe.  Just make a wider stack but keep the number of onion layers limited to 3 so all of the onions cook evenly.
Herbs that can be used in place of fennel fronds.
Fresh dill weed
Sweet basil or Thai basil
Rosemary
Thyme or lemon thyme (Used this last night with grilled lamb chops – yummy!)
Your own personal favorite herb or herb combination
Cooking on the grill – We usually make these onions when we grill ribeye or T-bone steaks. We place the onion package on the grill next to the steaks using the same cook time as the steaks.  When we turn the steaks, we turn the onions.  There is some flexibility in cook time so regardless of whether you're going for medium rare or medium, just cook the onions the same as the steaks.  If you're going for well-done on your steaks, then the onions will be well-done as well, so you might take them off the grill a couple minutes earlier.
Cooking on the stovetop – You can also cook this on the stovetop.  Just prepare as instructed and then place on a hot, heavy griddle or skillet over medium heat.  Top with a domed lid to concentrate the heat around the "onion package".  Reduce the heat to medium-low and cook 5 minutes per side.
When you buy a fennel bulb always try to buy it with good looking stalks and fronds intact.  Use the bulb for another dish.  Need an idea?  Try my Suppertime Pileup.  Save the fronds for a variety of uses during the week. There are so many things that you can do with them – add them to soups, use them like you would rosemary to fill the cavity of whole fish or chicken, or use them in the above recipe – Fennel Infused Onion (of course).  For more ideas on how to use fennel fronds, check out a great discussion on ChowHound – "What to do with fennel fronds?" Lots of wonderful ideas.  If you have some ideas of your own, please let us know in a comment.
This fennel infused onion recipe has been shared with the following blog hop.  Click on the link to see more fabulous recipes!  Just Another Meatless Monday, Midnight Maniac Meatless Monday, Slightly Indulgent Tuesday, Fat Tuesday, Full Plate Thursday, Around My Family Table, Made From Scratch Monday, Traditional Tuesdays, Allergy-Free Wednesday, Whole Food Wednesdays, Gluten-Free Wednesdays, Gluten-Free Fridays, Hearth and Soul, Mix It Up Monday, Made With Love Mondays, Recipe Sharing Monday, Whole Foods Wednesday, Food Frugal Thursday, Katherine Martinelli's Onion Hop