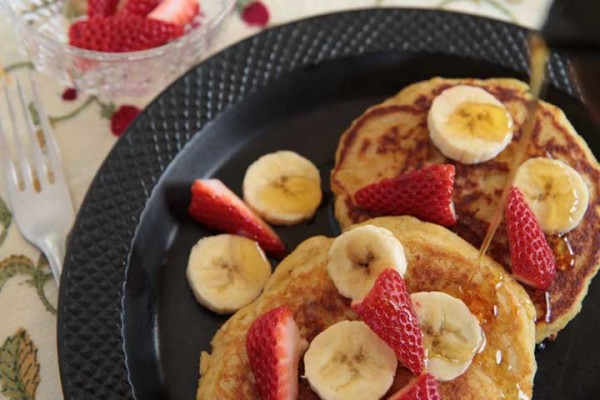 Sometimes missing the main ingredient for a dish leads to something even better.  That was the case with these Cornmeal Ricotta Pancakes.  I woke up one Saturday morning with a craving for buttermilk pancakes but no buttermilk.  In the dark recesses of the refrigerator I did have some ricotta cheese that needed to be used, so I decided to substitute the buttermilk with ricotta. But you know how it goes; once you substitute one ingredient it opens the recipe up for substituting other ingredients.  Eventually you end up with a completely different recipe.  Man, I'm glad I didn't have any buttermilk!
Update October, 2013
Since I first came up with this cornmeal ricotta pancake recipe back in 2011 it has been the only pancakes I've been making.  Every time I ask Bobby if he wants pancakes the response is "Absolutely, as long as it's the Cornmeal Ricotta Pancakes". 🙂 I have only added a couple of suggested adjustments/substitutions/variations since, to the original recipe. One is, if you do have buttermilk, you can use buttermilk in place of regular milk or use a combination of the two.  The second variation came about the morning I didn't have any lemon, so I substituted orange zest.  It was just as delicious.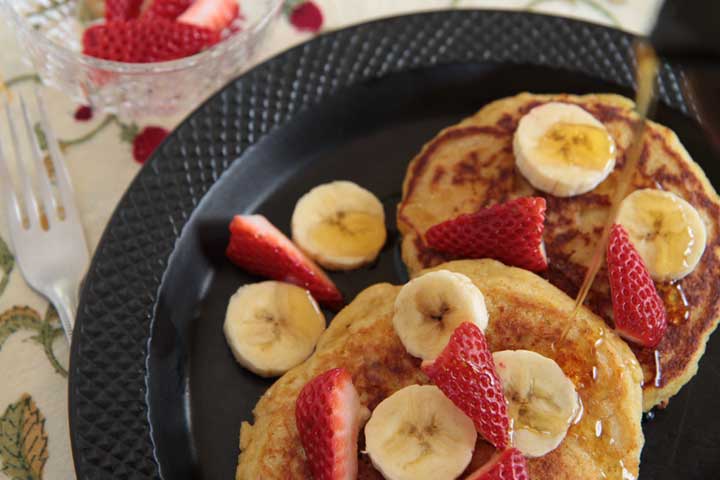 Cornmeal Ricotta Pancakes Recipe
Fluffy, light pancakes with a hint of lemon or orange. Perfect for a family weekend brunch.
You may need to REFRESH page to print or save.
"*" See Kitchen Notes for more information or links to special ingredients.
Ingredients
1 1/2

cup

milk or buttermilk or milk/buttermilk combo

½

cup

cornmeal

2

Tbsp.

butter

1

cup

unbleached flour*,

sifted

1

Tbsp.

baking powder

1/4

tsp.

baking soda

½

tsp.

salt

2

Tbsp.

sugar

zest from 1 lemon or 1 orange

o

2

eggs

½

cup

ricotta cheese
Topping
Any fresh fruit*

Warm maple syrup
Instructions
Heat the milk in a small sauce pan to hot, but not boiling. Remove from heat and slowly whisk in the cornmeal to keep it from lumping. Cut the butter into 2 pieces and set on top of the cornmeal mix to soften and melt. Let rest until ready to add to the batter.

Start heating up your pancake griddle on medium low heat.

In a mixing bowl combine the remaining dry ingredients (flour, baking powder, soda, salt, and sugar) and the lemon zest.

In a measuring cup or bowl beat the eggs (with a fork or whisk). Add the ricotta. Beat well to incorporate the ricotta with the eggs.

Combine the dry and wet ingredients (egg/ricotta mixture and milk/cornmeal mixture). Stir gently until ingredients are combined. Batter may be a little lumpy. (Do not over stir.) This is a thicker batter than most pancake batters, but it leads to light and fluffy pancakes.

When the griddle is ready, coat the griddle with a touch of butter or margarine.

Scoop about 1/3 cup batter onto the griddle for each pancake. This will make a 4 to 5 inch pancake. Cook until the bubbles on the surface start to pop and the underside is golden brown, about 3 minutes. Flip and cook until golden brown and firm when lightly poked in the middle, about 3 minutes.

Top the finished pancakes with fresh fruit and warm maple syrup. You won't need much syrup because these pancakes are very moist and fluffy.
Kitchen Notes
Flours - For a lighter, healthier pancake, use 1/2 cup unbleached AP flour and 1/2 cup whole wheat pastry flour.
Fruit - Strawberries and bananas are our favorite, but berries would also work.
Kitchen Science
A few years back I taught a week long summer camp with a friend of mine on Kitchen Science.  Playing in the kitchen making breads, cookies, and candy and getting to explore the science behind the results was so much fun!   So let's have some fun and talk about the science of leavening agents.   I promise – no chemical formulas!
As you already know baking powder and baking soda are common leavening agents used in the baking of pancakes, waffles, quick breads and cookies.  Baking powder is actually baking soda (sodium bicarbonate) with an acidic element (usually cream of tartar) and cornstarch that prevents clumping.  When baking soda is placed in an acidic environment, a chemical reaction occurs. This chemical reaction forms carbon dioxide which forms bubbles in the batter.  When heat is applied, the reaction increases creating more carbon dioxide, and the batter rises even more.  That's why quick breads get larger in the oven and pancakes grow on the griddle.
Ingredients such as buttermilk, molasses, lemon, vinegars, yogurts, and chocolate are some of the acidic elements used in baking to react with baking soda.  In the Cornmeal Ricotta Pancakes the ricotta is the acidic element.  When no acid is included in the recipe, baking powder is used because the cream of tartar in baking powder provides the acid needed for the chemical reaction to occur.
So when you make pancakes, waffles, and quick breads be sure not to over work the batter.  Gently combine all of the ingredients then let the baking soda/acid reaction do its thing.  The reaction starts as soon as the dry ingredients come in contact with the wet ingredients, so if you stir the batter too much or too long, you'll pop those carbon dioxide bubbles and the outcome will be flat.
If you like cornmeal ricotta pancakes, then you'll probably like these as well.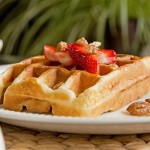 Banana Buttermilk Waffles with Strawberries and Pecans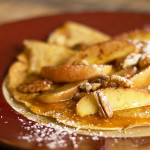 Apple Pecan Crepes with Cheddar Cheese