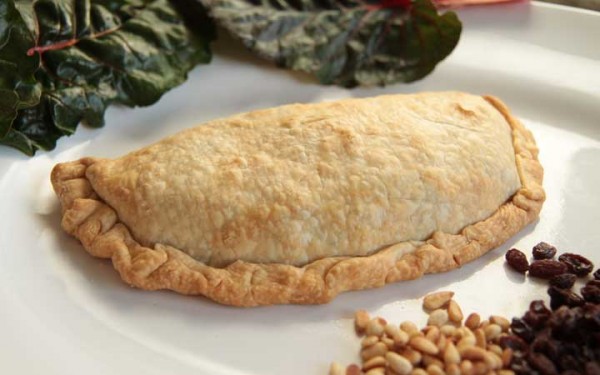 Calzones can be made with just about anything that you have in the refrigerator.  One of my favorite calzones uses Swiss Chard, raisins, pine nuts, and a little feta cheese.  For the crust, sometimes I'll use a pie crust and sometimes a pizza crust.  When I feel lazy or just short on time, I'll use a ready-made pie crust, but when I have time, I like make a thin crust pizza dough.  Below is the recipe for a quick and easy weekday meal; therefore, it calls a ready-made pie crust.   Be sure to read the Kitchen Notes for other filling ideas and ingredient substitutions.
[print_this]
Swiss Chard Calzone Recipe
Recipe Author:  MJ of MJ's Kitchen
Serves:  2
Prep and Cook time:  1 hour
Ingredients
1 bunch Swiss chard (reserve enough of the stems for 1/2 cup of chopped stems)
1 Tbsp. olive oil
1/2 cup onion , minced
2 large cloves garlic, minced
2 Tbsp. raisins
2 tablespoons pine nuts, toasted
½  tsp. oregano
½ cup feta
1 egg, beaten
A sprinkling of salt and pepper
1 ready-made pie crust (The rolled ones work great.  Do NOT use the ones that are already formed in a pan.)
Instructions
Preheat oven to 400° F (204° C).
Rinse chard thoroughly.  Remove the stems from the leaves.  Chop enough of the stems to make ½ cup.
Coarsely chop the chard leaves and set aside.
Heat the oil in a skillet over medium-low heat.  Add the garlic and onion.  Sauté 3 minutes.  Add the stems.  Sauté another 3 minutes.
Add the chard leaves, oregano and raisins.  Cover.  Cook 4 minutes.
Remove the cover.  Increase heat to medium-high.  Stir ingredients, cooking for 1 minute or until most of the liquid has evaporated.  Remove from heat and add the toasted pine nuts.
Unroll the pie crust and place on a baking sheet or in a rectangular casserole dish.
Sprinkle a little more than half of the cheese on half of the pie crust leaving the outer 1 inch (25 mm) of the edge clean.
Add the beaten egg and the remaining cheese to the vegetables and toss quickly to keep the egg from cooking.
Scoop the Swiss chard mixture on top of the pie crust and feta cheese.
Fold the other half of the pie crust over the filling, join edges, and seal with a fold (as shown in the picture).
Bake for 25 to 30 minutes until crust is a golden brown.
Remove from oven and let sit 5 minutes.  Cut into 2 to 4 pieces and serve.
[/print_this]
Kitchen Notes
I use to make a Swiss chard pie – a double crusted pie filled with two bunches of Swiss chard and lots of other ingredients. I found the recipe in a magazine over 10 years ago. Which magazine, I have no idea. What I do remember is that the first time I made it and every time after, it was absolutely delicious. Unfortunately, for just the two of us, it yielded way too many leftovers. We always had at least 2 meals from it plus a lunch which doesn't sound so bad.  However, the problem was, it was one of those dishes that just didn't taste as good the second time and definitely not the third time. The crust would become soft and the Swiss chard filling would dry out. So I altered the original recipe and changed some of the ingredients to better suit our taste and to fit into one pie crust. Now we can finish off the whole thing in one sitting. The only side that I might include is a small fruit salad or just a couple of pieces of fruit, but most of the time, it's a meal in itself.
If you want to make this for 4, then make a Swiss Chard Pie.  Use two pie crusts and double the recipe.  Increase the cooking time to 45 to 50 minutes.
Don't like raisins?  Use dried cranberries instead.
What's in the Fridge?
Below are a few ideas.  If you come up with some of your own, please share with us.
Artichoke and Bratwurst Calzone – 1 cup artichoke hearts, chopped, 1 bratwurst (or your favorite sausage), a little onion and garlic, mozzarella and/or Parmesan cheese.
Chicken and Mushroom Calzone – Saute' 1 cup leftover cooked chicken with a few sliced mushrooms, garlic and onion (of course), and one or two other vegetables such as bell pepper, corn, or carrots.  Place a little mozzarella or cheddar cheese between the crust and the filling – top and bottom.  (Sounds a little like chicken pot pie – doesn't it?)
Leftover Calzone – Take the vegetables and/or meat leftovers from a previous meal or meals, chop it all up, add a little cheese, stuff it in the pie crust and cook.
Another Vegetarian Calzone – Saute a sliced yellow squash and zucchini with some chopped onion and garlic and sliced mushrooms.  Remove from the heat and add fresh basil or rosemary (a little of both), some salt and pepper.  Stuff the calzone with the veggies and mozzarella cheese or fresh mozzarella slices.  Bake and serve with a marinara or pizza sauce of your choosing.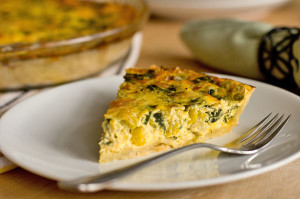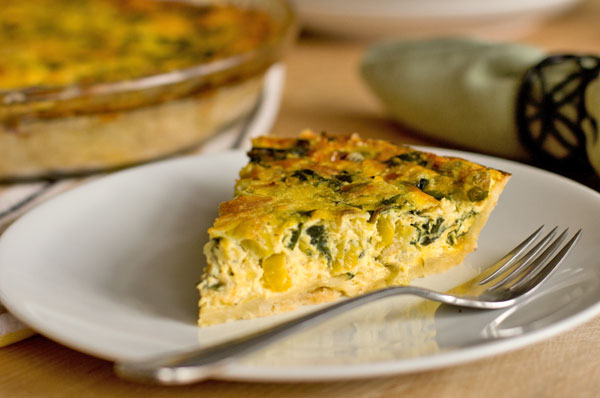 For another vegetarian meal made with Swiss chard, check out my Swiss Chard and Leek Quiche.
This Swiss Chard calzone recipe has been linked up to the following blog hops.  Be sure to click on the links below for more marvelous recipes.
My Meatless Monday, Ultimate Greens Recipe Swap, Just Another Meatless Monday, Midweek Fiesta, March 2012 Greens Blog Hop, My Meatless Mondays, Mouthwatering Monday, Taste This Thursday, Midnight Maniac Meatless Monday, Meatless Monday, Frugal Food Thursday, Full Plate Thursday, Katherine Martinelli's Pizza and Calzones