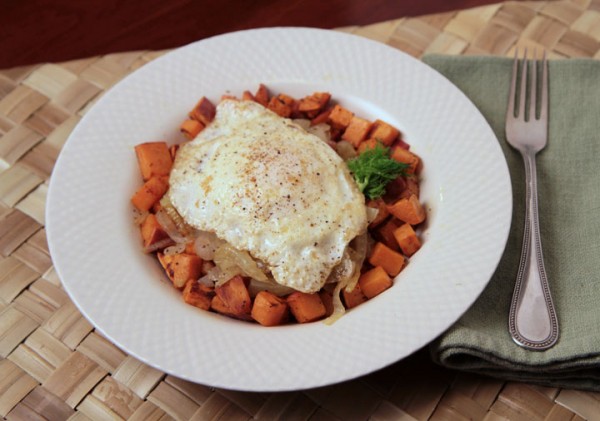 One of my favorite brunches is the southwestern pile-up – cubes of pan roasted potatoes, onion, bacon or chorizo (or both), cheese, and red or green chile all piled on top of each other and topped off with a runny egg or two. This recipe with potatoes, fennel and andouille uses the same idea, but with different ingredients and served as supper. After all, who doesn't like an egg for supper.
[print_this]
Suppertime Pile-up Recipe
Recipe Author:  MJ of MJ's Kitchen
Serves:  2
Prep and cooking time:  20 minutes prep, 25 minutes cooking time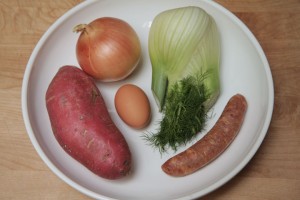 Ingredients:  Skillet 1
1 Tbsp. olive oil
1 Tbsp. butter
1 medium fennel bulb, sliced thin
1 medium onion, sliced thin
1/8 tsp. salt and 1/4 tsp. pepper or taste
1 Andouille sausage, 1/4″ cubes (Optional – see Kitchen Notes)
Ingredients:  Skillet 2
1 medium sweet potato, cut into 1/4 to 1/2 inch cubes
1 Tbsp. olive oil
1/4 tsp. garlic powder
1/4 tsp. salt and 1/2 tsp. pepper or to taste
2 to 4 eggs cooked over easy (It depends on how many eggs each person wants.  I'm happy with 1 egg, but Bobby likes 2
butter or margarine for frying eggs
Instructions
Skillet 1 (large enough for the onion, fennel and sausage)
Heat the olive oil and butter in a skillet over medium heat.
Add fennel and sauté for 3 minutes.    Add the onion.  Toss with the fennel and sauté 5 minutes.
Add Andouille sausage.  Mix with vegetables. Reduce heat to medium-low.  Add salt and pepper.
Cover and cook about 12 to 14 minutes until vegetable are soft, stirring occasionally.
Skillet 2 (non-stick and large enough to spread potatoes in one layer)
In a large skillet, heat 1 Tbsp. olive oil over medium heat.
Add the sweet potato, garlic powder, salt and pepper.  Toss and spread potato cubes into a single layer.  Cover and cook 3 minutes.
Flip the cubes over with a spatula.  Cover and cook another 3 minutes.
Remove cover and continue cooking, stirring infrequently until potato is cooked and pieces start to brown, about 3 to 5 minutes.  (Taste for doneness and seasoning.)
Divide sweet potato between two bowls.
In the non-stick skillet melt some butter or margarine for the eggs.  Fry the eggs, sunny-side up or over easy – your preference. (Be careful not to overcook the yokes.  You want them runny.)
Top the potato with the vegetable-sausage mixture.
Place one or 2 eggs on top of the vegetables.  Salt and pepper the eggs, if desired, and serve.
[/print_this]
Kitchen Notes
The sausage – Even though this recipe calls for Andouille sausage, it can be made with just about any sausage or without sausage.  I like it best with Andouille or  Mexican chorizo.  A friend of mine used a turkey sausage and loved it.
The fennel – If you don't have a fennel bulb or don't like fennel, just use two onions instead of one.
Vegetarian version – Omit the sausage and add a little jalapeno or green chile to the onion/fennel mix.
Variation from 12/14/2012 – Replace the andouille with chorizo and top the egg with a little red chile sauce.
Leftover fennel fronds – Need an item for those leftover fronds?  Try making these fennel infused onions. Delicious!
For more sweet potato dishes, check out these recipes:
Mashed Sweet Potatoes with Brown Butter and Bourbon
Spicy Orange Roasted Sweet Potatoes
Green Chile Sweet Potato Hash Browns
Massaged Kale and Sweet Potato Salad
Mashed Sweet Potatoes – Quick & Easy
This pileup recipe has been linked to the following blog hops. Be sure to click on the links for more delicious recipes.
Mouthwatering Monday Blog Hop, Gluten-Free Blog Hop, Frugal Food Thursday,
Tuesday's Tasty Tidbits, Showcase Your Talent Thursday, Keep It Real Thursday, Gluten-Free Wednesday, Gluten-Free Monday