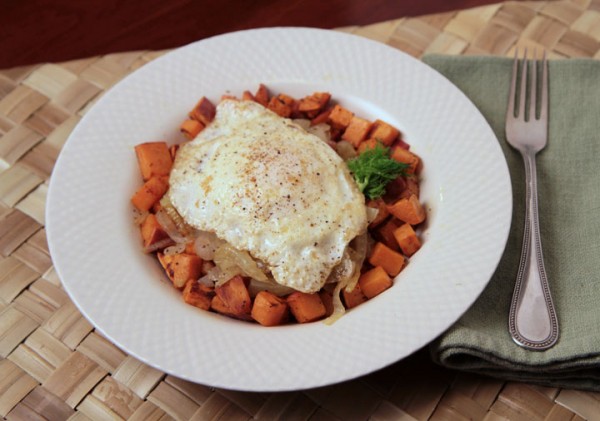 One of my favorite brunches is the southwestern pile-up – cubes of pan roasted potatoes, onion, bacon or chorizo (or both), cheese, and red or green chile all piled on top of each other and topped off with a runny egg or two. For this recipe, I switch some of the ingredients of the southwestern pileup to create more of a dinner as opposed to breakfast/branch.   This Suppertime Pile-up is made with sweet potatoes, fennel and andouille and served with the mighty fried egg on top.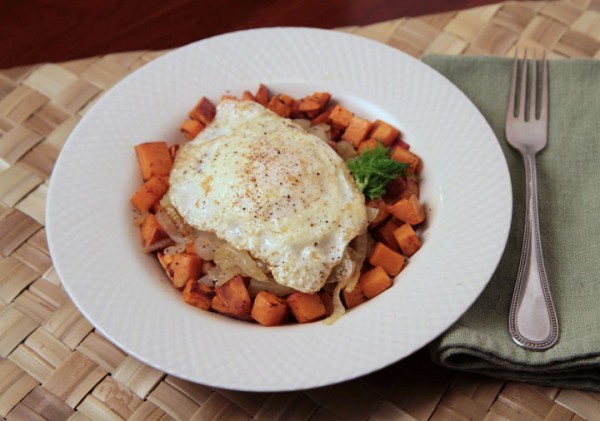 Suppertime Pile-up Recipe
A healthy and hearty dinner with lots of healthy ingredients and an abundance of flavors.
*See Kitchen Notes for substitutions and further information.
Ingredients
Skillet 1
1

Tbsp.

olive oil

1

Tbsp.

butter

1

medium fennel bulb,

sliced thin

1

medium onion,

sliced thin

1/8

tsp.

salt and 1/4 tsp. pepper or taste

1

Andouille sausage,

1/4" cubes (Optional - see Kitchen Notes)
Skillet 2
1

medium sweet potato,

cut into 1/4 to 1/2 inch cubes

1

Tbsp.

olive oil

1/4

tsp.

garlic powder

1/4

tsp.

salt and 1/2 tsp. pepper or to taste
Cooking the eggs in Skillet 2
2

eggs

eggs cooked over easy

(1 per serving)

butter for frying eggs
Instructions
Skillet 1 (large enough for the onion, fennel and sausage)
Heat the olive oil and butter in a skillet over medium heat.

Add fennel and sauté for 3 minutes. Add the onion. Toss with the fennel and sauté 5 minutes.


Add Andouille sausage. Mix with vegetables. Reduce heat to medium-low. Add salt and pepper.

Cover and cook about 12 to 14 minutes until vegetable are soft, stirring occasionally.
Skillet 2 (non-stick and large enough to spread potatoes in one layer)
In a large skillet, heat 1 Tbsp. olive oil over medium heat.

Add the sweet potato, garlic powder, salt and pepper. Toss and spread potato cubes into a single layer. Cover and cook 3 minutes.

Flip the cubes over with a spatula. Cover and cook another 3 minutes.

Remove cover and continue cooking, stirring infrequently until potato is cooked and pieces start to brown, about 3 to 5 minutes. (Taste for doneness and seasoning.)

Divide sweet potato between two bowls.
In the non-stick skillet,
Melt a little butter for the eggs. Fry the eggs, sunny-side up or over easy – your preference. (Be careful not to overcook the yokes. You want them runny.)

Top the potato with the vegetable-sausage mixture.

Place an egg on top of the vegetables. Salt and pepper the eggs, if desired, and serve.
Kitchen Notes
Sausage – Even though this recipe calls for Andouille sausage, it can be made with just about any sausage or without sausage.  I like it best with Andouille or  Mexican chorizo.  This Green Chile Sausage would also work.
Fennel – If you don't have a fennel bulb or don't like fennel, just use two onions instead of one.
Vegetarian version – Omit the sausage and add a little jalapeno or green chile to the onion/fennel mix.
Variation from 12/14/2012 – Replace the andouille with chorizo and top the egg with a little red chile sauce.
Leftover fennel fronds – Need an item for those leftover fronds?  Try making these fennel infused onions. Delicious!
For more sweet potato dishes, check out these recipes:
Mashed Sweet Potatoes with Brown Butter and Bourbon
Spicy Orange Roasted Sweet Potatoes
Green Chile Sweet Potato Hash Browns
Massaged Kale and Sweet Potato Salad
Mashed Sweet Potatoes – Quick & Easy