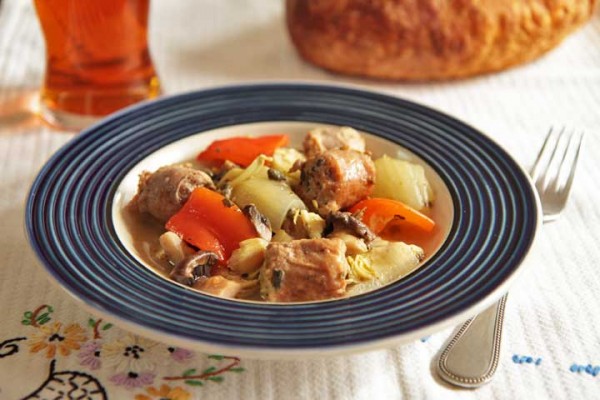 A quick and easy one pot meal with lots of flavors.  Just throw all of the ingredients into the pot, cover, simmer for 30 minutes, and then sit down and eat.   Serve with crusty bread like Farmer's bread or serve over rice or grilled polenta.
[print_this]
Braised Italian Sausage with Vegetables Recipe
Recipe Author:  MJ of MJ's Kitchen
Prep and Cook Time:  about 30 minutes
Serves 2 to 4 depending on side
Ingredients
3 Italian sausages cut into 1" pieces (they're easier to cut if a little frozen)
1 medium sweet bell pepper, cut into bite size pieces
1 small onion, cut into bite size pieces
5 garlic cloves, halved
6 large button mushrooms, quartered or 10 medium, halved
½ tsp. dried oregano
1 tsp. dried sage
½ cup vermouth or white wine
1 cup chicken broth or stock
¼ to ½ tsp. cracked white pepper (or to taste) *
1 Tbsp. capers, drained and rinsed
Drizzle of olive oil
1 ½ – 2 cups artichoke hearts, drained and quartered (canned or frozen)
* I usually don't add salt.  The salt from the broth, sausage, and capers is enough salt for us.
Instructions
Place all ingredients (except capers, olive oil, and artichoke hearts) in a braising dish or large Dutch oven.   Toss to combine ingredients.
Bring to a boil, and then reduce to a slow simmer.  Sprinkle the capers over the top and drizzle lightly with olive oil.
Cover and cook 15 minutes.  Add the artichoke hearts and stir gently to mix in with the veggies and sausage.  Cover and simmer for another 15 minutes.
Remove from heat and taste.  Add salt if needed.
Serve with a big piece of crusty bread (or rice or grilled polenta).
[/print_this]
Kitchen Notes
I have served this dish over rice and grilled polenta and, in both cases, we thoroughly enjoyed it.  Then one weekend Bobby wanted to try his hand at the Cooks Illustrated adaptation of Jim Lahey's No Knead Bread.  I was already planning on making this meal so instead of rice or polenta, we decided to serve it with homemade bread, fresh from the oven.  It was awesome! The broth soaked up in the bread, and then a piece of garlic from the bowl smashed on the crust of the bread – well – you can imagine the party in your mouth.
In reference to the ingredients, there is a lot of flexibility –
I use a mild Italian sausage, but pretty much any type of sausage would work; however, I wouldn't recommend hot and spicy (it might overpower the other ingredients).  You could be really health conscious and use chicken or turkey sausage, or if you are vegetarian – use a veggie sausage and vegetable broth.
I prefer the large button mushrooms when I can find them.  I love biting down into a big piece of mushroom that's been braised in vermouth and broth.
Since I use canned artichokes, adding them halfway through the braising prevents them from getting overcooked and mushy.
If you're not a capers fan, try green olives.
If you have fresh herbs, then of course, use fresh instead of dried – just double the amount.
This recipe has been linked to the following blog hops. Click on these links to find more tasty recipes.
Hearth and Soul Hop, Tuesday's Tasty Tidbits, Johnsonville Sausage Hop, Whole Food Wednesday, Allergy-Free Wednesday, Made With Love Mondays