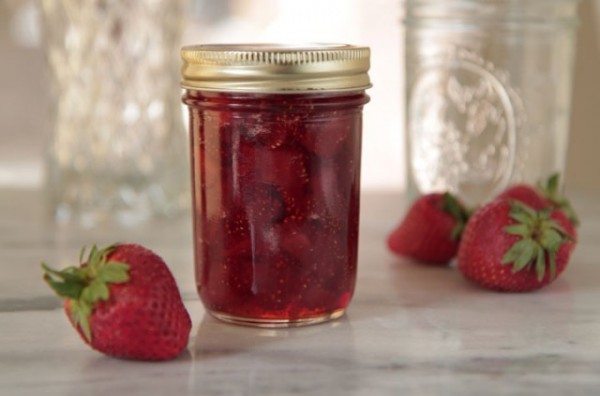 How this Quick & Easy Strawberry Jam evolved.
My mother jammed, jellied, preserved or pickled everything from peaches to watermelon rinds, cucumbers to okra.  Fortunately, I paid attention and learned.  Along with learning the techniques of canning, I also developed a love for canning and preserving.  I think preserving your own food is something that you really need to enjoy because it can be time consuming and tedious, depending on what you are canning.  Most times you have to be able to enjoy spending the whole day in a hot kitchen, working over a stovetop that has at least one burner going continuously (keeping the jars hot), peeling, squeezing, cooking, stirring, and canning until all of the fruit or vegetables have been processed.  It's so much fun!  Really!  Of course a NCIS marathon to keep you company doesn't hurt.
Well – now that I'm older, gone are these all day jamming sessions. Now when I have a few berries that need to be used or are too under-ripe and bland to go in cereal, I just make a single jar of jam. In this house one jar doesn't last very long, but then it doesn't take long to make either.  The recipe below is for a quick and easy strawberry jam that does not use pectin.  Be sure to read the Kitchen Notes for more information about making jam without pectin.
[print_this]
Quick and Easy Strawberry Jam Recipe
Before starting you might want to review my Kitchen Notes on Making Q&E Jams
Recipe author:  MJ of MJ's Kitchen
Yield: about 1 pint*
Prep and cook time:  30 minutes
Note:  This is a refrigerator jam and not intended to be sealed and stored in the pantry. All you need is a very clean jar. Once the jam has cooked to consistency, pour into jar, let cool and refrigerate.
Ingredients
16 ounces (2 cups) chopped strawberries*
2 Tbsp. water
8 ounces (1 cup) sugar
juice from half a lemon
*For this batch I used under-ripe berries therefore, I chopped them rather than mashed them.  We like having little pieces of sweet berries in our jam.  If the berries are over-ripe, you can mash them or pulse them a few times in a blender.

Instructions
If you aren't planning on using temperature to know when the jam is ready to pour, then place a small saucer in the freezer.
Remove the tops and chop the strawberries into little pieces.
Add berries to a sauce pan with the water and heat on low.
Measure the sugar and add to the sauce pan. Stir frequently until the sugar has melted.
Increase the heat to medium and add the lemon juice. Bring the jam to a boil, stirring constantly.
Bring the jam to a full boil, stirring constantly. A full boil is a boil that cannot be stirred down.  (You might need to increase the burner setting to medium-high  in order to maintain a full boil.)
Stir constantly at a full boil for 10 minutes. At 10 minutes test the jam.  There are two ways to test:

If the jam sheets from a metal spoon (droplets flow together), it's very close if not ready.  Pull the saucer from the freezer and place a drop or two of jam onto the saucer.  If it spreads out, the jam's not done.  Return the saucer to the freezer, continue to stir the boiling jam, and try again in 2 minutes.  The jam is done when a drop does not spread out but retains its shape.
Using a candy thermometer, boil the jam, stirring constantly, to a temperature of 205° F (96° C) to 210° F (99° C), depending on your elevation and how firm you like your jam.  (I sometimes use both tests- temperature and cold saucer test- just to make sure.  Eventually, you get a good feel for when it's ready.)  (NOTE:  The temperature I use is recommended for an elevation of 5000 ft. If you live lower or higher in elevation, check the information at the link provided.)
It usually takes about 12 to 14 minutes for this amount of jam to be ready.

Remove from the heat and pour into a clean, hot pint jar.  Let cool, then refrigerate.  Jam will keep in the refrigerator until you finish it off, which doesn't take long.
*To ensure you get 1 full pint, increase the fruit to 3 cups, the sugar to 1 1/2 cups and use the juice from a whole lemon.  You will need to increase the cook time as well. This much jam could take 16 to possibly 20 minutes to cook down. Just keep checking it.

Kitchen Notes
A minty strawberry jam – Add 3 sprigs of fresh mint to the jam after the sugar is dissolved.  Remove the sprigs (and discard) once the jam comes to a boil.
Since this recipe doesn't add pectin (except with the lemon juice) and strawberries are relatively low in pectin, there are a few variables that can affect the outcome – one of them being the ripeness of the fruit.  The pectin content of a fruit decreases as the fruit ripens making this a good recipe for strawberries that were picked before their time.
Another variable is the temperature that it's cooked over.  The higher the flame, the harder the boil, and the faster the evaporation of the liquid.  You want a full boil that is well under control with a gentle stir.  If you feel like you're whipping egg whites to keep it under control at first, then the heat is way too high.
The standard maximum cooking temperature for jams is a temperature of 220° F (104° C) at sea level; however, as you go up in altitude, this temperature lowers.  The rule of thumb is to subtract 1ºF for every 500 ft. increase in altitude.  Since I live right at a mile high (5820 ft), my jams are ready when they reach 210ºF.  If you let the temperature get too high or allow too much liquid to evaporate, you'll get a "stiff" or "stringy" jam that will be hard to spread. If this ever happens, don't throw the jam out.  Add it a quick bread or knead it into a yeast bread.
Be sure to stir constantly once the jam comes to a rolling boil.  Infrequent stirring can result in a stiff jam or a messy stovetop due to a boil over.
For a smaller or a little larger batch, just keep the weight ratio of fruit to sugar as 2 to 1 and the water and lemon amounts the same.
You can spice up the jam with a little cinnamon, ginger, lime juice or other flavors that you like with strawberries.
You can use this same recipe to make jam from many types of fruits: blueberries, blackberries, mango, peach, apricot, any of your favorite fruits.  Experiment and have fun!
If you've seen my "About" page, you know that we had lots of fruit trees which kept us plenty busy for many years.  When our trees finally died out, I would bum fruit from friends who had fruit trees or vines.  As a result, Bobby and I always had several jars of homemade jelly or jam in the pantry.  Then – a terrible thing happened.  In 2008 we ran out!  I thought Bobby was going to have a heart attack when he went to the pantry and couldn't find a jar of jam for his PB&J.  It had been at least 2 years since I had put up any jars of sweet wonderful jam, and between eating it and giving it away, we ran out.  So we had to do something that we hadn't done in years, if ever – we had to BUY jam.  That was a very difficult thing to do but we only had to do it a couple of times.
Once I tasted how utterly sweet store bought jam was,  I started testing out jamming methods that didn't require pounds of fruit and sugar, and hours of work.  Whenever I had a few pieces of fruit that we could spare, into the pot they went.  It took a few tries to get the right proportion of berries to sugar and a process that yielded the consistency we like, but the effort was well worth it.   No more boiling huge pots of water to sterilize jars, no more stirring batch after batch of boiling fruit and sugar, and no more trashing the kitchen with sticky surfaces and lots and lots of dirty dishes.  But most importantly – no more standing on my old feet for 8 to 10 hours straight!   Life is good.  Now I make really tasty homemade jam on an as needed basis- one jar at a time.  So what to do with all those empty jelly jars?  I'm sure I'll find something to do with them.
If you like my Strawberry Jam, then check out my other quick and easy jams:
Raspberry Mole' Jam
Red Chile Strawberry Jam
Tomato Red Chile Jam
Cherry Jam
This Quick and Easy Strawberry Jam has been added to the following blog hops. Be sure to click on the links to see a variety of tasty recipes! Hearth and Soul Hop, Tuesday's Tasty Tidbits, Frugal Food Thursday, A Southern Fairy Tale Hop, Katherine Martinelli's Strawberry Hop, Gluten-Free Wednesdays, Berries Hop