These Peppered Lemon Chicken Bites are a quick & easy dish and one of our favorites.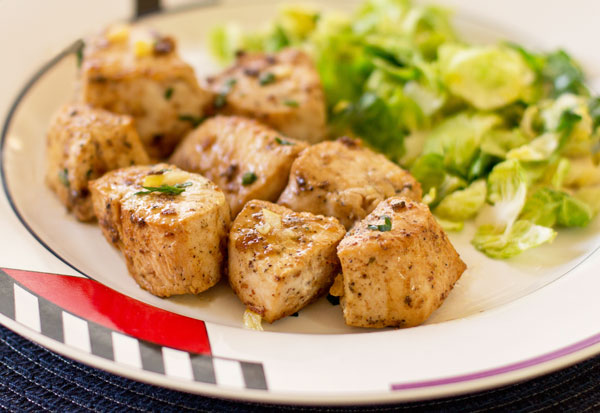 Originally, this post was just going to be just about the Peppered Lemon Chicken Bites, but the Brussels sprouts turned out so good and were the perfect complement for the chicken, that I decided to dish up both. Let's talk about the chicken first.
In this simple little chicken dish, the chicken is marinated with preserved lemons, garlic oil, pepper and a couple more ingredients.  After marinating, the chicken is cooked on the stovetop or skewered for kabobs and grilled. Both cooking methods yield a cook time of less than 15 minutes.  In the summer we grill them as kabobs, but during colder months, I cook the chicken on the stovetop.  The stovetop version yields chicken pieces that are more moist than the kabobs, plus there is the bonus of a little sauce from the vermouth used to deglazed the skillet. No matter which method used, this peppered lemon chicken is a tasty, quick and easy meal – perfect for the middle of the week.