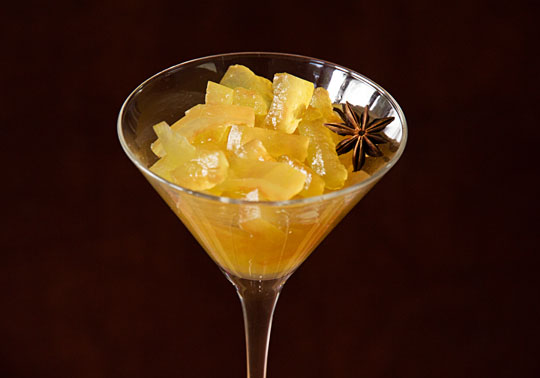 I'm reposting this recipe as a reminder to save the rinds from this summer's watermelons and turn them into watermelon rind preserves or these wonderful watermelon rind candies! I made some last week before leaving on vacation because I wanted to take them to the woman that inspired this recipe. The smile on her face told me that I did good.

———–
In my watermelon post a while back I mentioned that my mother saved the watermelon rind and made watermelon rind preserves.  After we all finished off the watermelon, she would cut away any remaining pink from the rind, peel the rind, then slice it into spears. All of the rind spears were transferred to a big pot and layered with sugar, then left to sit overnight. The next day she cooked them down "until done". 

  After they cooked I helped her pack the spears lengthwise into sterilized mason jars and then seal the jars.  By fall we had enough watermelon rind preserves to last the winter and then some.
Eating her watermelon rind preserves was like eating a crunchy, sweet stick of candy.  It didn't really have a watermelon flavor, but it had a clean, sweet taste that is very hard to describe.  All I know is those preserves were really, really good, very, very sweet, and hard to stop eating. A couple of years ago I decided to come up with my own way to preserve watermelon rind but in smaller pieces and less sweet, if possible. My efforts paid off!  These little candies turned out exactly like I wanted – small, crispy bites of sweetness with a touch of anise flavor. So good, so addicting!