How do you spell the name for a capsicum pepper, a spicy pepper – chile, chili, chilli or chilie?
Chile or Chili?  When you see the word "chile", what do you think of?  What do you think of when you see "chili"?  It seems that the answers to these questions all depends on where you live.  Somewhere in this world, each of these words is used to refer to a pepper – a hot pepper, a sweet pepper, or a particular type of pepper. On this page, I'm going to talk about what these spellings mean here in New Mexico (NM).  This is important if you are a regular visitor to MJ's Kitchen because it will help explain why I use different spellings and what I mean when I use "chile" or "chili".
If you haven't figured it out yet, we New Mexicans are very proud of our chile.  For us there is a huge difference between chile with an "e"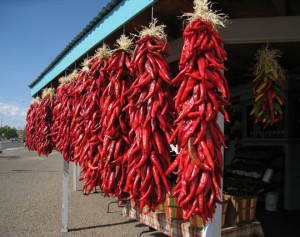 and chili with an "i". Chile, in reference to food (not the country), refers to a capsicum pepper, specifically a spicy pepper and even more specifically, the green and red type chile peppers grown throughout New Mexico. In most cases we refer to any hot pepper – ancho, jalapeno, pasilla, serrano, chile de arbol – as chile peppers or chiles.  Also, dishes that feature New Mexico chiles, normally use the "chile" spelling: green chile sauce, green chile stew, red chile sauce, green chile enchiladas.
According to the information displayed at the New World Cuisine exhibit, at the Museum of International Folk Art, it was the Spanish that immigrated into New Mexico in the 1500's that "converted the Nahuatl name, chilli, to chile. This spelling is still used today by most New Mexicans. Pete Dominici, a long-term New Mexico senator, had the "chile" spelling entered into the 1983 Congressional Record as the official spelling for the New Mexico chile pepper.
When New Mexican's speak of "chili", we're referring to a protein based dish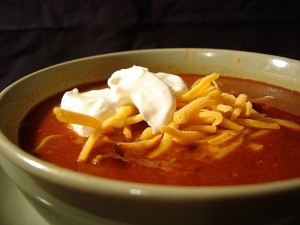 commonly referred to as Chili con Carne (Spanish for chile with meat), and normally made with ground or chopped meat, beans and spices. Texas chili is a chili con care made with beef and an assortment of herbs and spices.  Some Texas chili recipes use chili powder as the seasoning, while others use chiles with herbs and spices.  New Mexico has a chile con carne made with dried, red New Mexico chiles or chile powder, herbs and spices.  As far as how it is spelled, I've seen it spelled both as chili con carne and chile con carne.  (Continue reading for more on chile powder vs. chili powder.)
There are other spellings that one will see for chile pepper, such as chilli, chilly, chillie, chilies, chillies, and of course, chili. From what I've found, the spelling appears to be a cultural thing.  For example, "chilli and chillies" are commonly used in the U.K., Europe, and India for capsicum peppers.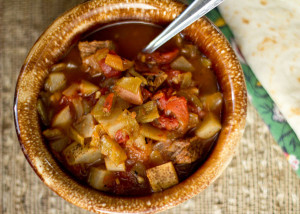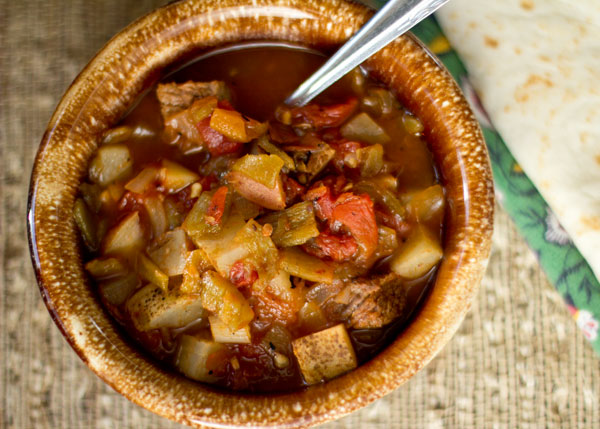 "Chili and chilies" has been adopted in many areas of the United States as the spelling representing both the pepper and the dish.  Here in New Mexico, most of the southwest, and in MJ's Kitchen, when you see the word "chile", we are referring to a capsicum pepper, not a dish. However, our dishes that are made with a lot of chiles, use "chile" in the name of the dish – for example,  "Green Chile Stew".  Green chile stew is made with lots and lots of green chile peppers, some meat, beans and/or potatoes (i.e., a chile con carne).  It's a stew, but it's not a "chili".  It's a green "chile" stew. Confused yet? 🙂
For more information on the the difference spellings of chile or chili and their origins, I found this great little summary over at Eat More Chile (something everyone should do):  Meet the Chiles. You also might be interested in reading about the History of Chile over at the Chimayo Chile Brothers. To learn more about New Mexico Chile and chile recipes, check out the following posts here in MJ's Kitchen: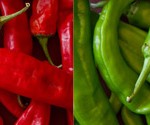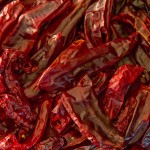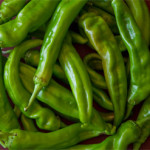 Chile Powder vs. Chili Powder
The spelling of this spice has a significant distinction in my recipes. Substituting one for the other will change the outcome of a dish to something that you might not have expected if you chose the wrong spice or spice mix.
Chile Powder
Chile Powder is just that – powder ground from dried chile (capsicum) peppers. It's not the same as chili powder, which I'll talk about in a minute. When you look at the ingredients of chile powder, you should see ONLY "chile peppers", "dry red chile peppers", or "dried cayenne peppers" – something like that. Very seldom will you see a second ingredient unless it's another chile pepper.  Ancho (dried red poblano), serrano, habanero, paprika, cayenne, mulato (dried brown poblano) and New Mexico red and green chile are all chiles that can be found in powder form.  You can also find smoked chile powders such as chipotle (smoked jalapeno), smoked serrano, and smoked paprikas or unique hybrids such as murupi amerela and urfa biber.
The different colors of chile powders could be due to the type of chile or the amount of seeds that are included when grinding the chile.  The more seeds that are added to the grinding process, the lighter the color of the powder.
Each chile powder has a different flavor and, in many cases, heat level. One can even find different flavors in New Mexico chile powders from different regions. For example, the red chile powder from the Chimayo Chile Brothers in northern New Mexico is a sweet, medium heat chile that works great in desserts such as chocolate pudding.  The red chile powder from Diaz Farms in southern New Mexico is redder and much bolder, meaty chile powder that works fabulous in dish such as Southwestern Pork Stir Fry. Substituting one chile powder for another is usually fairly simple, however, at times it can be tricky. For example, cayenne and habanero powders are a lot hotter than most other chile powders, so use these sparingly.
As far as the flavor goes, do what I do and buy small jars of different powders and do your own taste tests.  I am personally fond of New Mexico chile powder (surprise, surprise), but I also enjoy paprika, smoked paprika, ancho, smoked serrano, and chipotle.  Cayenne I use sparingly in my southern inspired meals because of its heat level.  It's really a lot of fun playing around with different chile powders, so I encourage you to give it a try. There are an endless number of dishes that benefit from a little or a lot of chile powder.
Chili Powder
Chili Powder is a spice blend usually made from chile pepper, garlic and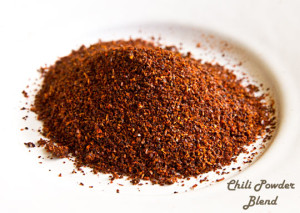 onion powder, salt and other herbs and spices. Chili powder is used in Texas chili and a variety of chili con carne dishes.  At times, chili powder can be used as a substitute for chile powder, but not always.  Because it is a spice mix, each brand of chili powder has its own flavor profile and all of them are quite different from a chile powder.
Substituting chile and chili powders – Most chile powders can be substituted equally.  For example, if you see one of my recipes that calls for 1 tsp. of NM red chile powder, you could always substitute a spicy paprika, serrano, aleppo, or ancho powder in equal amounts.  However, if all you have is cayenne or habenero powder, you might want to cut the amount in half or even more.  If you don't have any type of chile powder, then I guess you could try chili powder, but then it does depend on the dish and the flavor of the chili powder. I never rarely substitute chile powder with chili powder. To be honest, I'm not a fan of chili powder except in a Texas type chili.
Make Your Own Red Chile Flakes or Powder
Method 1: Using a spice grinder
Cut the stems off dried chile pods.
Shake the pods to shake out the seeds. If you want to reduce the heat in your flakes/powder, cut the pods open and remove the whitish veins.  That's where the majority of a chile's heat is stored.
Break the pods into smallish pieces and transfer to a spice grinder.  (My spice grinder is an old coffee grinder.)  Pulse a few times to create flakes. If you chile powder, continue to grind until you have powder.
Check for seeds and remove as many as you can or want.  You will end up with a little powder.  If you don't want the powder, then pour into a tea strainer and sift out the powder.
Store in an airtight glass container.
One 8 – 9 inch pod = ~1 tablespoon chile powder
Method 2:  Using a mortar and pestle
Cut the stems off dried chile pods.
Shake the pods to shake out the seeds. If you want to reduce the heat in your flakes/powder, cut the pods open and remove the whitish veins.  That's where the majority of a chile's heat is stored.
Break the pods into smallish pieces and transfer to a mortar.  Using the pestle, pound the chile pieces until you get the size flakes you want.
You will end up with a little powder.  If you don't want the powder, then pour into a tea strainer and sift out the powder.
Sources of New Mexico Chile
If you live outside of New Mexico and want to buy New Mexico chile – fresh, dried, or powder – be sure to buy from a New Mexico source.  It has been found that some vendors sell "New Mexico chile products", but the chile comes from outside of New Mexico.  New Mexico has a state law that makes it illegal to knowingly sell chile or chile products labeled "New Mexico-grown" if the chile wasn't grown in New Mexico. Below is a list of New Mexico chile product suppliers.
Note:  I am not endorsing any of the following companies, just providing sources from which you can order New Mexico chile products made with New Mexico chile as well as other products such as blue corn and posole.  There are more, and I will continue to add as I find them.
*Suppliers that ship FRESH Green Chile Pods along with other chile products
Cervantes (for an assortment of chile products, sauces and salsa)
Chimayo Chile Brothers   Small Business Friends Feature: Chocolate Pudding, New Mexico Style and Atole (Blue Cornmeal)
*Diaz Farms  Small Business Friends Features: Pinto Beans, Chile de Arbol Salsa, Green Chile Powder
*Hatch Chile Store  Small Business Friends Features: Hatch Chile Chicken Mushroom Soup, Green Chile Pathiri with Pinon nuts and Queso Fresco , Blooming Onion with Hatch Chile
New Mexico Green Chile Company
Save
Save
Save