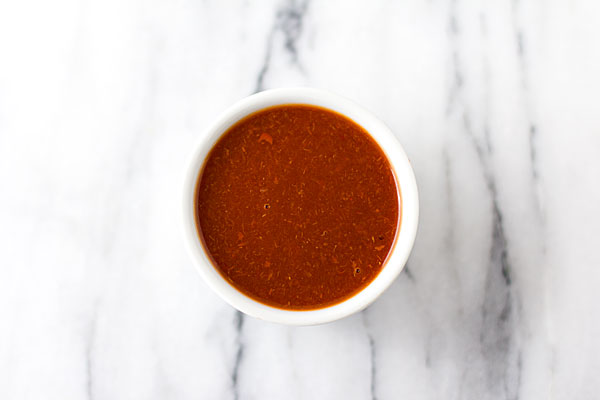 Chile de Arbol Hot Sauce is a great little sauce for when you just need a dash or two to spice up eggs, soup, or a bowl of beans.  Normally, you might grab a bottle of Tabasco or Sriracha. However, with a few ounces of HOT dried chile pods like de arbol chiles, you can make your own hot sauce.  This Chile de Arbol Hot Sauce yields the heat and a unique flavor one wants in a hot sauce, but doesn't require days or weeks of fermentation. With a little bit of effort and a small amount of time over a three day period, you can create a very spicy hot sauce with the natural smokiness of the de arbol chile.
Excerpt of comment from reader:
"Magnificent recipe and magnificent result. . . The taste was extraordinary, and better than any sauce I have previously made and better than any store bought sauce I purchased in the past…"  (You can read the full comment below.)
Chile de Arbol Hot Sauce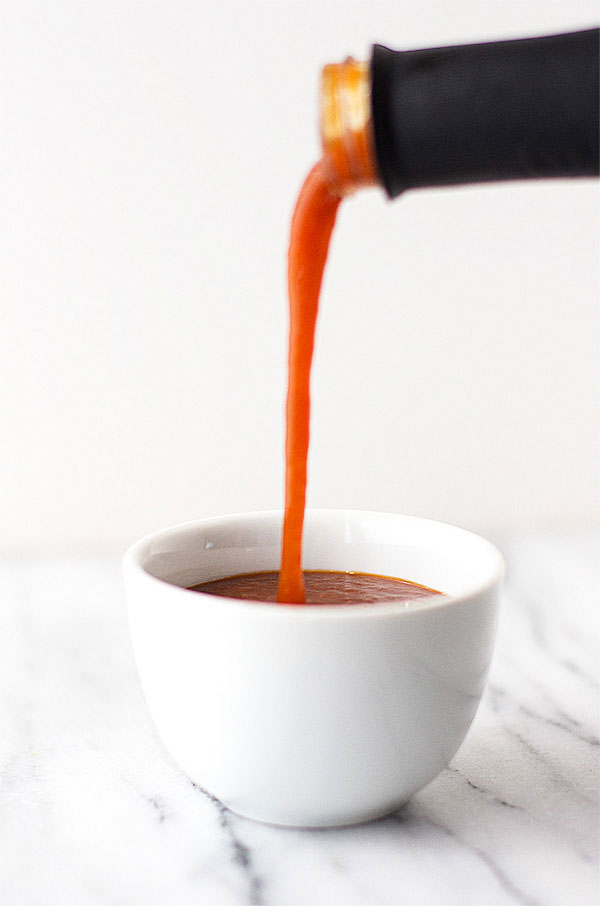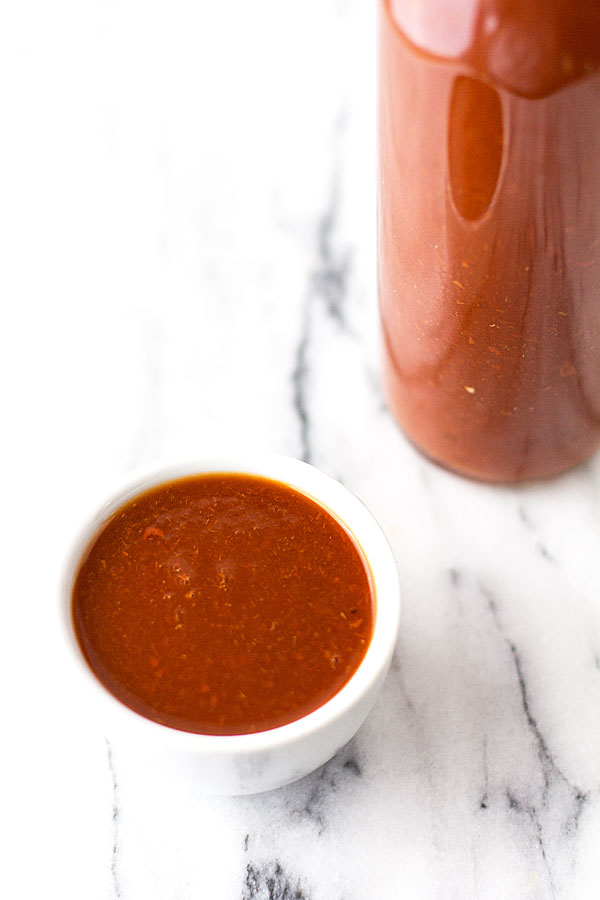 Chile de Arbol Hot Sauce Recipe
A spicy hot sauce to add to soups, stews, eggs, sandwiches, on whatever, whenever your stomach desires.

Prep and Cook Times: (less than 2 hours over 3 days)

Day 1 – 1.5 hours to cook and blend, then a 24 hour rest

Day 2 – 15 minutes to strain, then another 24 hour rest

Day 3 – 30 minutes to cook down (reduce) and bottle
Cuisine:
Mexican, New Mexico
Ingredients
6-8

ounces

dried chile de arbol*

4

cups

or more water

4

cloves

garlic

1/4

cup

apple cider vinegar

2

Tbsp.

sugar

1

Tbsp

salt
Instructions
Day 1
Wash the chiles and break off any stem tops.

Place chiles in a large saucepan with the garlic. Add 4 cups water, cover, and bring to a boil. Chiles will float so stir them to ensure that all of the chiles are in the water for re-hydration. If the chiles aren't floating, then add more water until you have just enough for the chile to float and be stirred. Bring back to a boil, then reduce to a simmer. Cover.

Simmer for 30 minutes, stirring occasionally. Keep the pan covered to reduce the amount of spiciness that can become airborne. Running the exhaust will help reduce the airborne spiciness as well.

After 30 minutes, remove from heat and let cool for about at least 30 minutes.

Pour into blender and puree' for 30 seconds.

Transfer to a bowl and stir in the vinegar, sugar and salt. Stir until sugar and salt have dissolved. Cover tightly.


Place the covered bowl in a dark corner of the kitchen and let rest for 24 hours.
Day 2
Using a spatula, set a strainer or colander over a large bowl, pour in the pureed chile, and press through the strainer to separate the liquid and finer particles from the seeds and skin. Do not use a fine mesh because the puree' is too coarse and it would take forever.

Continue to press until you have separated out the liquid and the finer particles. In the strainer, you should end up with a paste of peel and seeds. (See picture below.) The paste you can toss. Don't be tempted to compost it because of the vinegar.

Tightly cover the bowl with the strained sauce and set in a dark area of the kitchen counter for another 24 hours.
Day 3
You should notice some separation in the hot sauce due to the finer particles separating from the liquid.

To reduce the amount of liquid and to concentrate the heat and flavors, transfer the hot sauce to a saucepan and heat over medium high heat to a low boil. (Don't forget to turn on the exhaust fan.)

Reduce to a simmer and simmer for about 15 - 30 minutes until the sauce thickens to a desired consistency. (I shoot for a medium syrupy consistency where the finer particle stay suspended in the remaining liquid.) The thicker the sauce, the spicier the sauce.

Remove from heat, cool and pour into clean bottles.

Store in the refrigerator indefinitely.
Kitchen Notes
Other chiles you can use include chile pequin, habanero, Scotch Bonnet, cayenne, Thai chile, (any chile over 10,000 Scoville heat units). The chile determines the flavor and the heat of the hot sauce, so each type of chile yields different tasting results. If it's not hot enough, you can cook it longer into a thicker sauce.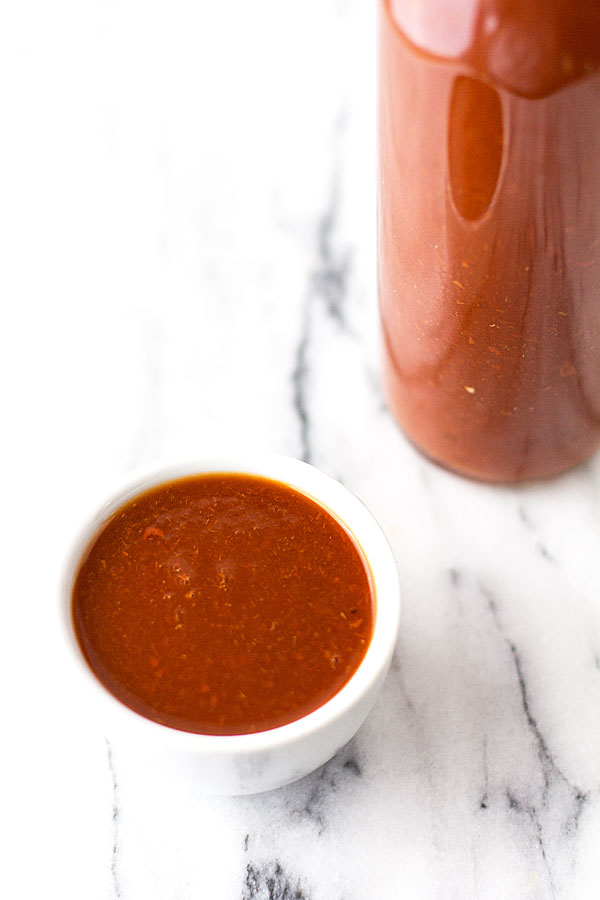 Uses:
Use the same way you use other hot sauces.
Drizzle over breakfast eggs, rice, tortillas or any food item or dish that you want to add a tasty bit of spiciness.
Use as the "hot" in homemade salsa.
Use for deviled eggs.
Use in marinades.
If you love this Chile de Arbol Hot Sauce, you should enjoy these other spicy condiments.
Wanted to purchase some New Mexico de arbol chiles?  Check out these New Mexico suppliers.