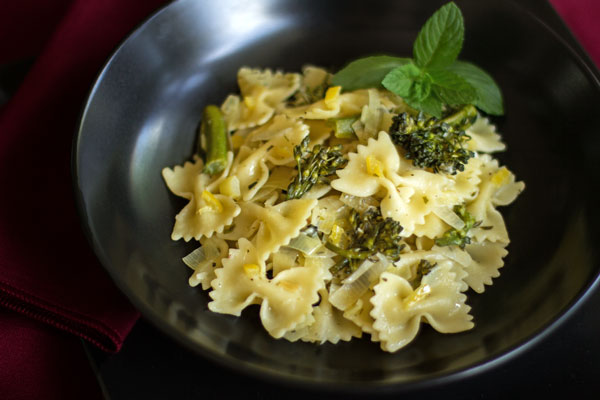 Looking for a seriously quick pasta dish bursting with flavor?  Here it is!  This Pasta with Broccolini, Leeks and Preserved Lemon is so simple, healthy, tasty, aromatic, and pleasing to the palate that you'll want to have it every week.  Whenever I see young broccoli or broccolini at the market, I make this dish.  It's just too easy and too good to pass up.  This past dish has a light sauce consisting of olive oil, water from the pasta pot, and a bit of preserved lemon juice. The ingredients are simple and few, and the pasta can be whatever you have in the pantry.  And if you don't happen to have a jar of preserved lemons in the refrigerator, you can always make a quick small batch in about 24 hours.  Hope you enjoy!!!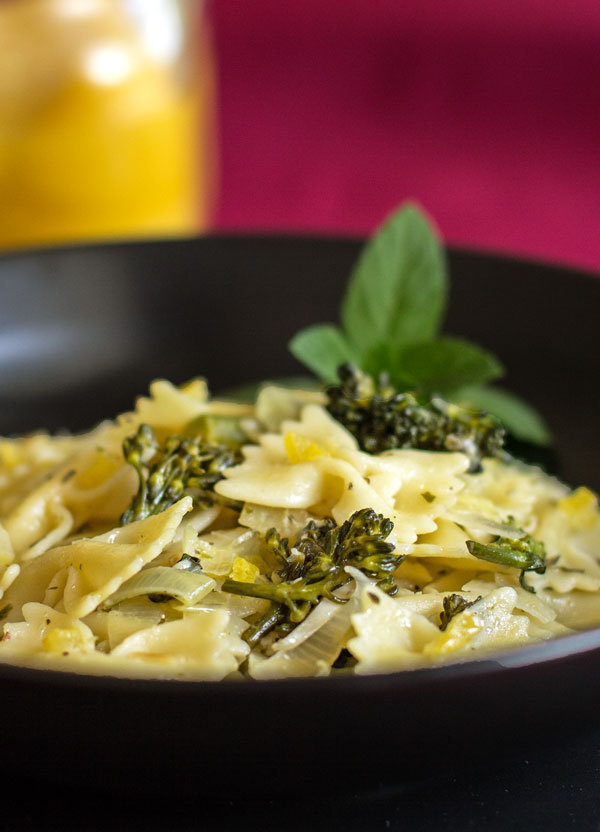 [print_this]
Spaghetti with Baby Broccolini, Leeks and Lemon Recipe

Recipe Author:  MJ of MJ's Kitchen
Yields 4 small servings or 2 large servings
Prep and Cook time: about 30 minutes
Ingredients
3 Tbsp. Extra virgin olive oil
White portion of 1 large leek, cut in quarters lengthwise, thinly sliced
6 garlic cloves, sliced
½ tsp. dried thyme or 1 tsp. fresh thyme
1 tsp. dried mint (1 Tbsp. fresh mint)
½ pound Broccolini or young broccoli stalks*
1 Tbsp. preserved lemon rind and 1 Tbsp. preserved lemon juice
Cracked pepper
8 ounces farfalle, cooked al dente*
Salt
~1 cup pasta water
1/3 cup grated Pecorino Romano or Parmesan-Reggiano

Instructions
Start the water for the pasta. Add 2 tsp. salt to the water. When the water comes to a boil, add the pasta and cook al dente.
Heat the olive oil over medium low in a skillet large enough to eventually hold all of the ingredients including the pasta.
Add the leeks and garlic. Sweat the leeks in the oil over low heat for 15 minutes.
Cut the broccolini into bite size pieces (chopped chunky or sliced into smaller lengths).*
To the leeks add the broccolini. Saute' 3 minutes over medium heat.
To the skillet add ¼ cup pasta water, the thyme and the dried mint. If using fresh mint, hold until the end.
Cover the skillet and let simmer until the broccolini is tender, about 6-10 minutes.
Reserve 1/2 cup pasta water and set aside. Drain the pasta and add to the broccolini mixture along with the preserved lemon, fresh mint, and cracked pepper.
If the pasta looks too dry, add a little of the reserved pasta water.  Be careful not to make it to saucy.
Gently and slowly add the cheese and spread evenly throughout the pasta.
Serve in pasta bowls and top with more cheese, if desired, cracked pepper and mint.
*See Kitchen Notes
[/print_this]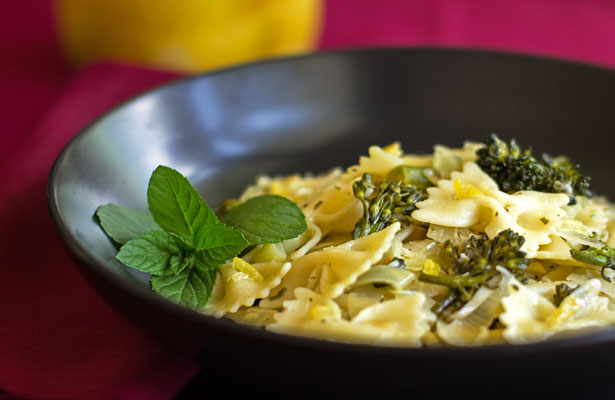 Kitchen Notes
Broccolini – We prefer this pasta with the younger, more tender broccoli; therefore, we use broccolini if we can find it, or young, small broccoli stalks.  If you use regular broccoli, cut lengthwise into very thin stalks.
Type of Pasta – We usually make this with either farfalle (bowtie) or spaghetti.  Both work great.  The type of pasta determines how to cut the broccolini.
Cutting the Broccolini – For bowtie pasta, cut into pieces about an inch long.  If a stem is too thick, cut it in half lengthwise.  For spaghetti, cut the broccolini into longer lengths, about 3 inches long.  Again, if the stem is too thick, cut it in half.
This Broccolini, leek and lemon pasta makes a quick & easy meal that taste like you spent the afternoon over the stove. If you like this pasta, then you'll also like these other pasta dishes.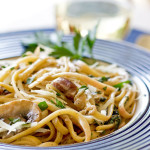 Fennel Spiced Ham and Mushroom Pasta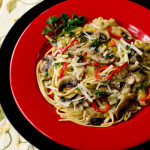 Pasta with Leek Confit and Mushrooms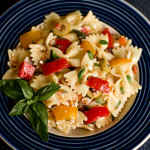 Pasta with Fresh Tomatoes and Basil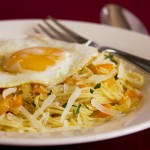 Capellini with Lemon, Garlic and Egg
And if you need more ideas for preserved lemons, here is a nice collection of recipes: 30+ Recipes with Preserved Lemon.