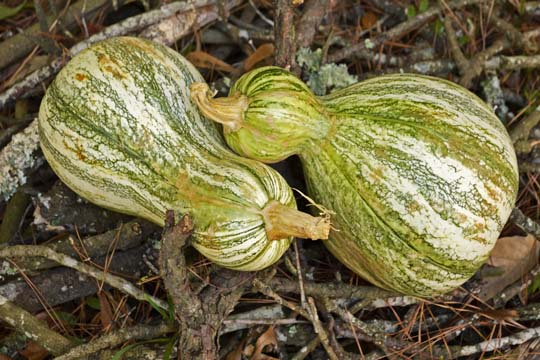 Two delicious recipes from my sister Nadalyn – Stewed Cushaw and Cushaw Cake
Thanks Nadalyn for putting this delicious post together!!!!

"Coo-what?" It always amazes me how many people have never heard of cushaw, much less tasted its rich deliciousness. The cushaw is one of the oldest varieties of pumpkin-like squash in the western hemisphere and was an important staple among ancient people. Today it is still important in traditional cooking in southern Louisiana and among Native Americans. It is technically a squash but has many of the characteristics of pumpkin. The most common is the green-striped cushaw which average 10 to 20 pounds, grow to be 12 to 18 inches long and roughly 10 inches in diameter at the bowl. They are mostly grown in the southern and southwestern United States. Cushaw is more resistant to many insect and weather conditions than most other squash or pumpkins and after harvesting, it can be stored for up to 4 months.
The flesh of the cushaw is yellow and buttery looking when cooked. In fact, in some areas it is called cushaw butter. There are infinite ways to cook it or cook with it. The most popular is to use it in pie just as you would pumpkin or sweet potato. Some like it best bake in the oven, still in the rind, with butter, sugar, and cinnamon sprinkled on top. To eat it this way, remove the seeds, quarter or cut into large chunks. Score the large pieces with a fork, sprinkle with a little sugar and cinnamon, top with a pat of butter, and bake in the oven until a fork pierces it easily.
When MJ and I were kids, Mama would stew cushaw (as I describe in my recipe), except she would add cinnamon and/or cloves and nutmeg and serve it as a side dish. I choose not to add the spices when stewing, but if you do, and decide to use the leftover for the cake recipe below, cut back or omit the spices in the cake (see Kitchen Notes).
My kids have always loved cushaw. My daughter calls it "yummy buttery deliciousness," hence the name of my cake. I came up with the cake as a way to use leftover cushaw. Each squash makes a generous amount of stewed meat and even after a couple of rounds on the dinner table there is usually some leftover. It can be frozen for a short time. The cake can be frozen quite successfully, but I doubt you will have that opportunity once you try a slice.

Stewed Cushaw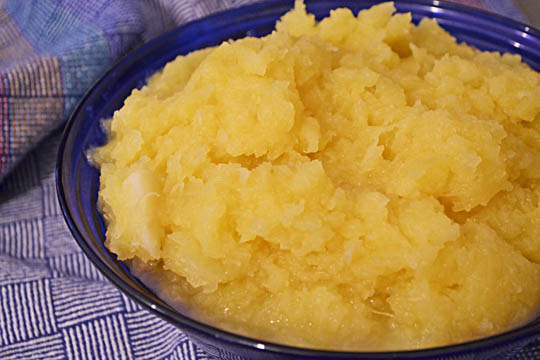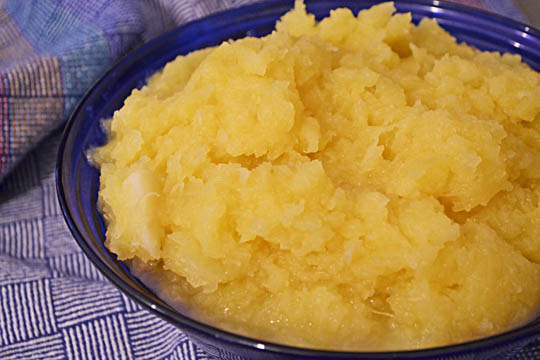 Stewed Cushaw Recipe
A unique side dish made from an 8 to 10 pound cushaw.
"*" See Kitchen Notes for more information or links to special ingredients.
Course:
Side Dish, Vegetarian
Ingredients
1

cushaw,

Any size

Water

Salt to taste,

probably about a generous tablespoon

2

tablespoons

to a ¼ cup of sugar*

Half a stick of butter.
Instructions
Prepare the squash by removing the neck first, peel and cut it into large cubes (about 1").

Transfer to a large Dutch oven or other large pot.

Cut the remaining bulb portion in half and remove the seeds and scrape the inside as you would when cleaning a pumpkin.

Peel and cut into small cubes and add to the pot.

Add only enough water to fill about half the volume of the squash in the pot.

Cover and cook on medium to high heat, removing the lid occasionally to stir, making sure that all the pieces get into the water to cook.

After about 30 minutes, remove the lid and allow some of the water to evaporate. Stir frequently until the squash is tender enough to be mashed with a potato masher.

When the flesh is tender, drain off as much liquid as possible. Return to the pot over a low heat. Mash with a potato masher and add the salt, sugar and butter. Stir to combine well and to evaporate off more of the moisture until the pulp is creamy.

Serve piping hot.

Refrigerate leftovers in a closed container.
Kitchen Notes
You want just enough water in the pot to stew the squash. Most of the water will evaporate during the stewing process. Younger squash will take longer to cook (about 40 to 45 minutes) than older squash which have set for a few weeks before cooking. Just keep checking it and when the chunks are easily pierced with a fork, then it's done.
When adding sugar to the stewed and mashed cushaw meat, start with a small amount and gradually add more as needed until it is as sweet as you like. The amount you use also depends on the cushaw itself. Some are sweeter than others. The last one I cooked was the tartest I have ever made, so it took more sugar. Remember, it is a vegetable so you don't want it as sweet as a dessert.
Cushaw Coffee Cake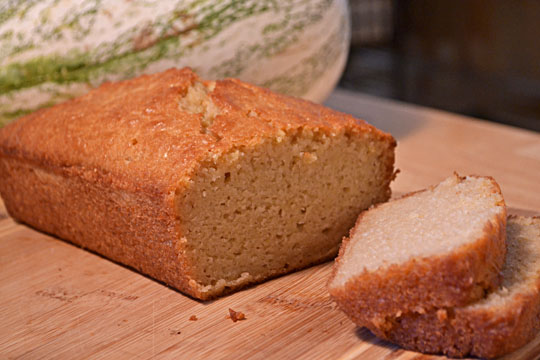 Yummy Deliciousness Cushaw Coffee Cake Recipe
A sweet quick bread made from stewed cushaw.
"*" See Kitchen Notes for more information or links to special ingredients.
Ingredients
1

cup

leftover mashed, stewed cushaw

1 ½

cup

all-purpose flour*

1

teaspoon

baking powder

¼

teaspoon

baking soda

¼

teaspoon

salt

1

stick butter,

1/2 cup, at room temperature

½

cup

granulated sugar

½

cup

light brown sugar

½

teaspoon

vanilla extract

2

large eggs

Oil or Crisco to grease the pan
Instructions
Preheat over to 350° F.

Put cushaw in a strainer or sieve to remove excess moisture. Let sit while you prepare the rest of the ingredients.

Sift together the flour, baking powder, baking soda, and salt in a bowl.

In a bowl large enough to eventually hold all the ingredients, beat together the butter and sugars with an electric mixer on medium or low.

Add the eggs and vanilla and blend until smooth. Blend in the cushaw.

Add the dry ingredients to the cushaw mixture a little at a time. Blend until the mixture is smooth and creamy. It should be fairly thick.

Pour the batter into a well-greased or oiled 9 inch loaf pan.

Bake for about an hour and ten minutes or until a thin wooden stick (I use a chopstick) comes out clean when inserted into the middle of the cake.

Leave the cake in the pan and cool on a baking rack for about 20 minutes.

Remove the cake from the pan and let it finish cooling on the baking rack.
Kitchen Notes
As with many cakes, this one tastes great served warm, but to me it tastes even better the next day eaten cold or at room temperature. It stays moist unrefrigerated for several days when covered in plastic wrap.
I didn't use spices as you normally would in similar cakes made from pumpkin or sweet potatoes, because the cushaw has a more delicate flavor. If you like more of a coffee cake flavor, add ½ teaspoon each of cinnamon and nutmeg. I have made it this way several times and it is very good. My husband loves it with the spices but the rest of us like the plain jane cake.
You can also add nuts if you like. I recommend pecans or walnuts because their flavors don't detract from the flavor of the cushaw. I suggest that you chop the nut meat into small pieces and add it to the batter. With a house full of folks with nut allergies I don't usually add nuts.
To rewarm, you can microwave a generous slice for no more than 20 seconds.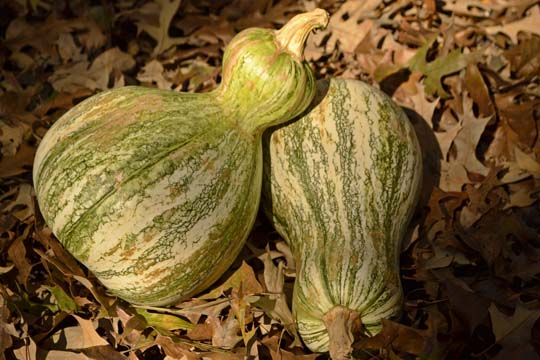 I hope you enjoy both of these cushaw recipes!
MJ:  Bobby and I had the privileged of eating some of this cake during the holidays. We had it with our afternoon tea then requested another slice for breakfast the next day. It definitely is yummy deliciousness!
November 2016:  Upon visiting Nadalyn and her family this Thanksgiving, she sent me home with a large cushaw.  After cooking it down and pureeing it, I made a couple of cakes and them froze the rest of the pulp.  I did make a couple of changes to the recipe based on our likes. It was just a good as the original Below are the changes:
1 cup AP flour + 1/2 cup spelt flour
1 tsp. ground cinnamon
increase vanilla extract to 1 tsp.
1/2 chopped pecans