We're into the last week of our kitchen remodel (hopefully), so my dear Italian friend Giulia of Alterkitchen has brought us pizza to help get us through the week!  What a friend!!!  When I first came across Alterkitchen well over a year ago, I knew that I needed to know more about the person behind the blog.  Everything on her About page hit home.  She loves to read, travel, watch movies, cook, knead bread, and even though she is only in her 20's, she loves 70's rock music! Talk about having a lot in common (everything but being 20 something :))!  I've thoroughly enjoyed getting to know my young Italian friend, her food, and her country.  She has taken me to places I have never seen and has turned me on to dishes that I had never heard of.  Thank you Giulietta!!!
Today Giulia is sharing a traditional Italian method for making pizza (pizza crust) – the Poolish method; something else I've never heard of and can't wait to try!  To check out her other wonderful recipes, be sure to click on Alterkitchen before you leave here.  So I'll shut up now and turn you over to Giulia!
Giulia:
Pizza is one of the GREAT ITALIC LOVES.  We can fight as much as we want, the stereotypes about Italians and our pizza, pasta and mandolin, but I candidly admit that I couldn't give up pizza. About a year ago I wrote about Gabriele Bonci's pizza, a high hydration pizza to prepare in a pan. I didn't finish with it, because I have a lot of seasonal combinations to try.
I'm always looking for new pizza recipes. Then, on my birthday, a pizza stone arrived unexpectedly, an object of desire for a very long time. I immediately started looking for a recipe expressly created to use my brand new pizza stone (which is nothing more than a refractory stone/brick, available in any building materials store)!
Of course, we came close to drama when we found out, a few hours before the first experiment, that the stone didn't allow the oven to close properly, but thanks to MacGyver's intervention (aka my father) we managed to avoid the crisis. Who would stop me now?
The recipe I propose you came from Adriano of Profumo di lievito, a recipe that I have seen so many times around the net, and now I can confirm its magnificence. I'll continue to experiment, but with this exciting beginning, I can only improve!
ATTENTION: For this preparation you'll need a full day: the process starts the evening before (otherwise you could prepare some dough in advance and freeze it.  For the freezing solution, look at the bottom of the recipe).
I copied the definition given by Adriano: "More than a recipe, this is a way to home-made the round pizza typical of an Italian pizzeria.
With this recipe you'll have a pizza with slightly crispy edges and with pleasant smell of freshly baked bread"
[print_this]
Pizza with Poolish Method Recipe
Yield: 7 pizzas
Ingredients
270 g 0f flour
80 g of durum wheat flour (semolina)
500 g of Manitoba flour
3 g of fresh brewer's yeast (during summer the amount should be reduced to 1.5 g)
1 teaspoon of malt (optional, I didn't use it)
25 g of salt (you could use less if desired)
30 g  (~2 Tbsp.) of extra-virgin olive oil
500 g (~2 cups) of lukewarm water
Instructions
The evening before, prepare the poolish with 500 g of Manitoba flour, 3 g of fresh yeast (ambient temperature about 68° F/20° C; in summer the amount of yeast should be reduced to 1.5 g) dissolved in 500 g of lukewarm water, 1 teaspoon of malt (optional, but during winter it helps the rising). Put in a bowl, cover it with plastic wrap or with a towel and let it rest until the next day.
The next morning knead the poolish with the remaining flours (270 g of flour and 80 g of durum wheat flour), sieved and added 2 tablespoons at a time; then add salt and oil and continue kneading.
Let it rest for 30 minutes, then divide the dough into 200-250 g balls (you should obtain 7 of them): place them in airtight containers (if you put more dough balls in a single container, leave them well spaced, because they'll grow) sprinkled with flour and covered with parchment paper (it may seem excessive, but it's not: you'll be sure they don't stick to the container), then place the containers in the coldest area of your fridge (the bottom shelf).
Two hours before rolling out, take out the dough from the refrigerator.
A little time before dinner time, place the pizza stone close to the top grill of your oven (12 cm (~5 in) max) and turn the oven to maximum.
While the oven heats up, roll out the pizza dough (here you can see Adriano's method).
Once the oven reaches maximum temperature, turn on the grill (if you're going to use the grill), garnish a pizza with the topping you like (you'll bake a pizza one at a time) and place it on the pizza stone with the aid of a peel (even a rudimentary one, made with a piece of wood or the back of a baking pan. The important thing is that you find it useful and that you sprinkle it with some semolina or flour (this will make it easier to slide the pizza onto the stone).
The ideal cooking on the grill, recommended by Adriano, is around 3 minutes. In my oven (maximum temperature 392° F/200 ° C), the optimum cooking takes about 10 minutes. Try your oven!
Once the pizza is ready, take it out of the oven (thanks to the peel) and serve it piping hot. Garnish the next pizza and bake it, and continue until you run out of pizza… or until you run out of hunger.
[/print_this]
Kitchen Notes
You can freeze the dough balls (wrap them tightly and individually in plastic wrap, then place them in the freezer). When you want to use them, take the dough balls out from the freezer about 8 hours before you need them. Let sit at 71° F/22 ° C.
The topping I chose for my pizzas, in order of appearance, are stracchino, cherry tomatoes and arugula; buffalo mozzarella, 'nduja and grilled zucchini; and buffalo mozzarella and prosciutto crudo.
Note from MJ – I provided some of the conversions; however, when it came to the flours, I left them alone and would highly recommend weighing the amounts.  Flours have different densities, and thus, different conversion rates, so weighing seems to be the best method.
Changing the subject: please, take a look at my dog's muzzle when pizza was ready. 🙂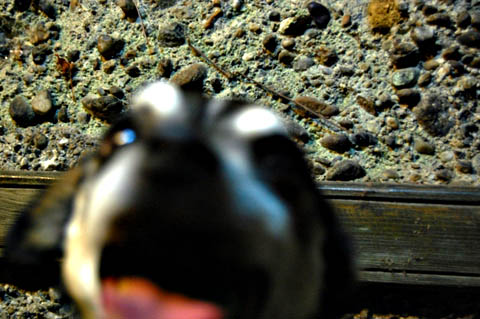 Thanks my friend for this wonderful post!
Now it's time to head over to Alterkitchen if you haven't already.