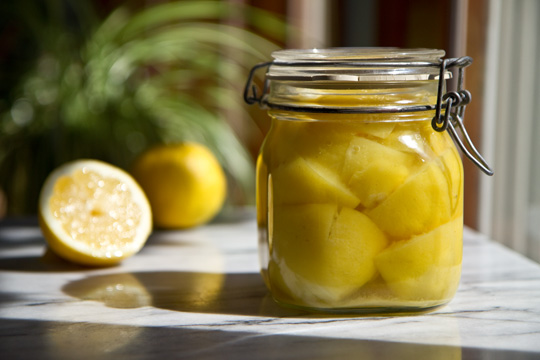 What can I say about preserved lemons other than that they are my MOST favorite condiment. I've been making them for years, and always looking for more ways to use them. They are great with rice, pasta, poultry, lamb, a variety of vegetables, sprinkled in a salad or incorporated into dressings and sauces. You can make them the star of the show or so subtle that one hardly knows they are there.
Preserved lemons are very easy to make, but once you make preserved lemons, you are going to have to wait a few weeks (in most cases) before they're ready. So start a jar today! Below are the instructions and a video for how I make preserved lemons.  If you don't want to wait or just don't want another jar of "something" sitting in your fridge for a few months, then you can make the Quick Preserved Lemons described in this post. These only take 24 hours and with one lemon you can make enough for one or two dishes.
How to Make Preserved Lemons
Instructional Video
Making Preserved Lemons from MJ's Kitchen.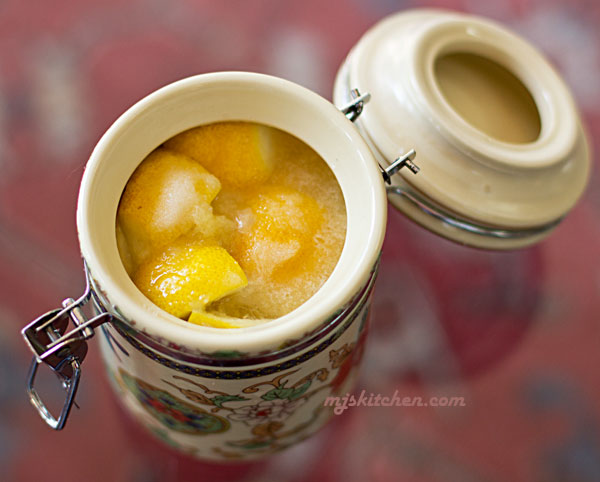 How to Make Preserved Lemons Recipe
Preserved Lemons are very easy to make and are a very versatile condiment that you can keep in the refrigerator for almost a year.
"*" See Kitchen Notes for more information or links to special ingredients.
Yields
:
1
pints (approximate)
Ingredients
5 to 6

large lemons,

cleaned and scrubbed

1/4

cup

(approximately) Kosher salt or sea salt

1.5

pint

steralized jar with rubber gasket or non-metal lid

(The acid in the lemon corrodes metal over time)
Instructions
Cut about ¼" of the ends off of 4 lemons. Discard the stem end. Use the other end pieces to fill in the holes as you're packing the lemons.

Cut 4 of the lemons in half crosswise. For each half (starting with the cut side) cut into quarters, being careful not to cut all of the way through the base. Stop about ¼" from the base.

Pour about ½ tsp. (~2.5 grams) salt into each of the "half" cuts and pack into jar.

Continue this process with 4 of the lemons, packing lemons tight, squeezing some of the juice out of the lemons as you pack them. You should be able to get 4 to 5 lemons in the jar. To fill gaps in the jar you can use quarter pieces and end pieces.

Once the jar is full, tap the bottom of the jar to dislodge the air bubbles.

If the amount of lemon juice is below the top of the packed lemons, juice one of the extra lemons. Add enough juice to the jar to cover the lemons or about ½" (1.25 cm) from the top of the jar. Wipe off the rim of the jar with a clean damp cloth and close the lid. (At this point, I rinse the closed jar under running water to remove any salt that may be on the outside of the jar.)

Set in cool space for 4 weeks. Shake the jar everyday to redistribute the salt through the juice. If you trust the seal, you can turn the jar upside down after a couple of weeks for an hour or so.

Place in refrigerator after 4 weeks. These lemons will keep up to a year (and probably longer, but I never have any left after a year).
Quick Preserved Lemons (in less than 24 hours)
Instructions
Juice 1 lemon and set the juice aside.
Peel the zest off the lemon. Try not to get any of the white portion or pith.
Cut the zest into narrow strips and place in a glass jar or bowl. Top with 1 tsp. (5 g) salt and the lemon juice.
Stir to dissolve some of the salt.  If the juice does not cover the zest, add more lemon juice.
Let sit on the counter for 24 hours.
Both the zest and the juice can be used, but be careful about adding salt to your dish.  Preserved lemons are pretty salty.
Using Preserved Lemons
One or two lemon halves – stuff in the cavity of poultry when roasting.
One or two lemon halves with seeds removed – throw in the pot when braising.
Rinds – chop and add to salads, pasta, rice, and vegetable dishes.
Preserved juice – wonderful in sauces and salad dressings, as well as added to all of the above.
To reduce the amount of salt, you may choose to rinse the preserved lemon pieces before using.  I choose not to.  Instead, I don't add any additional salt to the dish.


Crispy rice with preserved lemons
(This dish was originally made with rice leftover from Thai takeout.)
2 1/2 cups leftover rice (transfer to a bowl and break up with a fork)
1/2 cup minced onion
1 Tbsp. minced preserved lemon
1 cup chopped arugula
2 beaten eggs
Mix everything together in a large bowl.
Melt 1 Tbsp. butter in a non-stick 10″ skillet.
Press the rice mixture into the skillet, cover, and cook over medium low for 15 minutes or until eggs are set. The rice against the pan will be crispy.
Invert onto a plate and serve.
This Preserved Lemon Recipe has been linked to Overflowing with Creativity, Katherine Martinelli's DIY Blog Hop, Whole Food Wednesday, Fat Tuesday, Gluten-Free Wednesday.  Click on these links to find many more tasty recipes.  It was featured on Clever Chicks Blog Hop, October 2012.