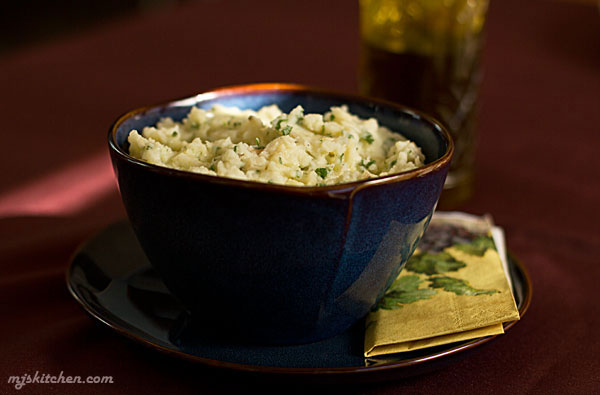 I think by now you know how much I love garlic, but you may not know how much I love potatoes. I could eat potatoes almost everyday. I love them mashed, smashed, roasted, au gratin, as hash browns, and in a variety of soups. I guess the only way I don't like potatoes is as French fries. Those I can take or leave.  This winter organic potatoes have been really cheap, so we've been eating a lot of potato dishes. This mashed potatoes with roasted garlic dish is one of our favorites.
It's a very quick and easy dish for us because I always have a bottle of roasted garlic infused oil in the pantry and jar of roasted garlic in the fridge.  So what better way to use the garlic and some of the oil than in mashed potatoes.  Add some fresh herbs for color and another layer of flavor, and you have yourself a bowl of gourmet mashed potatoes with very little effort.
If you don't have the garlic oil or roasted garlic on hand, not to worry.  In the Kitchen Notes I explain how to get both in 20 minutes, which is about the time it takes to cook and mash the potatoes. Also, if you aren't a huge garlic fan, but do like "a little" garlic, these mashed potatoes with roasted garlic are still for you.  Just cut back on the amount of garlic or replace the garlic-infused oil with extra virgin olive oil or butter.  And if you don't like garlic at all, just omit it altogether.  The buttermilk and olive oil alone make this a very tasty bowl of mashed potatoes.