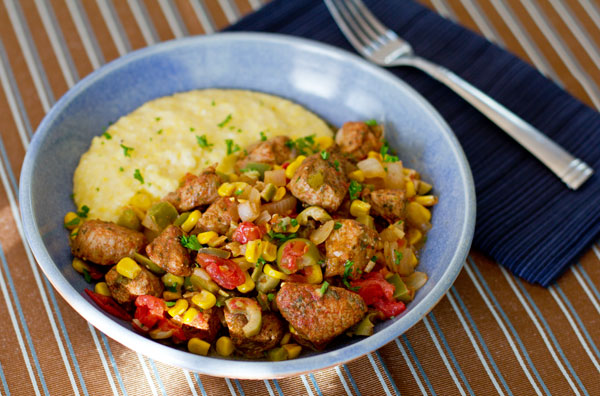 This is one of those dishes that every time I serve it, the first thing out of Bobby's mouth is "MMMMM, this is good!" It's comments like this that ensures that I make again and again.

  This Southwestern Pork Stir Fry can't be any easier to make.  One can literally be ready to start eating in 30 minutes, making it a perfect weekday meal.  It's got everything – protein, several vegetables, spice, and lots and lots of flavor.  For a really hearty meal, you can serve it with a carb of your choice.  I've served it with tortillas (flour or corn), cornbread, rice, and our favorite – creamy polenta (recipe below).
The following recipe serves two with a nice serving leftover for lunch the next day. To serve 4 to 5, just double the recipe and use a bigger skillet.  The cook times should remain the same. It's that easy!