Today, Saturday Oct 7, is the start of the 2017 International Balloon Fiesta here in Albuquerque.  It was a beautiful morning and gorgeous mass ascension.  For those of you who can't make it here, let's take a look back at last year's event.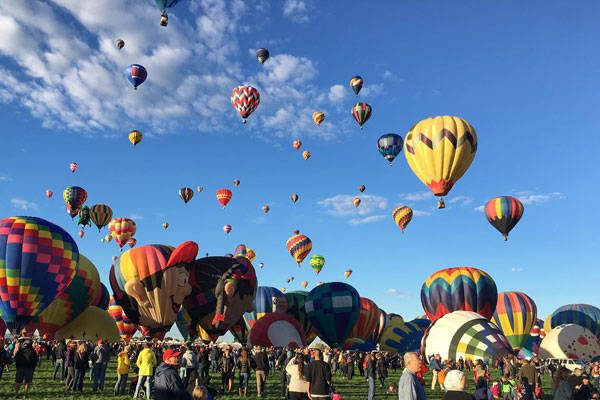 [Photo courtesy of Myra Gadson]
The 2016 Albuquerque International Balloon Fiesta is over and it was a great fiesta!  We did have a couple of cancellation days due to wind or rain, but there were still lots of flying time, events, and fun by all.   The balloon fiesta always starts the first weekend of October and runs through the second weekend.  The energy in the city during fiesta week is exhilarating. Morning skies are filled with peacefully floating colorful balloons and on a few of the evenings, the sky fills with fireworks and the balloon field becomes aglow with hundreds of inflated glowing hot air balloons.  After the events of the day are complete, spectators move out to local restaurants or take drives to other parts of our enchanting state.