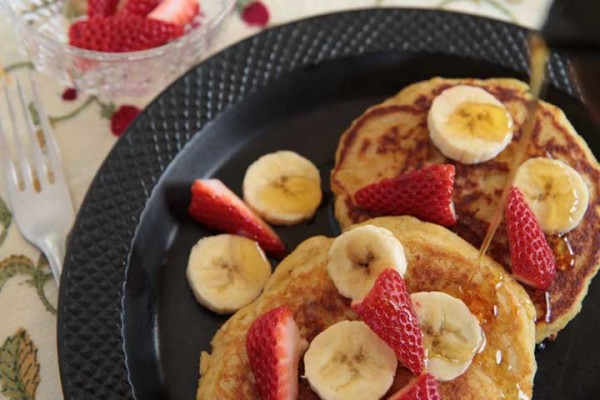 Sometimes missing the main ingredient for a dish leads to something even better.  That was the case with these pancakes.  I woke up one Saturday morning with a craving for buttermilk pancakes but no buttermilk.  In the dark recesses of the refrigerator I did have some ricotta cheese that needed to be used, so I decided to substitute the buttermilk with ricotta. But you know how it goes; once you substitute one ingredient it opens the recipe up for substituting other ingredients.  Eventually you end up with a completely different recipe.  Man, I'm glad I didn't have any buttermilk!
Update October, 2013
Since I first came up with this pancake recipe back in 2011 it has been the only pancakes I've been making.  Every time I ask Bobby if he wants pancakes the response is "Absolutely, as long as it's the Cornmeal Ricotta Pancakes".

I have only added a couple of suggested adjustments/substitutions/variations since, to the original recipe. One is, if you do have buttermilk, you can use buttermilk in place of regular milk or use a combination of the two.  The second variation came about the morning I didn't have any lemon, so I substituted orange zest.  It was just as delicious.