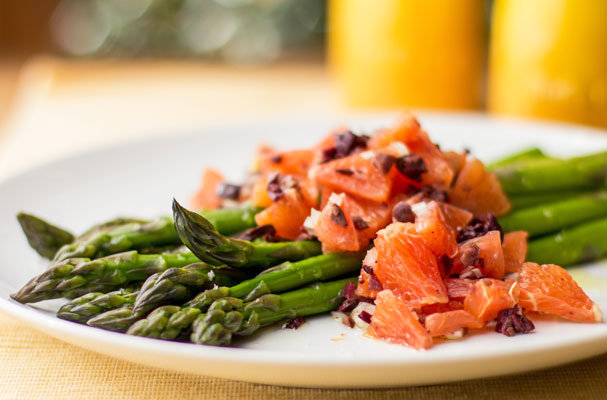 Happy St. Patrick's Day!  Sorry that I don't have anything traditionally Irish to share with you today, but at least it's green.

Asparagus with orange and kalamata is a light and delightful dish that I love making this time of year when there's the overlap between good quality citrus and young shoots of fresh asparagus. This dish that can be served as a warm side or cold salad.  For a warm side steamed asparagus is immediately serve with the cold orange kalamata topping.  The contrast of the hot asparagus with the chilled orange is quite enjoyable.  For a cold salad the steamed asparagus and the orange kalamata topping are both chilled at least one hour or over night.  As a cold salad, this makes a mouth calming complement to a spicy entree.
This dish makes an excellent lunch or dinner salad as well as a dinner side for numerous entrees.