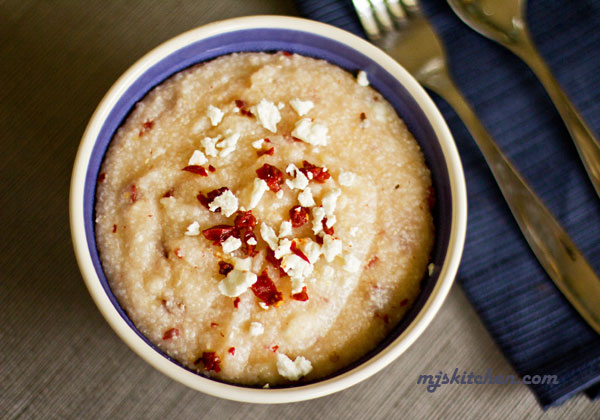 Before I tell you how chipotle peppers ended up in grits, I have a question for you. What are three things that you absolutely can not run out of?  Running out of any one of these three things would be devastating.  Do you have them?  I would be willing to bet that the first item is toilet paper. No one wants to run out of toilet paper and believe me, having used the pages of a Sears catalog when I was a kid visiting the grandparents, toilet paper has no substitute.

  O.K. so TP is number one.  What about the next two items?  In this house those items are milk and green chile.  Well, guess what I ran out of a couple of weeks ago?  Green chile!!! Yep – you read it right. I ran out of green chile.
I was planning on making Grits and Green Chile and had already started the grits, when I went to pull some green chile from the freezer. There was none to be found.  UGH!  So what's a girl to do?  You know how it is – once your family expects one thing, you better come up with something just as good if not better. Rummaging through the pantry I found a can of chipotle peppers in adobo sauce, so decided to give them a try in place of the green chile.  Instead of cheddar cheese, I went with feta which turned out to be the right decision.  What a delicious bowl of grits!!!  I'm not going to to say it was better than grits and green chile, but it certainly turned out to be a fabulous substitute.  We've had it twice since and I still haven't bought any green chile. I think that might convince you as to how good this is.