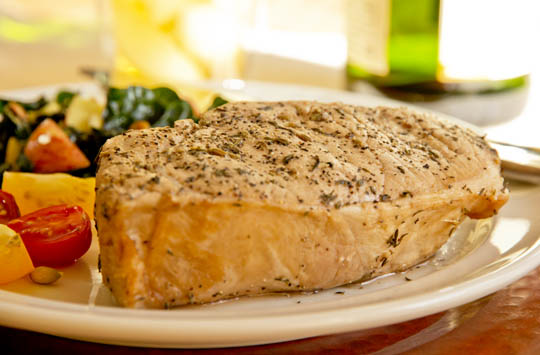 I guess you can tell by the picture that I'm not a vegetarian.

  The other day I noticed that the "Meat Entrees" section of my Recipe Index was very short, so I decided it was time to post my pork chop recipe.  We love this recipe!  These chops are so easy to make and the flavor – well, you'll just have to make them for yourself, and believe me, you won't regret it!
I've always found pork to be the most difficult meat to cook perfectly.  It's so easy to overcook. I think many of us were raised eating rubbery pork chops that had been cooked to death, so they had to be smothered in gravy to be palatable.  It has taken me a while, but I've finally learned how to cook the perfect, juicy pork chop. It's easy when you use a meat thermometer. Imagine that!