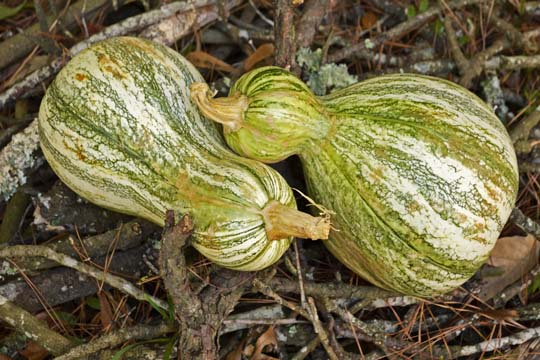 Two delicious recipes from my sister Nadalyn – Stewed Cushaw and Cushaw Cake
Thanks Nadalyn for putting this delicious post together!!!!

"Coo-what?" It always amazes me how many people have never heard of cushaw, much less tasted its rich deliciousness. The cushaw is one of the oldest varieties of pumpkin-like squash in the western hemisphere and was an important staple among ancient people. Today it is still important in traditional cooking in southern Louisiana and among Native Americans. It is technically a squash but has many of the characteristics of pumpkin. The most common is the green-striped cushaw which average 10 to 20 pounds, grow to be 12 to 18 inches long and roughly 10 inches in diameter at the bowl. They are mostly grown in the southern and southwestern United States. Cushaw is more resistant to many insect and weather conditions than most other squash or pumpkins and after harvesting, it can be stored for up to 4 months.
The flesh of the cushaw is yellow and buttery looking when cooked. In fact, in some areas it is called cushaw butter. There are infinite ways to cook it or cook with it. The most popular is to use it in pie just as you would pumpkin or sweet potato. Some like it best bake in the oven, still in the rind, with butter, sugar, and cinnamon sprinkled on top. To eat it this way, remove the seeds, quarter or cut into large chunks. Score the large pieces with a fork, sprinkle with a little sugar and cinnamon, top with a pat of butter, and bake in the oven until a fork pierces it easily.