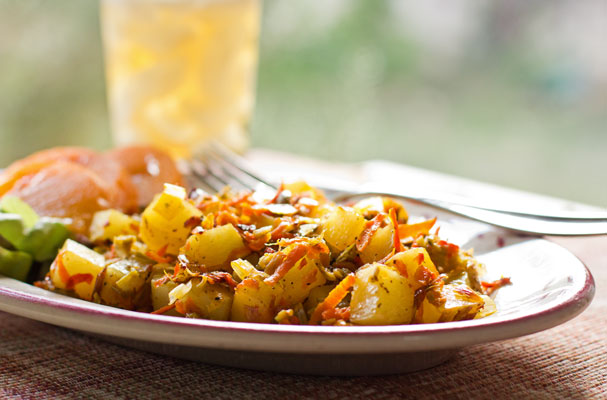 It is personally a challenge for me to make a potato dish without adding green chile especially during green chile season, and a challenge for which I gladly accept failure.  Potatoes and green chile are two ingredients that are just meant for each other and that's all there is to it.
This time of year, our Sunday brunch hash browns and home fries always get piled with green chile.  One of my favorite versions of home fries is this Green Chile Home Fries with Leeks and Carrots dish.  This dish makes a hearty brunch and is a great way to get your vegetables, carbs and protein.  It is similar to the Southwestern Pileup, but the leeks and carrots provide a different flavor profile than the onion and bell pepper in the pileup, and still match up nicely with the chile.  Once it's ready to serve, top each serving with a fried egg and squeeze a little lime juice on top. And, if you still have some fresh, homegrown tomatoes, slice one up as a side or chop it up as another topping.
It's not a very pretty dish, but it sure is good.  I hope you enjoy!