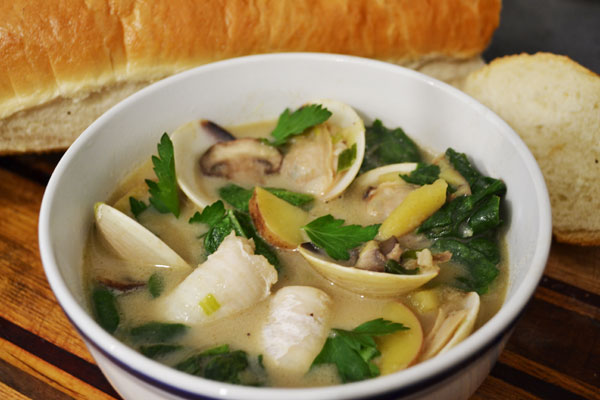 She's back! My sister Nadalyn is sharing another one of her mouth-watering recipes with us today – a Fish and Clam Bisque with Fenugreek.  To see all of Nadalyn's recipes here in MJ's Kitchen, check out the links at the end of this post.
Nadalyn
You may remember that MJ introduced us to the amazing spice shop, Season With Spice, last fall. One of the spices there that intrigued me was fenugreek. Not only had I never used it, I had never heard of it. It seems that fenugreek, besides in cooking, is used in folk medicine for a little bit of everything, including but not limited to stomach and digestive ailments both constipation and IBS, cardiac conditions of all kinds, lowering cholesterol, increasing the production of milk during breast-feeding and even ED. If you don't know what ED is then you don't watch TV ads.

MJ told me that she had dared to experiment with fenugreek, in cooking of course, so I decided to give it a go as well. This Indian inspired dish is a result of that daring do. If you like curry dishes, this should appeal to you.
Oh, and you may want to grab a loaf of French bread to sop up the yummy broth.

Continue Reading →